LeEco's first U.S. flash sale is today — here's what you need to know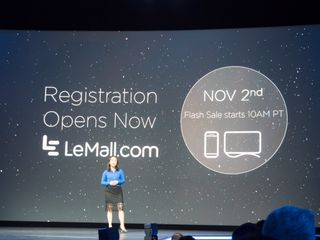 LeEco is trying to make its way into the U.S. after a (relatively) long history selling products in China and India, and it's kicking things off by selling a few of its top products via a "flash sale" on November 2. It's an unfamiliar model for most people in the U.S., but the products offer enticing value propositions with very attractive pricing.
Before the sale kicks off, here's an introduction to LeEco, its products, the LeMall store and its interesting consumer sales model.
What's LeEco all about?
Chances are you haven't heard of LeEco, or if you know the name you don't really know its business. LeEco is a rather large company based in China that started as a TV maker but has over the years expanded into several different industries, including phones, virtual reality, bicycles, cars, television and movie production, content distribution networks and so much more. Before coming to the U.S. in an official capacity, LeEco also purchased TV maker Vizio, though it has chosen to launch its own LeEco-branded TVs here.
LeEco sells its products directly to consumers through its LeMall website; a model that will continue as it launches in the U.S. Part of its reasoning for the direct sales is to create a feedback loop with its customers, soliciting responses and reviews of its products through the "UP2U" program.
For a robust primer on LeEco, be sure to read our introduction to the company right here.
What products are coming to the U.S.?
LeEco makes a lot of products across a diverse set of industries, but to start it's only bringing a couple of them to the U.S.
Most interesting to the Android Central readership will be the two phones, the Le Pro3 and Le S3 — one high-specced phone priced at $399 and a mid-ranger priced at $249. The phones aren't particularly exciting in terms of external hardware, but offer good specs and quality for the money. The phones run Android 6.0 with LeEco's EUI, or Ecosystem User Interface, which ties them together nicely with LeEco's other products. The big selling point for these phones is the vast amount of video content and services available.
More: LeEco Le Pro3 and Le S3 hands-on
Secondarily, LeEco is also bringing its line of aggressively priced Super4 4K HDR smart TV sets to the States. Starting at $649 for the 43-inch model up to $4999 for the 85-inch "uMax" model, they offer a lot for the money. The TVs run Android with LeEco's consistent interface and access to its content ecosystem — under the hood they have quad-core processors, 3GB of RAM and 16GB of storage, putting them a step above your average smart TV.
Rounding out the product offering, LeEco is also selling its range of accessories, including headphones, speakers, batteries, chargers and the like — all with consistent designs and attractive prices to match.
What are LeRewards and the flash sale?
So here's the thing: you can't just go to the LeMall store and buy these products whenever you want. Following the popular model used regularly in Asia, LeEco has "flash sales" for its products in which a limited stock is made available at a specific date and time for fans to buy while supplies last. In order to participate, you have to sign up for the "LeRewards" program at LeMall.com — then, on November 2 at 10:00 a.m. PT / 1:00 p.m. ET the sale is on.
You can make your purchases while supplies last — which could last as short as a few minutes — and as a LeRewards member you get instant discounts on the products. The discounts range from $100 off of a Le S3 phone (dropping the price to $150) up to $1000 off the uMax85 TV (dropping to $3999). If you miss out on the flash sale, you can register the day after for the next round of sales and claim instant rebates once again.
Get the Android Central Newsletter
Instant access to breaking news, the hottest reviews, great deals and helpful tips.
Andrew was an Executive Editor, U.S. at Android Central between 2012 and 2020.