Leaving Spotify? Here's the unbeatable reason to try YouTube Music next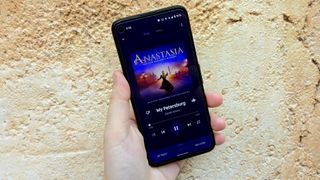 (Image credit: Ara Wagoner / Android Central)
Whether you're leaving Spotify with the Neil Young/Joni Mitchell-led boycott or you're just tired of Spotify killing features you like and failing to fulfill its promises, looking for a replacement is always a daunting task. No other music service has the magic of Spotify Connect, but there are plenty of great music streaming subscriptions out there with tens of millions of songs, robust features, and reasonable rates.
Most leaving Spotify will turn to either Amazon Music or Apple Music, but there's a dark horse candidate that could just win you over once you give it a try. YouTube Music is the music service I've used for the last four-ish years, and a number of my colleagues have likewise been users since the Google Play Music days.
We may not always be 100% happy with the YouTube Music app, but we will never, ever, ever let our YouTube Premium subscriptions lapse for one very big reason.
YouTube Premium comes with ad-free YouTube and YouTube Music
Okay, YouTube does an absolutely terrible job naming these services, but YouTube offers two premium-branded services: YouTube Premium and YouTube Music Premium. YouTube Premium eliminates ads on both YouTube and YouTube Music, unlocks all YouTube Music app features, and offers offline playback and background playback on Android/iOS. YouTube Music Premium only unlocks the full features of the YouTube Music app. This means you can pay $10 for just a music service or $12 for music and ad-free videos on the largest video platform in the world.
YouTube Premium often gets lumped in with streaming video services like Hulu, Netflix, and HBO Max, but considering YouTube Originals are dead, it doesn't really fit there. YouTube Premium does make sense when searching music services because it's a music service on top of getting rid of YouTube ads and lets you watch them offline. Until the Disney+ bundle, YouTube Premium was the best deal in streaming.
Of course, it doesn't matter if a music service is basically free — after you've experienced ad-free YouTube, you never want to go back — if the service isn't worthwhile. Back when YouTube Music was relaunched in 2018, it lacked many features, and performance was uneven.
These days, things are much different.
YouTube Music combines official, unofficial, and personal music
While YouTube Music's official, contracted-through-record-labels catalog had some noticeable gaps when it first launched. Over time, YouTube has made deals with record labels, allowing YouTube to go toe-to-toe with Spotify when it comes to major and indie music. Even international music is available like never before, and my J-Pop anime songs playlist grows every day.
YouTube is also the biggest video platform on the planet and the de facto homeplace of live renditions, music videos, remixes, mash-ups, lyric videos, and covers by both professional and amateur artists. Do you love Ariana Grande's No Tears Left to Cry but prefer the music video to the album version — or maybe her live rendition at the Billboard Music Awards? All three are available and ready to be added to your playlists.
And then there's the final two types of music on YouTube Music: unofficial and private uploads. When I say unofficial, I'm talking music that isn't available for purchase or streaming other places, albums that are out of print and impossible to find, and music that will never get streaming rights anywhere due to pre-streaming agreements. For instance, there are decades of Disney Parks music that isn't available for streaming or purchase (outside of a random estate sale) I stream on YouTube Music because it's the only place you can find it.
YouTube Music also remains one of the very, very few that allow you to upload music to it, meaning I can mix my personal collection of Disney Parks music and out of print soundtracks with the YouTube videos and the latest pop anthems. This unbeatable selection — and the ability to augment it with any music you upload from CDs or digitized vinyl — makes YouTube Music truly irreplaceable in my mind, even if Spotify Connect is pure magic and Spotify is where most people share playlists and mixes.
It already knows what you like
Give YouTube Music a chance to prove itself. You won't have to start completely over from scratch; it remembers every time you've searched YouTube for a music video, lyric vid, or what that one song from the 80s was. It can extrapolate that with your initial artist likes to nail your tastes pretty quickly. Even four years ago when YouTube Music was just relaunched with its souped-up Supermix, it was resurfacing osbcure pop favorites of mine within two hours, and that was before I took the time to set up my full library.
Of course, this also means that YouTube remembers every fad song or viral music video you've watched in the last decade (or more), but that's what the dislike button is for. I'm betting you won't need it very often though, YouTube Music got my tastes down pat, and I have some pretty bizarre, globe-hopping tastes.
Best deal in music
No ads, unbeatable selection, and offline awesomeness.
YouTube Premium is the bigger, much better deal than YouTube Music Premium alone, offering ad-free YouTube videos that you can download for offline viewing or listen to in the background, plus the full-featured, super-wide catalog of YouTube Music.
Get the Android Central Newsletter
Instant access to breaking news, the hottest reviews, great deals and helpful tips.
Ara Wagoner was a staff writer at Android Central. She themes phones and pokes YouTube Music with a stick. When she's not writing about cases, Chromebooks, or customization, she's wandering around Walt Disney World. If you see her without headphones, RUN. You can follow her on Twitter at @arawagco.
YouTube Premium finally put its best feature in front. Now hopefully they build from there. It would be wonderful to have Premium features carry over to gaming like PS5. Background streaming in place of Spotify would be a game changer.

Samsung offered 3 months of YouTube Premium once. The only part I found useful was Ad free YouTube. I didn't find myself wanting to switch from Spotify because: No mention there's no YouTube Music Desktop apps for Windows or MacOS. You can add local music on the Desktop apps, appreciate not the same as uploading. When I last used YouTube Music Prenium it had an over reliance on videos. That not what you want from a music service. Music Videos urgh. This was a few years ago though. Spotify Connect is so good too, there's not really much made of it in the article. Also, no one I know uses YouTube Music. It's all Spotify. YouTube Music seems to be North American centric. Like iMessage is American centric too, everywhere else it's WhatsApp. Lastly appreciate this is a personal thing, Spotify is one of those rare examples where a non-American tech company actually competes with the American tech giants.

Ad free youtube is the only reason I'm subscribing to it. The rest is pretty useless and the Music service is a terrible 2010-ish level of compression.

There is no need to pay for adfree Youtube, or even Youtube music. Just get the vanced version of both! Been using YTV for years! Thought of Youtube Music too and tried it but by that time I was still a supporter of Spotify. Once they screwed up their Android app I left them and bought my music again throu Amazon. Then I got Apple Music for free from Verizon but hardly used it. Recently I heard about Qobuz, a french company that offers Hi-def music for $12/month and I signed up for a free month testing. Love it! Great sound, good app, windows app, and the ability to buy music through their store. Immediately ditched Amazon music and Apple music. Also like the fact that its now none of the big data harvester that serves me my music!

Tried it. Preferred Amazon to both it and Spotify.
Sure, Amazon has a way to go to address it's apps and integrations, but half the stuff I want I can't find elsewhere.

If there is a "good enough" alternative, I disable as many Google apps as I can get away with without hampering usability (I keep Play services, Play Store and Google maps enabled though). I'll stick with Spotify because no one else offers me anything much better and it just works well enough for me and on my Xbox lol.
I switched from Pandora subscription over to Spotify subscription since I'd have to use it to listen to the Joe Rogan podcast anyway. No reason to have two separate apps for music and podcasts for me.
I listen to all my podcasts and music on it, and don't necessarily hate or love the app.

Only way I'll use YouTube music is if they allow me to run the app in the background without stopping the music I'm listening to (for the ad supported version). All the other apps have this feature.

Use YouTube Vanced https://vancedapp.com/

That's exactly what it does.

Even though I use YtMusic, it's UI is very lacking. I wish they would make the app good-looking at the least; can't hope for user-friendly features as it would take them years to figure it out.

Since GPM shut down, I switched to Pandora Premium. It really is good. The only thing I don't like about it is (like Spotify) it does podcasts as well. I like having two separate apps. I know there's a difference in bit rate, but after a few songs, you can't tell. The biggest reason for me and my family to use it is google home / nest mini integration. With all smart devices connected, everyone can play something separate in their room through nest mini while all on the same account. I don't want separate log ins for each kid. It's easier to manage with one account, mine, and I can manage it through google home app. Spotify and YouTube music can't but Pandora can (so could GOM). Hope this helps.

YouTube music... Yes, I use it. But, YouTube Music provides even a worse deal for artists. It takes 1250 plays for an artist to make $1 on YouTube Music but only 315 streams on Spotify for an artist to make $1.

It isn't fun for the indies, but I don't feel sorry at all for the big revenue artists. If musicians wants to s### us over by charging over 30 bucks for hires "remasters", just because they like money more than fans, then they deserve to get pirated. Just my opinion.
I do buy most of my music, but some artists that has lost touch with reality will not get my money.

I used to buy music... Cheaper paying to stream $9.99 a month. Ie. Would you buy one CD of content a month? If yes, then it's worth it.

I probably only buy one album every second month on average. So, streaming is definitely not worth it for me. Especially considering the fact that streaming is renting. The moment you stop paying, you don't have anything.

And that's why i have no problem paying more to support the artists. This model is killing the music industry and development of new talent.

What i love is the live performances. I can listen to vintage Van Halen live concerts, all the good stuff from Wacken, and even Horowitz playing Rachmaninoff.

"Whether you're leaving Spotify with the Neil Young/Joni Mitchell-led boycott.." IMO you'd be an idiot to leave Spotify for the recent spat with these above old fossils. I'm sticking with Spotify because it has such a great catalog of music and much nicer to use vs. YT.

I'm staying on because they aren't caving to the mob. I do not listen to Joe Rogan but I'm staying just to spite his lefty haters. That said thanks for the info regarding YouTube music. Didn't know I already had it.

Plus if you subscribe to YouTube Music your Google Home devices will stop telling you that you should subscribe to YouTube Music. Right? (or, you can just turf your Google Home devices like I did and live like a caveperson)

I like YouTube Premium but I don't like the fact that sound quality is kinda low compared to others even if it is set to high. Not that Spotify is that much better but at least it has a desktop app and the Spotify connect is irreplaceable as well as its availability on literally every OS and platform. Even apple music has better audio and has a web version that isn't as clunky as youtube music.

I use YTM not out of love for the app but because I subscribe to YTP. I've cancelled numerous subscriptions because once I added up various media subscriptions it got to be too much of a monthly outlay, annualized it became preposterous. I don't like it but some programs I just can't watch now or listen to which sucks. The subscription era is becoming a real drain on peoples discretionary income.

No intension of leaving Spotify but thanks for the sales pitch.

I would prefer to listen to my Malamute howl then go to the king of censoring; Youtube.

First off, Neil Young's music sucks (as does pretty much all his genre) and I say good riddance to his ilk. Second, I hate Spotify as a service because it doesn't present music that I actually DO like nor does it present it in a way I prefer. NONE of the services do, least of all YouTube. So, there is no such thing as an "unbeatable reason" for using YouTube's garbage service.