Leaked render shows off the Android powered BlackBerry Venice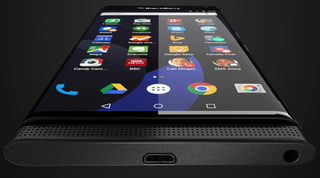 A leaked render of BlackBerry's upcoming "Venice" slider phone shows the device running Lollipop, instead of BlackBerry's own BlackBerry 10 OS. There have been rumors that BlackBerry was working on an Android powered device, but until now we had no idea just how that would look. One of the most notable things about the render that surfaced is the apparent inclusion of Google Apps on the device. This would mean that BlackBerry worked with Google to have the device pass Google's Compatibility Test Suite, instead of just forking an Android version that didn't include the services.
The BlackBerry Venice is rumored to launch this fall, and is apparently heading to AT&T — a long time partner — in the U.S. BlackBerry has been known for its keyboard hardware, but many didn't like the software. With so many great third-party keyboard options already available for Android, is there even a need for a physical keyboard device these days? Either way, it shouldn't be all that long before we find out what BlackBerry has up its sleeve.
Source: @evleaks
Jared started off writing about mobile phones back when BlackBerry ruled the market, and Windows Mobile was kinda cool. Now, with a family, mortgage and other responsibilities he has no choice but to look for the best deals, and he's here to share them with you.
So... there are no Blackberry apps on this render of a Blackberry phone? Also, show me the keyboard!

The phone was previously shown - but no one had a hands on:
http://i.imgur.com/3x1qhVh.jpg Much of it is the same hardware as the Samsung Galaxy, with the added slider.

My first phone was a Samsung Galaxy-variant slider, and support for that thing was TERRIBLE. I saw the previous image, but I was hoping for a render that would show it a bit more clearly...

Man I loved my palm pre 2 i wouldn't hesitate to get something like this if it was priced right, but BlackBerry will probably ask at least 500 unlocked for it I think Posted via the Android Central App

I still have my original palm pre (in mint condition btw) I still take it out and play with it. The keyboard was great just like Blackberry"s but I don't think blackberry can still use that as their strong point anymore. Just make Android run smooth, good support and solid specs. And they will for sure have people's attention. Posted via the Android Central App

Loved installing themes and modding my pre plus\pre 2! Posted via the Android Central App

I loved my Pre+ but that battery life...my God.

Yeah it's been so long I forgot about the battery but I had the wireless charger so it always worked out. Posted via the Android Central App

Yeah that was great, it was a lot of fun to mess around with that stuff. Posted via the Android Central App

Woow look liike the old Sharp Zaurus SL-5500 for keyboard.

Yep, my thought process was:
#1 wow, good looking hardware
#2 wish it had type-C USB connector since that is the focal point of the photo
#3 where the heck is BBM?

Same here. I was expecting a Droid-style landscape slider for some reason, too, but hey. I would actually have considered this for a work phone if it had Type-C. I can only imagine the render is just temporary, they surely would include BBM and other apps of their own creation.

Hey dudes, it's a DELL...! Still using the Sprint GSIII on FreedomPop Unlimited for $19.99

Insta-buy if this turns out as good as it sounds. :-D -Posted via the Android Central App on my G4-

If BlackBerry finally makes a phone that sexy and its an Android... They are idiots. I dont think it will look like that. Posted via the Android Central App

Blackberry isn't apple or any android OEM they do take risks l. Look at their Porsche designed blackberry's that are over a thousand dollars. Posted via the Android Central App

Yea let's see those sales numbers that show how successful that venture was lol

And I have never seen someone rock one of those either. I rarely see people with BlackBerry phones anymore as it is. Oh how the mighty have fallen. Posted via the Android Central App

That front spacing speaker!

Thanks for pointing that out. I wonder if illiterate people get the full effect of alphabet soup

I'll buy one! Depending on reviews, but given BlackBerry and Androids history, I'm definitely interested. Posted via the Android Central App

Just imagining the clumsiness of a 5" phone with a slide out keyboard. My wife had a Torch which felt great in hand but a much smaller screen. The software was a big letdown, but the thing felt like it was built like a tank... Posted from my Nexus 7 2013 via Android Central App

You read my mind. I still miss my slider, but that was a much smaller phone....

Would be like holding a Nintendo ds lite probably. Not small but no worse than the 5.5" phablet like the g4, note 4 and nexus 6.

I'd imagine typing would be awful on a phone that slides in portrait with such a large screen. I could be wrong, but it seems like the weight ratio would be weird.

Center of mass would be way too high. There's no way you could rest it on your fingers and thumb-type without it tipping backwards.

That was my thought at first, then i kind of played with it in my head and it could be done. IF the screen part was very light, like if most of the internals and the board were under the keyboard portion, it might balance out weird. I wouldn't recommend this, but it could be done.

This wouldn't be the first time that BlackBerry made a slider that was well balanced. The Torch slider was a popular model among BB users. Follow @TheGroupRide

Clearly, you've never used Dell Venue Pro.

thats where my mind went as well... hand cramps seem imminent.

I think it's to little to late. I do not see the need for a physical keyboard anymore. If Blackberry is trying to get back into the game on a grand scale I do not think this is the way to go. I cannot see mass demand which I think would be their goal. I still keep an open mind and see what they come up with. Posted via the Android Central App

Agreed Posted via Android Central App

Just cause they are taking this route with one device doesn't mean they are going all in, in this direction. Posted via the Android Central App

The company is making money so it's not drowning. Also there is a market, weather big or small remains to be seen, for keyboards available. So all this too little too late is ignorant talk. I can't say that I'm all in on this phone but my curiosity is peaked. Will this take down Samsung or iPhone? Not even blackberry believes that. Will it sell. I don't know but it's worth the risk and if I like the phone I for one a have never Ben shy on being unique. Too late. That kind of thinking keeps innovation from happening. Posted via the Android Central App

Well its really not just the HW keyboard. BB10 has the most intuitive and best predictive text input which also makes it the fastest on the market. You are being able to finish up sentences in few swipes really. Whole thing actually remembers how you put together sentences and what words you use the most. Its quite clever actually. Whenever I type on iOS or WP I get so disappointed. With new gen HW keyboards they are actually making them a touchpad with multi-touch gestrures, so its no joke. If you want to edit the text you dont need to tap on the screen and hunt kerning. You can do that all from the keyboard plus you can just swipe to from right to left to delete characters or whole words. Also once you master HW keyboard you can type without even looking at it :) But the best thing about the slider is that virtual keyboard doesn't eat up your screen space.

Yes! I'll buy this the second it's available! Posted via the Android Central App

Att exclusive runs another phone.

Runs = ruins. Can't edit worth crap on this site on a mobile phone which is funny considering this site is all about phones. Switch to disqus or something.

But then they won't have as much control over our comments lol Posted via the Android Central App

Good to know I'm not the only one that can't edit a comment from mobile. The reply button works just fine, but the "edit" button, no matter how far I zoom in, is not clickable. Even long-pressing on it just highlights the text, as whatever link is supposed to exist there is completely broken.

Ditto. I almost blamed it on the phone as an issue with the touchscreen, but then I noticed the same thing happening with other devices

Yeah it's been like this since the site redesign. Though after I posted that comment I sat there tapping the edit button and after about 25 times I happened to get it to work. I think the touch area has to be like a 4x4 pixel square that completely ignores the zoom level. It's very infuriating.

No one likes the app? Posted via the Android Central App

Read my response to that a couple posts below yours.

Do you use the Android Central App? I've never had a problem editing my comments on the app. Did it just yesterday too

I don't use the app. I don't want another app on my phone just so I can comment and edit comments on mobile for one single site. The issue is with the mobile formatted website. I've even tried multiple browsers and it's the same on Chrome, Dolphin and even Firefox. I think the touch area for the edit button is like a 4x4 pixel square. I finally managed to get it to work after about 25 different taps on the tiny edit button. And zooming in doesn't help either.

The app is much faster. Posted via the Android Central App

Get a BlackBerry and the typo wouldn't have happened in the first place. LOL. J/K

http://www.opptrends.com/2015/08/blackberry-ltd-bbrys-upcoming-venice-de... Lot of rumors around this device... but it is also rumored to be on T-Mobile. You can pretty much forget SPRINT, and we'll have to see if Verizon will take another risk with a BlackBerry device.

They've always built great hardware. This is what they should have done 5 years ago. Posted via the Android Central App

Finally, Blackberry starts to leave their dead platform.

It's. One. Device. They aren't dropping their platform. Posted via the Android Central App

I could see them pushing consumer Android devices and sticking with BB10 for enterprise. Seems like it could work.

Actually I'm betting they're going to push their enterprise security with this new device. Android still isn't considered as safe or easy to work with as blackberry or apple in enterprise, mainly because there are so many different manufacturers. Sure, Samsung has Knox, but really that's only for Samsung devices and it's new. But an Android device that's secured by blackberry and is compatible with Blackberry's technology that many companies already run? I could see that being popular.

Yep this is my thoughts on the matter as well.

LMAO - you're so funny. Of course they're dropping their platform.

Uhh dude what do you think it's the idea behind all this? That they're just doing it for fun? Because their platform is doing just fine? Posted via the Android Central App

Att exclusives... Where phones go to die..

Haha, but I think this would sell more then the Amazon phone. I wonder if illiterate people get the full effect of alphabet soup

Looks great minus the useless keyboard

I'm not sure what to think of this... it's probably a good move on BlackBerry's part to stay alive but at the same time I hate to see competition like this disappear, meaning their OS. Choice and competition are always good for the consumer, it forces companies to continually improve and helps keep costs down.

They have not offered competition in years, I believe they are 0.3% of the market share as of right now. I have had Blackberry in the past and they made great phones but they were stubborn and wouldn't change or couldn't see change happening in the mobile industry. They are desperate and will try anything now. Posted via the Android Central App

Agreed. There's nothing competitive about Blackberry's OS.

You have obviously not used the latest BlackBerry 10 OS. Excellent OS. Crap marketing Posted via the Android Central App

I have used BB 10 and their is nothing competitive about their newest OS. The market speaks for itself. Just check their BB 10 market share which is lower then their older OS. Posted Via The AT&T Note 4

If Blackberry made a powerful Android powered quarty keyboard device like the classic, I'd buy it in heartbeat. Posted via the Android Central App

Is qwerty really being now misspelled as quarty? Really? sigh...

lol glad im not the only one who went 'wtf is quarty?'

Idiots, that's the reason he needs a great physical keyboard

Or to turn off autocorrect Sent via carrier duck. They were out of pigeons

Maybe he should turn it back on lol Posted via the Android Central App

If they can make it with a 4:3 display, keep the hub, I'll buy it, too. BlackBerry Classic

AT&T exclusive... R.I.P Posted via the Android Central App

Bring it unlocked to us.blackberry.com , and I'll consider it.

All their new phones are sold direct and unlocked. Posted via the Android Central App

The Z-10 was a great phone. It was too bad you couldn't do anything with it. No banking apps (and other important apps, not talking games here) and I use one of the largest banks in the US. So it became useless to me. Side loading APK files was hit or miss in the way they functioned and you couldn't get any support because you side loaded it. I would consider buying one. But not from ATT.

Luckily here in Canada all of the major banks have native (or really well ported) apps on the blackberry store. I have never had much issues with not being able to find all the apps I want for my phone. I dont use much for apps. What do you need that isn't available for BlackBerry? I have all my social media apps. If you use your phone for typing and communication, I don't see a better option than blackberry . I use android as well. But for typing and battery life. Which I need for work I choose blackberry. I hate wondering if my android phone is going to last my 12 hour shift or if there is a plug in near by. I use my blackberry at full brightness pretty much all day and never have it die on me in the day I unplugged it.. unless I was playing Tetris blitz.. That game kills my blackberry battery Posted via the Android Central App

I have always said BlackBerry should make an Android phone and I would be happy lol :D the pricing and specs will determine if I buy however so we will see how that goes, AT&T exclusive is OK for me as their devices don't have to be unlocked to work on Cricket lol Posted via my Moto G 2nd gen on Cricket

They'll probably give it a flagship price. Posted via the Android Central App

As much as I hate to admit it, I agree. I won't be able to afford it outright on my current budget lol Posted via my Moto G 2nd gen on Cricket

That's why this is gonna be a beast! Most of us, me included, can only afford to buy a flagship once every two years thanks to contract offers. Posted via the Android Central App

If it comes with a flagship price it better have flagship specs to justify it, here in a world filled with great android devices they need to be weary of pricing mid range hardware with so many options and with so little brand love Posted via the Android Central App

Should have done this two years ago really. Maybe it isn't too late. Posted via the Android Central App

Will they port BlackBerry Sound Profiles to Android? Please, please, please. Posted from my XT1080M

There's an even better way to get them right now. Get a Passport, Classic, Leap, Z30. Anything really ;) Posted via the Android Central App

That is what I miss most about BB!!.. I would get to work, switch to my 'Work' custom profile and voila I had a generic ringtone set to a low level, my work emails vibrated and all else was either vibrate or silent! Why does android just have volume control!?

Isn't there probably an app that would do that? That sounds awesome Posted via the Android Central App

The people on CB are acting as if the world just ended lol. When will they realize that BlackBerry is dead? I guess when their market share drops to .01%. Posted Via The AT&T Note 4

We won't let that happen Posted via the Android Central App

Yeah because the whole 1% of all smart phone users can turn a company around ROTFLMAO. Their market share drops everytime comscore releases a report. I live in NYC and haven't seen anyone with a BlackBerry phone in at least 6 months. Even all the old editors on CB have moved on to bigger and better things. The only one that remains is Blaze. Posted Via The AT&T Note 4

Blackberry is dead? You mean their smartphone market share is dead? But Blackberry as accompany isn't dead. Another ignorant Canadian.

I have read that BlackBerry is dead since 2011... We are on 2015 and BlackBerry is Still pushing out devices... If you Dont like a brand Its ok but Dont be an asshole saying that is dead when is not... Posted via the Android Central App

They are pushing out devices that nobody buys which is why they continue to lose users and their market share continues to drop. If this continues they will either go out of business or sell the company. A 1% market share is basically dead when they show no growth. I was a BlackBerry user for 7 years and left because they are releasing devices I have no interest in. Posted Via The AT&T Note 4

The problem is getting name recognition back out there. There is a whole generation that have no idea who Blackberry is. The only way is to put out a full marketing blitz but I don't think they have the resources to do this. Posted via the Android Central App

For now... until Google buys them :p

Looks cool, I wonder if the screen is curved on the sides. I personally don't need a physical keyboard, but I like where they are going with this. Posted via the Android Central App

silly french canucks. moving parts, physical keyboards, clumsy sliders suck. they'll sell dozens!!!!!!

They'll sell a dozen, literally 12.

If this come to fruition, it'll go toe to toe with blackphone 2.

AT&T exclusive? Hopefully it flops horribly if that's the case with no option to buy unlocked or from other carriers. Exclusives are crap and these morons are still doing that. Yeah don't give me about the iPhone exclusivity at launch, those were different times than the current smartphone landscape.

More than likely it will be available for ATT and also unlocked from their website, as their other offerings are as well.

Is there no app drawer like iOS? I know it's just a render. Physical keyboard or no? Thanks. Don't flame me plz. Have a great day and for us Americans have an awesome safe weekend! Posted via the Android Central App

FLAMEEEE!!! jk no i dont think anyone really knows right now what to expect outside of these renders, which i would take with a grain of salt.
more than likely there will be an app drawer, i cant imagine anyone sans apple to do such a bold move with people using so many apps.

Looks like it has an app drawer to me. It's right there in the middle of the bottom row of icons. Posted via the Android Central App

Two things wrong with this phone that will guarantee it a flop, the name BlackBerry and slider. From my Note 3 to thee

Why what's the point BlackBerry is so old school I had the blackberry storm and was a joke Posted via the Android Central App NEXUS 6

Meet Blackberry's next billion dollar write off! DOA

Its a render. I won't keep my hopes too high

Well if you can't beat 'em, join' em. Posted via the Android Central App

Man, the slider sure has a lot of unconfirmed rumors floating around it.

Blackberry always made great hardware it was their operating system. That got outdated. Hopefully they can get it going again Posted via the Android Central App

Sad misconceptions of old BlackBerry's and OS. I have a Samsung Tab Pro and BlackBerry Passport. BlackBerry's latest 10.3.2 OS is hands down, night and day better. Those saying otherwise simply don't have the experience. BlackBerry does have the worst marketing of any mobile supplier. If any one else had a capacitive touch keyboard the world would know. Posted via the Android Central App

That's all well and good, but when the people I know and watch struggle with Blackberry 10 devices complain Netflix is only side-loadable, is crappy, and crashes all the time, THAT's BAD! If you can't even get Netflix right what do you really have?

Not everyone on the planet needs Netflix. Posted via the Android Central App

What OS are "the people you know with BlackBerry 10"on? Simply open the Amazon app store or Google Play store and Netflix loads and runs just fine. Posted via the Android Central App

Tell them to do a system update. Lol I have Google play store on my blackberry z30 and netflix works fine but I use a fully functional version of kodi on my blackberry for streaming video Posted via the Android Central App

Blackberry cannot get their own software right let alone anyone elses Sent via carrier duck. They were out of pigeons

BB10 is very optimized. They just lack apps and Google services. I don't know what you are talking about. BlackBerry Classic

Bb10 is half a pig and the other half was left on the cutting room floor. I used to be a blackberry fan but in the last 5 years they have done nothing but come up short on about everything Sent via carrier duck. They were out of pigeons

I never had a BB before , but this interests me a lot. I wouldn't mind getting this if it comes to T-Mobile. Posted via the Android Central App

I would totally be open to a Blackberry device that runs (near) pure Android.

go ahead and count out that idea. it will definitely have a ton of BB customization to it i can almost guarantee you. maybe not as crazy as something like touchwiz, but it wont be close to stock.

Looks pretty stock from these images.

This is a render, not an image. Huge difference Sent via carrier duck. They were out of pigeons

AT&T exclusivity will ruin this device

EN HORA BUENA!! AL FIN BLACKBERRY COM ANDROID! LA mejor noticia! Posted via the Android Central App

Solo espero que traiga el HUB con eso me doy.... Posted via the Android Central App

Isn't that an image of the old Picasa app? Posted via the Android Central App

As long as they offer the same BlackBerry Hub, and it's as smooth as it is on BB10, then it's worth a try. Launch a small batch and see how the market reacts. The current Android runtime works fine for me. The only must have Android app that I use is Google Maps. I can't sign in, but other than that, it works great. The Cobalt method of getting Google Services on the current BB10 is too much of a battery hog. Snap and Amazon are good enough for me. Posted via the Android Central App on my BlackBerry Passport

The HUB is a must for me too... Android Mail apps reamly sucksss!!! Posted via the Android Central App

Seems to be about stock, nice specs. Could have been a big seller, but limiting it to just att will be the death of it.

If BB puts basically stock Android on this, adds BBM, the BB hub, and prices it right, it could be a big seller for BlackBerry. Too bad it's going to be an AT&T exclusive. That will kill sales of a potentially good device. BlackBerry should just sell the device unlocked for a reasonable price and then laugh all the way to the bank. From my lollipopped rooted LG G2

They will sell it unlocked, like they currently do with the Passport, Classic, Z30 and Leap. Posted via the Android Central App

They always sell the devices unlocked in Shop BlackBerry At a higher primer that the Carrier but you can get it of contract. Posted via the Android Central App

The phone will flop like every other BB 10 phone before it. From my Note 3 to thee

Hmmm if everything runs smoothly and the ui is not laggy , with good battery and decent specs , I might buy it , props to BlackBerry for trying something new Posted via the Android Central App

AT&T = killed it for me Posted via the Android Central App

Here's the specs: 5.4-inch Quad-HD display
18 MP rear-camera
5 MP front-camera
1.8 GHz Hexa-core (Snapdragon 808 chipset) 64-bit
3 GB RAM I think this device could be a big release for BlackBerry if the price is just right. Posted via the Android Central App

Sliders were cool Idk like 9 years ago..? Posted via Android Central App on The Nexus 5

Does that mean you'll merge crackberry and Andriod central? ;)

Guh, not another 3-row keyboard!? Did no one learn the lesson before? Get that spacebar out of the bottom letter row!

Who puts Google Drive in their dock? Posted via the Android Central App

Someone who works. Posted via the Android Central App

Make it dual boot blackberry os and android.. or make a perfect emulation of the blackberry 10 os in form of a launcher that is downloadable from the play store including all the security perks of Blackberrys past . That way everyone could download the blackberry experience apps. ( keyboard, launcher+hub) bbm, blend, etc no matter what device they used. And this way revenues in software are limitless for intellectual property. They could even hit the 600 million in software revenues john Chen as been shooting for. Posted via the Android Central App

A dual boot blackberry os and android is a great idea. I would buy that!

Double boot would be Great! Posted via the Android Central App

Dual Boot would be cool... Too bad that for the same reason Google said no to all those dual booting Windows/Android devices last year, they would say no to an Android/BlackBerry BB10 device this year. It's not in their interest, and doesn't meet their set requirements to gain access to Google Services and Apps.

Back to Blackberry for me if they make this phone. So much better quality phones they build then any other manufacturers. Powered by Android. It's a match made in heaven! Posted via the Android Central App

Will buy this phone as soon as it becomes available. Posted via Samsung Galaxy Tab S

Gotta switch to AT&T? No thanks. I would check it out if it went with Verizon as well. To bad Posted via the Android Central App

Looks like a decent render, hopefully this will improve Blackberry's fortunes.

Nah, just ordered a LGG4. Posted via the Android Central App

I don't mind this but I would expect that the phone integrate the BlackBerry swipe keyboard and 'hub' as a minimum. I love the BlackBerry 'Flow' UI and apps that are built for it. Even though I have an S5 I hardly touch if now that I loaded Google play store on my z10, so an android BB10 would be great. Posted via the Android Central App
Android Central Newsletter
Get the best of Android Central in in your inbox, every day!
Thank you for signing up to Android Central. You will receive a verification email shortly.
There was a problem. Please refresh the page and try again.