BlackBerry reportedly considering Android for an upcoming smartphone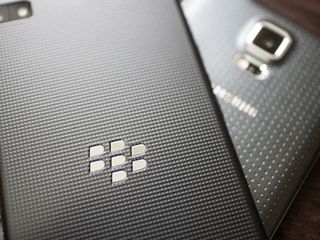 According to a new report, BlackBerry may be considering putting Android as the operating system on an upcoming smartphone. The move is said to be part of a shift to a more software-centric strategy.
From Reuters
It isn't clear from the report if this shift would be for one particular upcoming smartphone, or if it would be a larger move away from BlackBerry 10. In either case, it would be quite the radical turn for BlackBerry, which has poured considerable resources into its efforts with BlackBerry 10. However, when asked to comment by Reuters, BlackBerry said that it is still committed to BlackBerry 10. For right now, we'd recommend taking this latest news with the requisite giant grain of salt.
Source: Reuters
Funny, because the best thing about BlackBerry phones is Bb10. The main reason many people seen to move away is the lack of competing specs, and apps. Since the Android runtime bridges apps for the few committed users that know it exist, can they provide a flagship keyboard and full touch phone? When's the z30 being refreshed/updated? The Passport is the obvious flagship right now, but the form factor and keyboard aren't for everyone. Sloths fight leopards. You can't open a bag of chips. Clearly humans are the weaker species.

They don't have to supply a stock user interface. They can put their own BB style on it, add their own ideas and services. But under it all, Android apps in abundance.

But most Android apps work perfectly well right now. There's even a ghetto Google play services so you can get things like YouTube to work properly. (stuff that requires location is still screwed mostly in my experience.... No YikYak :[ ) Sloths fight leopards. You can't open a bag of chips. Clearly humans are the weaker species.

Which requires pirating of Apps... I.e. other people's intellectual property. Any time you encourage pirating, you become inherently less secure and open yourself up to lawsuits. Plus being a shitty thing to do.

Snap is not piracy. Sloths>Bags of Chips>Humans.

YIf you're installing apps from a source not authorized by the app creator, it's piracy. For encouraging and enabling piracy, BB deserves to die a thousand fiery deaths.

The Amazon app store is also available there. Chill out. Sloths>Bags of Chips>Humans.

@Sax_Derp #Truth Posted via the Android Central App

When someone says Blackberry I think of Vertu. LG G2
GSIII
Galaxy Note 4
(The Sprint Lover)

You shortened your signature, the world thanks you profusely :D Sloths>Bags of Chips>Humans.

Where do you live to like sprint? I had them in Phoenix az 3g was abysmal. 20kB/s and lte here is a joke too. What are your download and uploads speed? Posted via the Android Central App

I have sprint in Washington DC (spark) and it's fantastic here now.. It's rolled out in this entire area now and is just as good as any other carrier (at least in the DC, Virginia, Maryland area) Just did a speed test and got 15mbps down and 11mbps up ( I'm indoors in the middle of a building) I think my peak download was 30 if I'm outside about a block closer to the tower than my current location ( their uploads seem to be capped around 11 or 12 no matter where I am) Posted via the Android Central App

Not where I live in Virginia (Roanoke). No LTE and 3G speeds are like 15KB/s. Posted via the Android Central App

Yup, I'm in the DMV area, too. Spark is great around here, I see 40mbps download speeds and faster where I am, but it was spotty in Vegas.

I'd put the bb10 skin on top of it and let's be honest all ppl on bb10 now is sideload Android apps Posted via the Android Central App

Very true. A BB10 skin Android device with a physical keyboard is my dream phone. Posted via BlackBerry Classic

Ask Samsung to make one. LG G2
GSIII
Galaxy Note 4
(The Sprint Lover)

Indeed Posted via the Android Central App

Since when is the best thing about Blackberry BB10? BB10 is ONE OF the best things about Blackberry! The device's build quality, security standard are top notch, as is the battery life and specs. The app selection is fine for a work productivity phone. Blackberry users are mostly not pleased with the introduction of Android - they like that Android apps are available but the majority are unhappy about the future direction of the company.

Then it wouldn't be BlackBerry. BB10 is awesome but it's a shame there is no ecosystem. Posted via the Android Central App

Interesting ... I loved my BlackBerry Curve back in the day. It was a work phone so the keyboard was perfect for email and I loved the kevlar/durability and most of all battery life. Unfortunately their ecosystem is causing the ship to sink and they made the deadly mistake of not converting to touch screen when the iPhone launched. If BlackBerry devices came with Android I'd definitely be interested. Posted via the Android Central App

BlackBerry 10 is a great operating system. I love my #passport best phone I have ever owned. Bring on the slider! Posted via Android Central App

Yes LOVE BB 10 and I have a Passport too. Posted via the Android Central App

Keep BB10, but work with Android and Google on bringing the Play Store and Google Play Services to the platform. I have no idea if that's possible (not to mention it would drastically aid the "competition" [even though BB is hardly that]), but I thouroghly enjoyed BB10 on the Z30 and Passport I owned for a little while. Snap is a nice alternative to use in order to get Android applications on BB10, but without Google Play Services a lot of apps I use are rendered useless. Posted via the Android Central App

Google won't allow their services to be on their without getting it certified as a "real" Android phone Posted via the Android Central App

Yet they don't mind putting them on ios! Posted via the Android Central App

Play services and apps are not the same thing sheesh Posted via Android Central App

How would it benefit Google to allow Play Services on a OS with a 1% market share. Blackberry dug their own grave and now they are going to try and use Android to dig themselves out. Smart move on their part because sticking with BB10 is not working. Posted Via The AT&T Note 4

Bingo. BB should have done this years ago.

They just can't supply to their users what the larger companies offer. It's a simple game of resources.

I loved the Z30 and it had great features some of which are now just coming to Android. I switched because I was unable to use my Bank's mobile app and the lack of other apps. Side loading was a pain and many times the app was wonky

I have previously owned a Blackberry Z10 before currently owning my HTC One M8. BB10 overall was a fantastic mobile operating system and still is today in my opinion. However, the lack of a mobile ecosystem is what made me switch to Android. Posted via my HTC One M8

WebOS was a great operating system as well. Where is it today? If BB wants to be solvent as a company (which they really aren't right now) they need to make this switch.

That's a good thought. I've personally never used WebOS in the past but we can certainly all agree on how awesome it was as a mobile operating system. WebOS certainly is not the same as it used to be that's for sure. BB10 was certainly influenced by WebOS. If I've done my research correctly, WebOS was open sourced by HP to become Open WebOS and later sold to LG in 2013. LG then used it to power their newer smart TVs and some smartwatches. As for Blackberry making the switch, I agree with you on that even though I loved BB10. Posted via my HTC One M8

Suffering in open sourced hell. There's a group attempting to make a version of it called LuneOS Posted via the Android Central App

I have a BB for work. Its rock stable with great battery life. It's really a shame devs can't support more than two platforms. --- This message brought to you via the sarcasm keyboard available for download at the Google Play Store.
LG-G2 on Lollipop.

devs can and would support as many platforms as necessary if it made sense for them to. why spend time/resources on a phone that has less than 1% market share? if windows was 20%, bb 20%, android 30%, apple 30% you can bet they'd support all 4 Posted via the Android Central App

Didn't know that blackberry was still selling phones! Haven't seen advertisements or even people talking about it in years. Posted via the Android Central App

1% of the market share can have that effect on people....

I wish there was a way to strike a deal with Google. To get Google services on blackberry without being android. I mean I have a note 4 and a classic. The note 4 was fast for the first month I boot into recovery clear the cash keep apps closed but it just has lag. That's part of it. And I want to throw it at times it hangs up so much. I know people will say your phone is messed up send it back no its just all android phones over time I still like android and will keep an android tablet and a phone. But blackberry 10 has got to be the best os there is as far as a core os. Not 3rd party apps but the os is so smooth it doesn't have hickups I hit the phone it opens I go to messages it opens no delays. Even on 4 year old chips they can't dump bb10. Maybe have an option for a model with android or a dual boot who knows Posted via the Android Central App

Totally agree but it makes me wonder if the os running so smoothly has to do with the lack of apps. Some of these apps have high demand on your info and give back very little causing the slow down. I would love to see this on like a classic format. If that came I'd keep my tablet and use a blackberry for all important things I do on my phone. Posted via the Android Central App

I was not aware blackberry still was enough of a company to consider putting out any sort of device... Posted via the Android Central App

They are still doing enough in the corporate world. Many corporate types have two phones, work and personal. Posted via the Android Central App

Black Berry is on life support. They would be fools not to consider Android. They could even do it in a way preserves their own look, and feel. Use Android as the base, and throw a heavily BlackBerry centric skin/launcher on top of it. This seems so obvious that the only reason I can think that they haven't done it already is out of pride. Posted via the Android Central App

If they did this so many BB10 users would switch to ios. Sloths fight leopards. You can't open a bag of chips. Clearly humans are the weaker species.

Agreed. BB is great, they just need more apps. Corporate sales will only add up to so much money, general consumers in where its at. Posted via the Android Central App

and if they don't do this they could go out of business Posted via the Android Central App

Uhm... Why? Let's be honest, there are two reasons people have Blackberries these days. 1. Their company bought it for them so they have to use it. This wouldn't change that. 2. They're BB diehards that will swallow whatever BB gives them to swallow, just as they have for years. Again, this isn't going to change that situation.
Some individuals may switch, but as a group, most will stay. And those who leave will be outnumbered by the nostalgic ones who jump back to BB hardware with a better OS and full ecosystem.

You're forgetting an entire group of people, those who would like, and would switch to, a heavily BlackBerry skinned Android with BBM *and* Google Play. Those people already outnumber the 1% of the market that remains with BB. Posted from the redheaded stepchild of the Nexii

I didn't forget them, see my last sentence. I just don't include them in the groups of current BB users because they're not current BB users.

I would love a real keyboard. That's the only thing I miss about my old Blackberrys. Even after 5+ years on Android, typing on a touchscreen sucks.

I still have a BlackBerry because of the keyboard. Posted via the Android Central App

I loved my Curve 8900. I would love to see BB hardware with android OS. :D Posted via Android Central App

Yeah, I have many Android devices. And I have my BlackBerry Q10. I don't need an Android powered BlackBerry. The runtime is sufficient. Posted from Android Central App via Android runtime on my Q10!

Maybe this is the best idea they've ever had. But maybe a little too late. Posted via the Android Central App

BlackBerry fans would be pissed lol.

Some on Crackberry think it's a bad idea and they will go to IOS. But the Loyal BB user fan base will stick with BB as long as they still make phones. Posted via the Android Central App

Still couldn't get me to buy a BlackBerry. From my Note 3 to thee

If this meant that Blackberry sound profiles would come to Android, I like it. Seriously, Google, just pay for the IP license to create sound profiles like my old Blackberries had. Posted via the Android Central App

This seems like something Tasker could do. Or even Trigger. Create tasks for certain sound profiles, then put them on your home screen as widgets.

It's something that should be baked into Android. Posted from my XT1080M

Apple is thinking about having an Android Version iPhone.
No wait!
Google is thinking about having an iOS Version Nexus 7.
No wait....
Nevermind. Posted via the Android Central App

Everybody either loves the idea of an Android machine with BB hardware, or think BB should just stick with BB10.
Why not both?
...like HTC?
Have one BB10 machine and one Android, and let the consumers pick!
They can't do worse than they're doing now by doing so. In fact they may get some already-users of Android!

Blackberry missed out. By now everyone who would have wanted an android BlackBerry has moved on. Too little too late I think.

Totally wrong. Nobody's talking about some kind of hostile take over where blackberry is #1 again but in reality there's still bb fans using other platforms that have been hoping for them to do something like this. I've been separated from my z10 for over three years but still follow crackberry. The diehard fans still exists even without a blackberry device. I'm one of them. Posted via the Android Central App

It would be interesting to have the HUB in an Android BB Phone!!! Maybe it can get back lots of BB users that dropped ship. Posted via the Android Central App

Like Windows Phone Blackberry is a great operating system compromised by no major app support which is sad because they are both great.. Even if they make an android device who would buy it. It'll be proprietary and while I'll think Amazon will be backing them with their app store what about the price or exclusivity like the Fire Phone. Posted via the Android Central App for Sailfish OS on my iPad 7

I sadly agree with you on this. Having a mobile ecosystem including a vast array of mobile applications and integrated services are what attract people into using a mobile platform regardless of how powerful the OS or the latest hardware specs the device has. Android and iOS are the top two dominating mobile platforms for that reason. Am I wrong? However that's not going to stop me and you and everybody else from rooting for other mobile platforms. I'm personally rooting for Sailfish OS, Windows Phone/10 mobile and BB10. :) Posted via my HTC One M8

I attended a meeting with them 2 years ago and told them to make a Launcher for Android that mimicked the UI of BB10 so users could see just how genius the OS really is, so this is great news just think it should have been done sooner.
You can't try BB10 in store and truly tell at all how well thought out the OS really is, it needs to have all your accounts logged in for everything across the Web and bring it all together into the hub to see how amazing it is and how efficient it is getting things done compared to Android, WP and iOS, it really is an impressive user experience they've created that more people need to try before bashing it plainly on what their prior versions of their OS were like before BB10, it really is no comparison Posted via the Android Central App from whatever device I'm testing at the moment.

A BlackBerry with decent specs, good battery life, fantastic physical keyboard running the latest version of Android. That would be perfect! Posted via the Android Central App

Nokia should have tried producing an Android powered line before going all in with Windows Phone. They could have been the first - and only - producer of Nexus phones.

Long time Berry user. Loved all my berries. Even the storm as bad as it was. Had a Z10 and loved it. Bought it on release day and couldn't have been happier. Talk about a fast OS and smooth as glass! Very easy to use and navigate. But like many others have posted. No ecosystem. If blackberry released an android powered device with all the BB10 goodies. I'd buy it no questions. Oh and don't forget the blackberry security!!! Posted via the Android Central App

I do miss having a physical keyboard. I like the feel of the buttons and could type faster and more accurate. Hopefully Blackberry can come out with a phone that has the physical specs I miss, plus the software I've started to get addicted to.

If they start using Android, that would mean they're pursuing a hardware-centric strategy, not a software-centric strategy.

How so? BlackBerry could free up talent from its device OS business to put toward their IoT push and connected cars via QNX. Which are still proprietary BlackBerry software. Their device management strategy with BES12 is still a software package. I don't see hardware going away but I do see John Chen outsourcing as much of it as he can to save costs since handsets are where he is losing money. I think a secure BlackBerry smartphone running the latest version of Android, which would be M if released this fall as rumoured, would be a good step on the road back to relevance for BlackBerry as a brand. Posted via the Android Central App

Because hardware would have to be the lead.

Which would be an improvement over the loss-centric approach they've had for years.

QNX and Blackberry are two different companies that share nothing other than ownership. Software engineers from Blackberry won't be magically granted the skills needed to work on a hardcore RTOS. My point was, if Blackberry is a software-centric company, then Blackberry makes software that runs on a variety of hardware devices. That's historically accurate. If Blackberry is a hardware-centric company, then Blackberry makes hardware that runs somebody else's software just like Samsung, LG, Sony, etc.

This news should go over well with our brothers at Crackberry.

Lol for some hell just froze over!

Those people on CB act as if their BlackBerry is a member of their family SMH. They need to get over it as it's just a phone. There are plenty of great devices out there just pick one that meets your needs. Posted Via The AT&T Note 4

I've said it before and I'll say it again, if I could count on the BlackBerry app ecosystem like I can count on the Android ecosystem, I'd be a proud BlackBerry Passport owner.

Really? Why don't you say it one more time.

I use BB10 because of the UI if Blackberry were to release a BB10 loader or skin that replicates BB10's UI I would be first inline to purchase it from the Google Play store. I'm seriously interested in the new Slider coming out, rumors are this will be the first Blackberry device to use full Android and John Chen did mention to expect something unique regarding it.

I just made the jump from z10 to s6. The galaxy is nice, android is ok, but bb10 is truly a stellar ui. I really miss the hub and the toast notifications, much more polished than android. Such a pain just to get icon badge notifications, or a good texting app. I would pay good money for a bb10 akin on this phone.

I was a BlackBerry user for 7 years and moved from a Z10 to a Note 3 and now Note 4. There isn't a single thing I miss from BB10 and wish I made the switch sooner. Posted Via The AT&T Note 4

It's the best move forward for BlackBerry. They have nothing to lose at this point, and it frees up resources and money that can be focused on other things. Posted via the Android Central App

I would actually love a traditional bb candy bar with a keyboard with a full version of android and google play. Tweeting and hangouts would rock! I wouldn't want a slider or anything.

So many rumors about Blackberry these days...

I wouldn't buy any BB to run Android but maybe they will get a few non BB users to buy and increase their market share by 0.1 % to 0.5 %. From my Note 3 to thee

A BlackBerry rocking full Android integration would be great, imo. Though I am enjoying my HTC M9, I still have my Z30. The Hub kills! Nothing compares. Posted from my M9

Rumors are that it would have a slide out keyboard. Pretty much that is the only reason I would buy it. I don't care who made it; if it had Android and a slide out keyboard (of course, also modern), I'd buy it in a heartbeat Posted via the Android Central App

I don't know... But it seems to me that the best part about the new BlackBerry devices is their operating system. BB10 is great. Its so much better than Android. Unfortunately, the BlackBerry echo system or should I just say app selection , is a little thin to put it mildly. If BB10/BlackBerry had the app support that IOS and Android have, it would be right up there with those other two in regards to popularity. They would definitely have another dancing partner. Getting rid of BB10, replacing it with Android and labeling the device BlackBerry just seems wrong to me. It won't be a BlackBerry anymore...it will be an Android device made by BlackBerry. Huge difference and in my opinion it would be the beginning of the end for the BlackBerry brand. They would forever loose their loyal customer base and current Android loyalists would never buy it due to the fact that BlackBerry isn't known for its Android devices. With Samsung, LG, HTC, Motorola, Nexus, and Sony selling Android devices on a global scale as well as all the other smaller companies that are beginning to make some noise(like oneplus)...... BlackBerry wouldn't stand a chance. At best they would be a one and done which would hardly be worth it considering they would have no loyal customer base to go back to having lost them all. Horrible idea..an interesting prospect.... Or thought.... But a horrible idea to consider.... Then again , what do I know? I barely graduated high school..... Posted via the Android Central App
Android Central Newsletter
Thank you for signing up to Android Central. You will receive a verification email shortly.
There was a problem. Please refresh the page and try again.