Leaked LG V60 ThinQ renders show off the 5G phone for the first time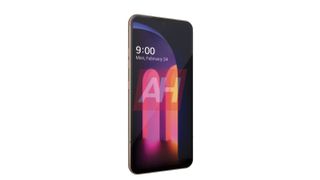 (Image credit: Android Headlines)
What you need to know
LG's V60 ThinQ has been leaked.
The phone was initially set to be announced at MWC 2020 before the trade show was canceled due to concerns about the novel coronavirus.
The leaks show a design very similar to the V50 ThinQ, albeit with a smaller notch and bezels.
While Microsoft and Samsung continue their pursuit of multiple screens by pushing the boundaries of technology, LG has been selling a similar experience for more than a year now. And while the company was planning to release its next flagship with this dual-screen tech at MWC 2020, that event's been canceled and it's unclear when we'll see the device.
Thankfully, the folks at Android Headlines were able to get their hands on a render of the phone, which should sate LG fans' curiosity at least somewhat. Unfortunately, while it shows off the base phone, we don't get to see the detachable second screen that's going to be one of the marquee features for the phone.
The phone's design harkens back to its predecessor, and LG's not really looking to rock the boat with the V60. However, the bezels on the phone have seemingly been shrunk even more and so, too, has the size of the notch. The metal frame on the sides imbues a gold hue.
As for its specs, you're going to get pretty much what you'd expect from a 2020 flagship. It's supposed to be powered by a Snapdragon 865 with a quad-camera setup and an enormous 5,000mAh battery that should last you more than a day. And unlike Samsung, LG's expected to keep the headphone jack around for at least one more year.
The render shows February 24 as the date on the phone, which coincides with when MWC was slated to kick off. With the event canceled, though, it's anyone's guess when the phone will now be announced, but Android Headlines claims the South Korean giant may opt for an online release sometime in March.
LG unveils new K-series phones with hole-punch displays, quad rear cameras
Android Central Newsletter
Get instant access to breaking news, the hottest reviews, great deals and helpful tips
Looks nice enjoyed my g4 and g5 note 8 is a good phone but the Samsung software let's it down and the cost of the note 10 has put me off even more. As it stands the surface neo is my next wanted phone but its its going to be £70+ a month I'm looking at the Xperia or LG phones next me thinks as the price is right and look nice to. Also think they are under rated to.

The V60 is a maybe. Especially if the OnePlus 8 series disappoints. I'm sure LG will overprice it though. It's DOA at $1000. $750 - $800 and it might sell.

How is it DOA when it has equal to or better hardware specs than a Samsung? Especially now that Samsung ditched the headphone jack

Dont forget the super delayed updates. My V40 is still waiting for Android 10. I took a chance on the V40 (originally was going to get a OnePlus 6T) but the cameras of the V40 swayed me.
Next phone for me, Pixel, Samsung or OnePlus. LG you had your chance but the promise of speedier software updates never came true.

The days of updates bringing game changing features are over. You aren't missing anything. The people that complain about updates rarely have any idea what's even in the new updates.

I find this true. Basically does it play YT? Stream music? Check emails, have quality calls, get great reception, text great video and pictures? All pretty flawlessly?
That's all I care about.
Android Central Newsletter
Get instant access to breaking news, the hottest reviews, great deals and helpful tips
Thank you for signing up to Android Central. You will receive a verification email shortly.
There was a problem. Please refresh the page and try again.