'La Fleur' Galaxy S3 tipped for January arrival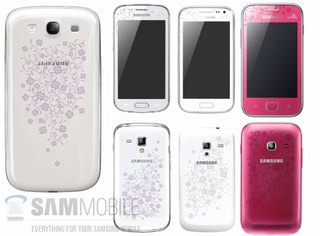 It seems the Galaxy Note 2 might not be the only Samsung handset getting a fresh coat of paint early next year. Leaked press shots from SamMobile show what the site says is a "La Fleur"-branded Galaxy S3 sporting a floral design, along with similarly-decorated Galaxy Ace 2, Galaxy Ace DUOS and Galaxy S Duos handsets.
The site says the floral-printed phones will feature unchanged internal specs, and will go on sale in January, just in time for Valentine's day. Of course, Samsung's no stranger to more... exotic stylings for its smartphones, especially around Valentine's. Last year it released its Galaxy S2 and Galaxy Note in questionable "berry pink" shades.
Source: SamMobile
Alex is global Executive Editor for Android Central, and is usually found in the UK. He has been blogging since before it was called that, and currently most of his time is spent leading video for AC, which involves pointing a camera at phones and speaking words at a microphone. He would just love to hear your thoughts at alex@androidcentral.com, or on the social things at @alexdobie.
Wow. Another piece of crap Samsung phone that will never get updated. Android has it all, doesn't it?

Can I question as to why you're reading about android news on an android website when you hate android? If this is your attempt at trolling, you're not doing very well. A better attempt would be to attack windows/Mac on a general tech website.

Obvious troll is obvious.

Congratulations. You noticed something obvious. Have a cookie.

The best way to get rid of a troll is to ignore it

I got an update already for Note II after less than two weeks.

Knock knock Samsung, your coming out with all
these variants of the S3, but whatever happened to
the 64GB S3????? This phone is suppose to be in
competition with the stupid IPhone, Apple doesn't aren't to have any problems putting out a 64GB Iphone. I hope a 64GB Galaxy S4 will actually EXIST!!!

Samsung can have Micro-sd but apple don't

"Doesn't aren't." I thought you guys were supposed to be smart.

He's here trolling coz there's not a single thing exciting on their websites or forums.

He's on here trolling because it's too easy to make fun of the iphone...... The true "original" and "innovative" smartphone.... Lol

Instead of floural prints, wish Sammy would come up with S3 variant with portrait keypad (obviously, screen would be less than 4.8 but bigger than what's out there right now).

I wonder of you can buy the s3 backing by itself. It's sort of useless though of you use a case with your phone.
Android Central Newsletter
Get the best of Android Central in in your inbox, every day!
Thank you for signing up to Android Central. You will receive a verification email shortly.
There was a problem. Please refresh the page and try again.