Kid-friendly MEEP! Android tablet goes on sale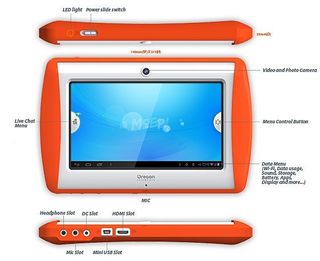 Oregon Scientific has just launched a a kid-friendly Android tablet, now on sale for a scant $149.99. Though it might have modest specs, the MEEP! tablet includes a whole range of parental controls through a web-based interface and kid-friendly apps, e-books, and games suitable for anyone 6 years old and up. It also comes with a silicone sleeve to help soak up the inevitable punishment your kids will lay into this thing. There's also a whole range of tailor-made accessories to go along with it, like a game pad, headphones, case, and a bunch of instruments for music games. Here are the specs, but don't expect too much.
Android 4.0 Ice Cream Sandwich
1 GHz processor 512 MB of RAM
7-inch 800 x 480 display
4 GB of internal storage plus microSD card slot
0.3 megapixel front-facing camera
HDMI-out
The affordability and relatively low-end specs make this tablet at least somewhat disposable, which strikes me as important for something that kids are likely to break or forget somewhere.
Parents, if you're interested in giving your kids their own device so they don't keep reaching for yours, you can pick up a MEEP! tablet from over here. How connected are your kids? When would you say is a good age to get a kid their own Android device? How about smartphone?
Oregon Scientific Introduces Innovative, Fully Loaded MEEP! Tablet Designed Just for Kids
Accessories, Cloud-Based Parental Controls & Durability
Set MEEP! Apart from the Competition
Tualatin, OR – October 2, 2012 – Cutting edge technology, durability, interactive content, a design made just for kids and a full line of action-packed accessories. The MEEP! tablet from Oregon Scientific has it all. The new 7-inch, Android 4.0 ('Ice Cream Sandwich') tablet is Wi-Fi enabled and features the most rugged durability of any tablet on the market. With a protective and fun, bright orange silicon bumper, a recessed screen and a cutting-edge zForce® touch screen that won't shatter when dropped, MEEP! withstands wear and tear from the backseat or the playground to the schoolyard or the couch. MEEP! ($149.99) is currently available at all major national retailers including Toys "R" Us, Target, Best Buy, RadioShack, Kmart, Meijer, Boscov's, BJ's, Amazon.com, Wal-Mart.com, Kohls.com and QVC.
Every aspect of MEEP! was designed for kids and the way they interact with electronics. From the rugged, horizontal design to the easy-to-use, uncluttered interface laid out to be controlled by kids' thumbs, MEEP! is designed to be a pick-up and play device that kids can take with them anywhere they go. The innovative zForce touch screen powered by Neonode® Multisensing™ Technology makes it simple for kids to quickly access content with the lightest touch of their thumb, and a scrolling menu system makes apps, games, music, videos and more quickly accessible.
As much as MEEP! was designed for kids, the tablet also appeals to parents with customizable cloud-based settings that parents can control and adjust without having to take the tablet out of their child's hands. By simply visiting the Parents Portal on MEEPTablet.com from any device with a web browser (computer, smart phone, tablet), parents can not only hand-pick ("whitelist") which websites or keywords their kids have or don't have access to, but they can add words to the tablet's built-in "bad word" list so their child will not be able to search for those words or use them in the chat feature. Oregon Scientific also maintains a "blacklist" of inappropriate content that is updated by moderators on an ongoing basis which parents can add to. In addition, parents can actively monitor their child's online activity, limit play time duration and provide a virtual allowance for purchasing apps via MEEP! coins without needing to access the physical tablet.
From the hottest pre-loaded content including Angry Birds, UNO, Toon Goggles, art and learning apps and more to the MEEP! Store, MEEP! provides the rich interactive experience that kids are clamoring for. Games, books, videos and apps available in the MEEP! store have all been cleared for kid-friendliness by Oregon Scientific and are either free or can be purchased with MEEP! coins. Additionally, Google Play can be accessed from the Parents Portal to purchase additional content, and applications are seamlessly downloaded to the tablet with parental permission. Music, movies and e-books that parents or kids have previously purchased on a PC or Mac can also be easily transferred to the MEEP! via the USB cable that is included in the package. The MEEP! tablet has 4GB of internal storage and a micro SD card slot to install additional memory. Kids can also capture favorite moments – still photos or videos – to share with friends and family via the tablet's built-in, front-facing camera and can display content on the tablet to a television through HDMI.
A full suite of accessories is available for MEEP!, allowing kids to rock 'n roll with a portable piano, drum pad, headphones and microphone or master gaming skills with a joystick, steering wheel or dualplay Game-Pro Case. For added customization, additional silicon bumpers are available in Meepadelic Purple and Meepto Pink.
"We wanted to design a tablet that had all of the features and technology that tablets geared toward adults had without being 'dumbed-down' for 6-12 year olds. The challenge was providing them with content they would enjoy and that parents would feel confident was safe," said Bill Fleckner, Vice President of Sales for Oregon Scientific, Inc. "We achieved that and more with MEEP! and are thrilled at the overwhelming response we've had so far from our retailers and content partners alike."
"Oregon Scientific has a long history in creating innovative consumer technology and we've had tremendous success in the electronic learning products category," said David Riley, Product and Marketing Director for Oregon Scientific, Inc. "We are excited to leverage that experience with a natural extension into the kids tablet category."
MEEP! will be supported by dedicated marketing and public relations campaigns that include national TV advertising, parent and kid-directed online ads, a Radio Disney campaign and promotional support of the Ryan Seacrest Foundation featuring Selena Gomez. The national TV advertising plan includes :15 and :30 spots on the Disney Channel, Nickelodeon, Cartoon Network, Disney XD and The Hub.
The MEEP! tablet is geared for kids 6 and up and is currently available at mass market retailers and online stores for a suggested retail price of $149.99. Accessories are each sold separately. MEEP! comes complete with a charger, USB cable and a quick start guide. For more information visit www.MeepTablet.com or like MEEP! on Facebook.
Simon has been covering mobile since before the first iPhone came out. After producing news articles, podcasts, review videos, and everything in between, he's now helping industry partners get the word about their latest products. Get in touch with him at simon@futurenet.com.
My two and three-year-olds know their way around android devices without any trouble at all. Especially if the device is rugged, I don't think you can start them too early. It's a great way to get through long car trips.

I rooted my wife's Kindle fire and gave it to my daughter when she was 1 and a half. Now she's 2 and can launch movies and games like nothing. She passed the first 2 levels of bad piggies by herself! Start um young!

Cool, maybe now my kids will lose interest in my toys ...

Funny, kids have good eyes but nobody seems to care.
They always get the low res crap.
Maybe they don't need a high res 1280x720 display, but come on at least 1024x600.
The res of this thing would probably hurt their eyes.

Thats where the Nabi2 comes in. I just got one for my two year old, and am very impressed. For $50 more they are not even in the same league.

Nice idea, but my two 5-yr old nephews are already hooked on their Dad's two iPads. At first, I thought they'd wreck the iPads -- turns out they've learned to be very careful (respectful) when handling them. I was impressed.

Looks useful in the classroom. The bright colours might put off older kids, but the durability and parental controls make it such that buying one or two to have around the classroom doesn't sound half bad.

I can see it now, a random popup message comes on the kid's screen: "Hi there little girl/boy... it's the Meeps fairy! You wanna play a game? Then go into your mommy's purse and find the card that says VISA on it. Doesn't that sound fun?? Did you find it? GREAT!! Now lets play the reading game. Okay?? Read me the numbers of the card. Now lets flip it over and see if you can find three numbers........"

Eh... The Nabi tablet has a quad core nvidia and is 199 I believe. This seems a lot better of a choice. More bang for the buck in my opinion.

Might as well spring for the Galaxy Tab 2 7"

MEEP! Store huh? Anyone with access to this store care to do a couple of random price comparisons with the Play store? No thanks. I'd rather just supervise my kids while they use a regular tablet. -Suntan

These low-end kids tablets aren't a bad idea for the much younger kids. Once you hit about 5-6 (where they are targeting for this tablet) I think a real Android powered device is in order. Teaching kids to respect technology will help them understand how to use the tools and learn so much more. My 2-year old is using my old Droid X to play games and watch YouTube videos. He also uses my rooted Nook Color to play Angry Birds and use some art apps. He knows already to take care of the "toys!"

I used to blame XBox and Nintendo as to why many school aged kids are out of shape and pale. But now the problem is getting even worse with Phones and Tablets for kids. Hey I have an idea.... GO OUTSIDE AND PLAY!! Use your imagination.. make some mud pies, or a fort, breathe some outside air. If this keeps up. The average 4 yr old in this country will be wearing coke bottle glasses. I'm just sayin'

All of this depends on when you let your kids play with the devices. Kids can still go outside and run around and play. At night when they are settling in or on a rainy day, these devices can be great educational devices as well as fun toys.

These devices do much good for kids than people think. It has helped my kids learn to read, count, do math.... Yeah there are books that do the same but just as the reason the Kindle is so popular, you have all these books and learning tools in one device. Not to mention the apps are often interactive allowing for better learning opportunities. And as the person above me stated, it shouldn't be something that your kids are using 24/7, but that doesn't mean they shouldn't use it at all.

I agree with both above... "balance" is the key

Absolutely. Moderation (in many aspects of life) is key.

this looks like something you can hack open and mount in your car...

No doubt, I'm surprised at the target age of 5-6 as well, my 3 yr old loves my Nexus7 already, if she was 5 or 6 she'd think this thing is a cheap baby toy.

I used to blame XBox and Nintendo as to why many school aged kids are out of shape and pale. But now the problem is getting even worse with Phones and Tablets for kids. Hey I have an idea.... GO OUTSIDE AND PLAY!! Use your imagination.. make some mud pies, or a fort, breathe some outside air. If this keeps up. The average 4 yr old in this country will be wearing coke bottle glasses. I'm just sayin'

Hrmph... a front facing camera, Ideal for Pedro Phyle and his crew to creep their way into your home. I know it's a grim thought, but come on!! Look at the world we live in. Thumbs down.

bonus points for "Pedro Phyle" ... lol :)

Not a chance would I get this for my kids over the Kindle Fire 2...

Not a chance I would get the Kindle Fire HD over the Nexus 7… (wait I already have a N7) not a chance I would get the Kindle Fire HD 8.9" over the Galaxy Tab 8.9…

Agreed - I have the N7 also. But the parental controls built-in to the OS on the KF's is quite compelling. Hence, my qualifying statement about "for kids".

If you want to give your normal, fully featured Android tablet to your kids, take a look at Kytephone (www.kytephone.com). It is a free app you can download from the Google Play store that turns any Android (smartphone or tablet) into a kid friendly device that you manage manage remotely. It has all the features on this children's tablet without the childish look.

Will this play YOuTube? Or will the TABEO that Toys R Us sells ???? I need a device that plays youtube for my 4 & 5 year old daughters so they will leave my iphone alone LOL

Melissa, yes Meep comes with a custom Youtube app. You can either enable browsing with a Low Security setting, or restrict it to Suggested Videos only with High Security- in which case you would then suggest the videos in the parent portal. Or, if you really wanted to do so, you could download the standard version of YouTube from GooglePlay, but it would have no filtering.
Android Central Newsletter
Get the best of Android Central in in your inbox, every day!
Thank you for signing up to Android Central. You will receive a verification email shortly.
There was a problem. Please refresh the page and try again.