Kid-friendly MEEP! Android tablet goes on sale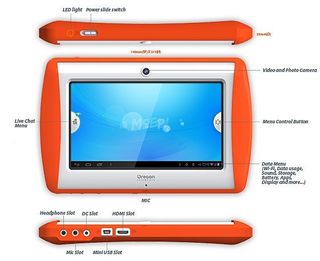 Oregon Scientific has just launched a a kid-friendly Android tablet, now on sale for a scant $149.99. Though it might have modest specs, the MEEP! tablet includes a whole range of parental controls through a web-based interface and kid-friendly apps, e-books, and games suitable for anyone 6 years old and up. It also comes with a silicone sleeve to help soak up the inevitable punishment your kids will lay into this thing. There's also a whole range of tailor-made accessories to go along with it, like a game pad, headphones, case, and a bunch of instruments for music games. Here are the specs, but don't expect too much.
Android 4.0 Ice Cream Sandwich
1 GHz processor 512 MB of RAM
7-inch 800 x 480 display
4 GB of internal storage plus microSD card slot
0.3 megapixel front-facing camera
HDMI-out
The affordability and relatively low-end specs make this tablet at least somewhat disposable, which strikes me as important for something that kids are likely to break or forget somewhere.
Parents, if you're interested in giving your kids their own device so they don't keep reaching for yours, you can pick up a MEEP! tablet from over here. How connected are your kids? When would you say is a good age to get a kid their own Android device? How about smartphone?
Oregon Scientific Introduces Innovative, Fully Loaded MEEP! Tablet Designed Just for Kids
Accessories, Cloud-Based Parental Controls & Durability
Set MEEP! Apart from the Competition
Tualatin, OR – October 2, 2012 – Cutting edge technology, durability, interactive content, a design made just for kids and a full line of action-packed accessories. The MEEP! tablet from Oregon Scientific has it all. The new 7-inch, Android 4.0 ('Ice Cream Sandwich') tablet is Wi-Fi enabled and features the most rugged durability of any tablet on the market. With a protective and fun, bright orange silicon bumper, a recessed screen and a cutting-edge zForce® touch screen that won't shatter when dropped, MEEP! withstands wear and tear from the backseat or the playground to the schoolyard or the couch. MEEP! ($149.99) is currently available at all major national retailers including Toys "R" Us, Target, Best Buy, RadioShack, Kmart, Meijer, Boscov's, BJ's, Amazon.com, Wal-Mart.com, Kohls.com and QVC.
Every aspect of MEEP! was designed for kids and the way they interact with electronics. From the rugged, horizontal design to the easy-to-use, uncluttered interface laid out to be controlled by kids' thumbs, MEEP! is designed to be a pick-up and play device that kids can take with them anywhere they go. The innovative zForce touch screen powered by Neonode® Multisensing™ Technology makes it simple for kids to quickly access content with the lightest touch of their thumb, and a scrolling menu system makes apps, games, music, videos and more quickly accessible.
As much as MEEP! was designed for kids, the tablet also appeals to parents with customizable cloud-based settings that parents can control and adjust without having to take the tablet out of their child's hands. By simply visiting the Parents Portal on MEEPTablet.com from any device with a web browser (computer, smart phone, tablet), parents can not only hand-pick ("whitelist") which websites or keywords their kids have or don't have access to, but they can add words to the tablet's built-in "bad word" list so their child will not be able to search for those words or use them in the chat feature. Oregon Scientific also maintains a "blacklist" of inappropriate content that is updated by moderators on an ongoing basis which parents can add to. In addition, parents can actively monitor their child's online activity, limit play time duration and provide a virtual allowance for purchasing apps via MEEP! coins without needing to access the physical tablet.
From the hottest pre-loaded content including Angry Birds, UNO, Toon Goggles, art and learning apps and more to the MEEP! Store, MEEP! provides the rich interactive experience that kids are clamoring for. Games, books, videos and apps available in the MEEP! store have all been cleared for kid-friendliness by Oregon Scientific and are either free or can be purchased with MEEP! coins. Additionally, Google Play can be accessed from the Parents Portal to purchase additional content, and applications are seamlessly downloaded to the tablet with parental permission. Music, movies and e-books that parents or kids have previously purchased on a PC or Mac can also be easily transferred to the MEEP! via the USB cable that is included in the package. The MEEP! tablet has 4GB of internal storage and a micro SD card slot to install additional memory. Kids can also capture favorite moments – still photos or videos – to share with friends and family via the tablet's built-in, front-facing camera and can display content on the tablet to a television through HDMI.
A full suite of accessories is available for MEEP!, allowing kids to rock 'n roll with a portable piano, drum pad, headphones and microphone or master gaming skills with a joystick, steering wheel or dualplay Game-Pro Case. For added customization, additional silicon bumpers are available in Meepadelic Purple and Meepto Pink.
"We wanted to design a tablet that had all of the features and technology that tablets geared toward adults had without being 'dumbed-down' for 6-12 year olds. The challenge was providing them with content they would enjoy and that parents would feel confident was safe," said Bill Fleckner, Vice President of Sales for Oregon Scientific, Inc. "We achieved that and more with MEEP! and are thrilled at the overwhelming response we've had so far from our retailers and content partners alike."
"Oregon Scientific has a long history in creating innovative consumer technology and we've had tremendous success in the electronic learning products category," said David Riley, Product and Marketing Director for Oregon Scientific, Inc. "We are excited to leverage that experience with a natural extension into the kids tablet category."
MEEP! will be supported by dedicated marketing and public relations campaigns that include national TV advertising, parent and kid-directed online ads, a Radio Disney campaign and promotional support of the Ryan Seacrest Foundation featuring Selena Gomez. The national TV advertising plan includes :15 and :30 spots on the Disney Channel, Nickelodeon, Cartoon Network, Disney XD and The Hub.
The MEEP! tablet is geared for kids 6 and up and is currently available at mass market retailers and online stores for a suggested retail price of $149.99. Accessories are each sold separately. MEEP! comes complete with a charger, USB cable and a quick start guide. For more information visit www.MeepTablet.com or like MEEP! on Facebook.
Get the Android Central Newsletter
Instant access to breaking news, the hottest reviews, great deals and helpful tips.
Simon has been covering mobile since before the first iPhone came out. After producing news articles, podcasts, review videos, and everything in between, he's now helping industry partners get the word about their latest products. Get in touch with him at simon@futurenet.com.