Kelvin Taylor, son of NFL great Fred Taylor, gets his own Android app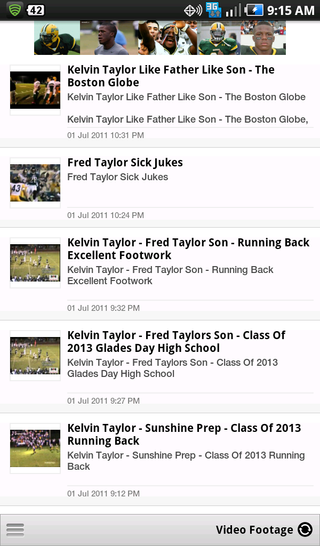 If you're an NFL fan, you know the name Fred Taylor, the hard nosed running back who played most of his career for the Jacksonville Jaguars. His son, Kelvin Taylor, is now a high school football player who is looking to follow in his father's footsteps. If you're a fan of the Taylors or just want to track a good young football player's progress, Kelvin now has a free app that is currently exclusive to the Android platform.
The app is divided into four sections:
HS Football: provides news and analysis pertaining to the biggest high school football stars and the college recruiting process
Twitter: Shows Kevlin Taylor's Twitter stream @ImKelvinTaylor
Video Footage: Gives users access to video footage of both Kelvin and his father Fred
Photos: Organizes various football photos of Kelvin
What's interesting to note is that Kelvin decided to release the app on Android first, though the iPhone version is 'coming soon'. If you're a huge high school football fan or want progress on Fred Taylor's son, find the link to the app after the break.
This is seriously a genius idea.

WTF? what's next a reality show?

This kid is smart. In HS and already marketing himself and getting his name out there for the scouts. Whether he ends up being any good or not this was an ingenious move on his part.

That's nothing...I'm releasing an app in the near future that will give you access to ME 24/7! Follow me as I: - Eat breakfast
- Drive to and from work
- Sit at my computer writing code and administering databases The PRO version of the app will give you live video streaming as I do these things, as well as premium access to me and my most private thoughts! Come on guys...PAY ATTENTION TO MEEEE!!!!

tl;dr All you needed to say was,"I have b00bi3s" and I'd have subscribed right away!

I'm sorry, when exactly did Fred Taylor become an NFL "Great"?

Is this app allowed under NCAA rules?

I don't think it applies. The app was developed while he's still in HS. I don't see the difference in this app and using a Blog.

Hopefully this kid stays healthier than his father...man he killed me one year in fantasy football.

Yesssssss! We got an app before iOS!!

I can't think of anything less interesting than this.
Android Central Newsletter
Get the best of Android Central in in your inbox, every day!
Thank you for signing up to Android Central. You will receive a verification email shortly.
There was a problem. Please refresh the page and try again.