iOttie iTap Wireless charging car mount review: As good as it gets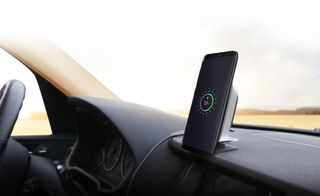 If you've ever used a wireless charging stand before, you know that the two biggest issues are lining up your phone on the charging coils and keeping it there. Nothing is more frustrating than thinking your phone has been wirelessly charging only to discover it got knocked slightly off its orientation.
iOttie has a great solution that uses the power of magnets to keep your phone in place and includes two different mounting options so you can use it in your car or at your desk at work. The iOttie iTap Wireless car mount (opens in new tab), which runs about $70, features Qi Fast Charging capabilities, too, meaning you'll be able to conveniently charge your phone faster than a traditional third-party wireless charger simply by installing a thin metal plate to the back of your phone or to a thin case. It's a fantastic option for anyone who owns a Galaxy phone, since wireless charging has been included as a regular feature in the latest Samsung flagships — including the upcoming Galaxy Note 8.
The kit comes with everything you need in the box: the wireless charging pad, two adhesive mounting pads (a flexible one perfect for mounting to your car dash and a flat, rigid one ideal for your desk), a car charger adapter and Micro-USB cable for supplying power, and two metal plates in black and grey to help match your phone's color. You're able to adhere it to the back of a thin case or directly to the back of the phone (though I recommend the former, for obvious usability reasons).
You only get one shot at installing the metal plate, so make sure that you do it right the first time. On a Samsung Galaxy S8, you'll want to line it up as I've done so here. If you're concerned about the plate getting stuck to the back of your phone forever or leaving any unsightly marks, I can report that while it certainly feels forever stuck once you've applied it, you can safely work it off of the back of the phone with a credit card along the thin edges.
So how does it actually hold up in use? I tested the car mount on the notoriously pothole-ridden streets of Winnipeg and while I was fairly sure the bumpy ride would jostle the phone free — if not the entire mount itself — everything held up just fine. There's a built-in fan that helps to counter the heat generated during charging, and it helps keep your phone cool which is especially important with your phone sitting on your dash on a hot summer day.
My Galaxy S8 immediately started charging as soon as the mounting magnets did their job, although it took a few seconds before it jumped up to fast-charging speeds. Starting with 11% of remaining battery life, it gave me an estimated full recharge time of just under two and a half hours — significantly faster than regular wireless charging speeds, but still not quite as fast as doing so via USB-C.
Therein lies the dilemma: there's no denying that wireless charging is futuristic cool, and being able to just grab your phone and go without dealing with wires is great, but if I'm looking to top up my phone's battery during a short trip across town, I typically want the fastest charge available. For that reason, I'd be more inclined to using the iTap as a car mount only and swapping the Micro-USB cable powering the wireless charging pad for a USB-C cord plugged directly into the phone. Either way, it's great to have multiple options and its functionality as a sturdy dash mount alone makes it a worthwhile investment.
If you want to take advantage of your phone's wireless charging capabilities and don't mind the idea of attaching a metal plate to the back of your phone (or a case), the iOttie iTap is the perfect answer.
See at Amazon (opens in new tab)
Android Central Newsletter
Get instant access to breaking news, the hottest reviews, great deals and helpful tips
Marc Lagace was an Apps and Games Editor at Android Central between 2016 and 2020. You can reach out to him on Twitter [@spacelagace.
I have a Qi charger in my truck with my S8. It is not a fast charger. On my S6 it would hold steady and not charge much when streaming music or using google maps. On S8 it actually charges while streaming music. Use dash radio stack for maps now (new truck). My issue is it works fine for Qi charging on this charger, and one I use by my bed. I picked up a Samsung fast charger. And it charges for 5 seconds then stops. Not sure if defective charger or if the metal bracket is placing it to far away for the Samsung brand charger. That makes me nervous trying any other Fast charge Qi chargers. Anybody else have issues with Samsung fast charger when using it with metal bracket and case?

All of these product placement articles ending with "See at Amazon" are starting to get on my nerves!

And if no link was given, comments would be complaining about where to find the reviewed item. Personally, I like having the link available. Just ignore it if you aren't interested.

Only thing that annoys me there is that is routes me to Amazon.com, not Amazon.de. Maybe you could make it a country specific link.

My ideal wireless charger would be to put the same fast wireless charging capability into the iOttie Easy One Touch XL Car Mount. I specifically don't want the mag attachment for a couple of reasons. 1) I have more than 1 wireless device to charge! 2) My devices are not cased -- I use the dbrand skins, to keep my devices as slim as possible. IMHO, the mag plate is unsightly on a beautiful S8.

I miss the days when I could use the Palm Pebble Touchstone - I even made a custom mount for my car that held up quite well even on bumpy roads. Anyway, does the metal plate interfere with Samsung Pay MST? This would be the deal-breaker for me.

Hell yeah! Palm was way ahead of it's time on this. I loved the touchstone as well and also had it mounted on my car. Also did not have to stick a metal plate with a hole on the back of the phone like you need to here...

Are you sure the plate is necessary on the S8? I'm able to magnetically attach my S8 to my in-car wireless charger without adding anything to it; it just magnetically adheres to the wireless charger coil inside the phone.

I had a magnetic wireless charger for my s8 as well and the metal frame of the phone was enough to hold it to the magnet but it wasn't nearly as strong as using the supplied ring that you have to stick on the back.

I used an iOttie Qi charger in my car for a while, but the phone had a tendency to overheat and shut down when I was simultaneously charging and using Maps (which is when I really need to use a car charger.) And boy, is that stick on plate some kind of ugly. No way I'm sticking that on the back of my phone.

Would this work on a S8 with a lifeproof case on it?

How hot does the phone get even with the fan, especially when using Google maps?

Was ready to buy until I saw the mag plate. No. The $25 Dodocool one (also far charging) will be just fine for now and won't require me to constantly carry part of the charger with me.
Android Central Newsletter
Get instant access to breaking news, the hottest reviews, great deals and helpful tips
Thank you for signing up to Android Central. You will receive a verification email shortly.
There was a problem. Please refresh the page and try again.