Samsung Galaxy S8 and S8+ review: Such great heights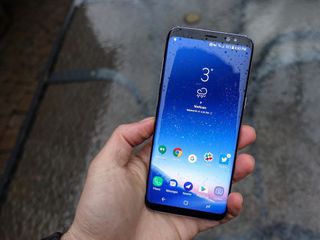 The quick take
The Galaxy S8 isn't quite as revolutionary as its Infinity Display lets on, but the phone, and its larger Galaxy S8+ counterpart, is a definitive statement of Samsung's dominance in the mobile space. Along with the elimination of the home button, Samsung is all-in on curves, and barrelling towards a future of ultra-minimalism.
The Good
Best-in-class AMOLED screen
Great performance
Reliable camera in almost every circumstance
Waterproofing
Surprisingly good battery life
Loud mono speaker
Restrained, minimal software touches
The Bad
Rear fingerprint sensor is poorly placed
Face biometrics are fast, but not always reliable
Bixby is undercooked
The most slippery phone ever
Based on S7 timeline, updates are going to be slow
Two phones, one review
Samsung Galaxy S8 and Galaxy S8+ Full review
Samsung never slows down. In a year that saw the company stand by a vice chairman who was arrested for bribery, and a phone that caught fire, it also managed to sell an insane number of handsets, and earn gobs of profit in its best-ever quarter.
That the Galaxy S8 feels like such a complete thought out of the box likely speaks to how long the phone was in development, long before the Note 7 was released and recalled, and likely before the company realized that the Galaxy S7 edge was the de facto flagship of 2016.
In this review, we're going to be referring to the Galaxy S8 and S8+ interchangeably because, for all intents and purposes, and unlike last year, they are one phone in two sizes.
That's due to a renewed focus on fundamentals, on sticking with what works and evolving the experience in small, meaningful ways. There are regressions, in one major and one minor way, but we'll get to that.
About this review
I (Daniel Bader) have been using the Galaxy S8 and Galaxy S8+ at different times for a total of two weeks, spanning New York, NY and Toronto, Ontario. Both models are unlocked Canadian models connected to AT&T in the U.S. or Rogers in Canada, with Snapdragon 835 processors and Sony IMX camera sensors.
One day prior to the review embargo, Samsung released a small update for the Galaxy S8 and S8+ updating the software to Build G950WVLU1AQD9. The update prepared the units for Bixby Voice (which still doesn't work) and updated the security patch to April 1, 2017. It also closed the loophole to allow remapping of the Bixby button.
A Fitbit Alta HR was connected to the phones during the review period.
Samsung Galaxy S8 + S8+ video review
Take a look at our video review. While it only showcases the larger Galaxy S8+, the thoughts are applicable to both phones.
Line items
Samsung Galaxy S8 and S8+ Specs
Swipe to scroll horizontally
Category
Galaxy S8
Galaxy S8+
Operating System
Android 7.0 Nougat
Android 7.0 Nougat
Display
5.8-inch AMOLED
2960x1440 (570 ppi)
6.2-inch AMOLED
2960x1440 (529 ppi)
Processor
Qualcomm Snapdragon 835
or Samsung Exynos 8895
Qualcomm Snapdragon 835
or Samsung Exynos 8895
Storage
64GB (UFS 2.1)
64GB (UFS 2.1)
Expandable
microSD up to 256GB
microSD up to 256GB
RAM
4GB
4GB
Rear Camera
12MP Dual Pixel, f/1.7
1.4-micron pixels
OIS
12MP Dual Pixel, f/1.7
1.4-micron pixels
OIS
Front Camera
8MP, f/1.7
auto focus
8MP, f/1.7
auto focus
Connectivity
Wi-Fi 802.11ac MIMO
Bluetooth 5.0
NFC, GPS, Glonass, Galileo, BeiDou
LTE Cat.16
Wi-Fi 802.11ac MIMO
Bluetooth 5.0
NFC, GPS, Glonass, Galileo BeiDou
LTE Cat.16
Charging
USB-C
Fast charging
Qi wireless
Powermat wireless
USB-C
Fast charging
Qi wireless
Powermat wireless
Battery
3000mAh
3500mAh
Water resistance
IP68 rating
IP68 rating
Security
One-touch fingerprint sensor
Iris scanner
Samsung KNOX
One-touch fingerprint sensor
Iris scanner
Samsung KNOX
Dimensions
148.9 x 68.1 x 8 mm
159.5 x 73.4 x 8.1 mm
Weight
155 g
173 g
The main takeaway here, and the reason we feel comfortable combining the two phones into a single review is because, unlike their predecessors, the S8 and S8+ are merely two sizes, and even then, aren't that drastically different. The Galaxy S8 is 5.8 inches, with a new 18.5:9 aspect ratio; the S8+ is 6.2 inches, which makes it a bit taller and slightly wider, with a battery 16% larger.
Would you look at that
Samsung Galaxy S8 and S8+ Hardware
Since 2016, Samsung has built its flagship phones with aluminum frames and glass fronts and backs. And as good as the Galaxy S6 series was, the refinement in this year's phones is noticeable. The curved glass front meets the metal frame at the same gradual angle as the back, which maintains symmetry that debuted on the Note 7, but here looks even better.
Part of that comes down to Samsung's color choices — color-matched metal around the Midnight Black model, or muted purple hue of the Orchid Gray — but much of it is about curves.
The corners curve; the display curves; the glass curves. This is a phone that has no sharp corners, nowhere to focus our attention away from the massive screen. If you think back to the proposition of the Galaxy S3, all the way back in 2012, Samsung wanted the focus on its "pebble design" and Nature UX. This phone, five years later, is the culmination of that journey, for better or worse.
That shape and choice of materials also lends the phone an unprecedented slipperiness. You probably shouldn't try to nestle the Galaxy S8 in the crook of your neck while you're talking on the phone. After a few hours — sometimes a few minutes, even — the phone will be fingerprint-smudged and slippery, so if you're clumsy you will probably want to invest in a case, or a microfiber cloth (opens in new tab).
Image 1 of 6
But hold it in your hand, and it feels fantastic. You're getting either a 5.8-inch or 6.2-inch QHD+ display, but both use Samsung's latest AMOLED panels, at a 2960x1440 resolution. We're not going to get bogged down by semantics, but as Alex Dobie points out, the screens themselves are not their exact sizes; instead, they're closer to 5.3 and 5.7 inches if you compare them to traditional 16:9 screens. Whatever the case, you're getting more vertical realestate in a phone you can hold and use in one hand. The larger of the two, the S8+, is a little less amenable to single-paw use, but it's still far narrower than something like the Pixel XL, and has far more usable screen real estate.
The screens are amazing. Great viewing angles are expected these days, but Samsung has once again found a way to make the Super AMOLED panel on both versions of the phone bright and, more importantly, accurate. They are DCI-P3 compliant, which gives them a wider color gamut than a typical RGB palette. That, in addition to being HDR certified, makes them technically proficient, which is great, but you're also getting one of the most pleasurable viewing experiences on a phone today.
Even though wide-angle video is cut off (though some apps make minor crops to fill the display), the tradeoff is worth it. As good as the LCD panel is on the LG G6, Samsung practically owns the OLED space, and it's becoming clear that the thinner display technology is the future of mobile screens.
That screen — the so-called Infinity Display — is not a huge departure from something like the Galaxy S7's edge, but it eliminates as much of the bezels above and below the display as possible. LG did it first with the G6 — well, Xiaomi did it with the Mi Mix, and Huawei has been inching towards it for years — but this is a truly remarkable achievement nonetheless. Samsung did it, in part, because it finally removed the home button from the front of the phone, adopting on-screen navigation buttons for the first time in its history. And you can't talk about that without talking about what you're losing.
So there's no physical home button, just three on-screen navigation keys. They're in the traditional "reverse" Samsung order — recent apps, home, back — but you can change that. The achievement comes in the form of an "invisible" home button, a tactile area below the on-screen home button that offers real feedback from a precise haptic engine.
Not only does this alleviate some of the angst around losing that physical key, but it allows you to turn on the screen as you would that physical counterpart by pressing at any time — even when the display is off. That, combined with the ultra-fast face recognition built into the S8, made me miss that front-facing fingerprint sensor a lot less.
Yes, the most controversial change to the Galaxy S8 is the placement of that fingerprint sensor. Now on the back, right next to the camera, it's not quite as bad as it looks — especially on the smaller S8 — but it's still not great. Rumor has it that Samsung was working on a way to outfit the S8 with a below-the-glass biometrics, but couldn't make it work in time. And while I wish Samsung would have thrown symmetry to the wind and placed it center, below the camera, I found myself only using the fingerprint sensor when the face recognition wasn't feasible.
Thankfully, starting with the Galaxy S7 series and continuing here, it appears thinness is no longer a top priority for Samsung; the Galaxy S8 is 8mm thick, while the S8+ is 8.1mm, perfectly suited for a modest, but not huge, battery, and the complete elimination of a camera bump. The 12MP rear sensor on the back is completely flush with the glass, ringed by metal and flanked by an LED flash and heart rate sensor on the left and the fingerprint sensor on the right.
And, like the Note 7, the Galaxy S8 has been bestowed a USB-C port, the reversible standard that, along with fast charging and dual-mode wireless charging, suits my lifestyle perfectly. Practically all my "bag cables" are USB-C, and the fewer Micro-USB cables I need to tote around with me, the better. Samsung has also improved the single down-port speaker on the Galaxy S8, giving it some extra power that puts it on par with products like the Pixel with similar designs. It gets considerably louder than the thin speakers of the Huawei P10, OnePlus 3T and LG G6, and along with the superlative (and customizable) quality from the headphone port, reinforces the fact that despite not really talking it up, Samsung still takes audio very seriously. A nice surprise.
Aside from the bevy of sensors aligning the narrow strip of bezel atop the display, the only other major change to the Galaxy S8's design is the addition of an extra button on the left side of the phone. That's for Bixby, Samsung's AI-powered assistant, and when pressed launches Bixby Home. Soon (but not now), when held it will launch Bixby Voice, and let you dictate various commands to it.
It really can't be overstated how beautiful this hardware is. Even if the software was utter garbage (which it isn't), Samsung would get points for its mastery of form, and how far it's come from the plasticky, Band-Aid designs of the Galaxy S4 and S5. The S8 series is not some remarkable departure from its predecessor, but a consolidation of the good ideas therein with the available (and burgeoning) technologies of 2017. You'll likely see more companies release phones of this shape, size and aspect ratio this year, but none will be able to offer an AMOLED screen of this caliber (HDR certification, DCI-P3 color gamut) with a flexible display and curved glass that isn't just a gimmick (well, mostly isn't a gimmick).
Better than it ever was
Samsung Galaxy S8 and S8+ Software
The Galaxy S8 ships with Android 7.0 running Samsung's latest Experience design: ultra-minimal, with an emphasis on white backgrounds with light blue accents. Icons are wireframes that stand out from the rest of Google's (and the rest of Android's, for that matter) Material Design leanings, and the front navigation buttons are a bizarre mess of abstract shapes that feel like they defy Google's accepted practices for no other reason than just to prove they can.
That said, Samsung's new launcher is pretty great, with a gesture-friendly home screen that does a lot with a little. By default, the app drawer icon is hidden, encouraging users to swipe up or down in unused space to open the still-horizontal series of apps. The changes may seem arbitrary to anyone coming from a non-Samsung phone, but current Galaxy users will see the continuity in these design decisions. For what it's worth, this is the first time I've ever used a Samsung phone without wanting to immediately throw away the launcher for something clearly better.
Part of that willingness to accept is thanks to Samsung's beautiful, simple Infinity live wallpapers, which assign gently shifting scenes of the cosmos to the home screen, lock screen and always-on display. Together, they form a blanket of subtle movement to the phone's curved exterior, and play well with the form, from the gradual lightening when turning on the screen to the way the stars move when shifting home screens.
They also work well with the unlocking process, which has been revamped here, and may be the single biggest point of contention about this phone.