Google Pixel 4 XL uses a Samsung-made 90Hz display, according to iFixit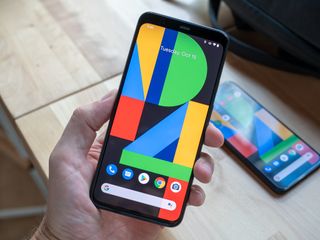 (Image credit: Android Central)
What you need to know
The Google Pixel 4 XL is hard to fix, a 4/10 on iFixit's repairability scale.
It uses a Samsung display with a higher refresh rate than current Samsung flagship phones.
iFixit found the Soli radar chip and the new dedicated audio chip.
Perennial teardown firm iFixit has completed its initial dissection of the Google Pixel 4 XL and awarded the device an unfortunate four out of 10 for repairability, citing the display as a key sticking point -- literally. To repair a broken display, a technician will need to essentially disassemble the entire phone.
The display that iFixit found on its Pixel 4 XL was a Samsung-made panel, which means that Google has a Samsung display with a 90Hz refresh rate before any Samsung phone has such a flagship spec. As a parts supplier, Samsung Display operates with a firewall separating it from the phone manufacturer Samsung Mobile division, and regularly supplies parts to Samsung Mobile's competitors. Usually the newest and best Samsung display tech shows up on Samsung devices first. We also can't be sure that Samsung is the only supplier of displays of Google Pixel 4 XL devices, as manufacturers frequently use multiple parts suppliers and don't identify suppliers publicly.
iFixit also found a new Knowles 8508A audio processor, which the firm suspects is being used for the new live caption and transcription features. Our own review found the on-device audio processing to be quite snappy, improving the performance of speech recognition features dramatically.
Finally, iFixit searched in vain for the Pixel Neural core, but could not identify the chip directly. The teardown suggests the Neural chip is being supported by its own cache of RAM, meaning it is performing enough work to offload to a separate cache instead of taking up the same memory as the CPU.
Google's Best Phone
(opens in new tab)
Easy to love, hard to fix
The Google Pixel 4 XL wows with a 90Hz display that turns out to be a Samsung panel. That display is glued in tight, making the Pixel 4 XL a pain for repair technicians.
Get the Android Central Newsletter
Instant access to breaking news, the hottest reviews, great deals and helpful tips.
Another negative.... Reduce the phone to 450.00

OnePlus 7 Pro also has a Samsung made 90Hz display, I wouldn't expect you guys to actually reports facts though.

The article clearly states "before any Samsung phone has such a flagship spec." The author is correct in that so far Samsung does not sell a phone that comes with a 90Hz refresh rate screen.

Did you actually read the article?