How to use Private Mode on the Samsung Galaxy S5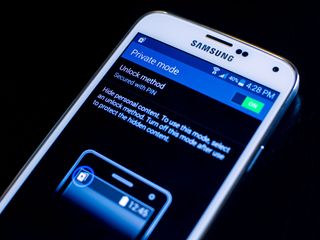 Private Mode on the Samsung Galaxy S5 is a convenient way to hide files you don't want seen by others, without the need for any third-party apps. When you're in Private Mode, all your photos, videos, and other files will be viewable. Exit Private Mode and hand your phone to somebody else. You can rest assured they can't see any of your hidden files, unless they know your code or unlock pattern.
Here's how to set up Private Mode on the Galaxy S5 and get started with it:
How to enable Private Mode on the Samsung Galaxy S5
Swipe down from the top of any screen on your Samsung Galaxy S5 using two fingers.
Now tap on Private Mode from the list of icons.
The first time you enter Private Mode, you'll be given a short walkthrough as well as be asked to enter a pin code. This only happens the first time you enable Private Mode.
Keep in mind you'll need the pin you set up for Private Mode each time you enter it. Be sure you pick something you can easily remember.
How to disable Private Mode on the Samsung Galaxy S5
Swipe down from the top of any screen on your Samsung Galaxy S5 using two fingers.
Now tap on Private Mode again.
Your Galaxy S5 should now be in normal mode again. Be sure to do this before handing your device over to anyone you don't want accessing things labeled for Private Mode Only.
How to add and remove files from Private Mode on the Galaxy S5
Private Mode supports several different media types including photos and videos. Follow these steps to add supported files to Private Mode:
Turn Private Mode On.
Now navigate to the photo or file in question that you only want viewable while in Private Mode.
Select it or multiple files and then tap on the Overflow menu button in the upper right.
Tap on Move to Private.
That's it. Your Galaxy S5 will add those files to a private album or folder that is only viewable when in Private Mode.
I've noticed that Private Mode is a little glitchy for me and doesn't offer the option on all my photos, only some of them. I also have to select them and can't tap into them and see the Private Mode option. Anyone else seeing the same issues? Let me know in the comments!
Android Central Newsletter
Get instant access to breaking news, the hottest reviews, great deals and helpful tips
I setup my password to enter Private Mode, I use my fingerprint. Once I am in Private Mode I highlight some photos but don't get the option to MOVE TO PRIVATE, in the menu!

Maybe you shouldn't be in private mode?

You are so fricking dumb..........

Why? He wrote that he was IN Private Mode, and this is why he can't do this

@ Piotr Rogulski - No, fantom305 is right, you are so fricking dumb. You have to be in Private Mode in order to move files to and from Private Mode. @ Joey Neat - Sounds like a glitch, I hope you got it working since then.

Ok a reboot of the phone solved the above issue.

I'm sorry, I can't undo it. It's my first day.

Great article. I know some of these subjects are basic, but for people new to smart phones they are helpful. I am not new to smart phones but I still enjoy reading your tutorials. Posted via Android Central App

Does this just add a .nomedia file to the directory where all of these are placed so that the system can't see it? Cause theoriticly,then something like es file explorer could find it. Is this how it works? Posted by a tuba playing,nexus 5 and 7 carrying future hacker.

When in Private Mode, ES File Explorer shows the private files have been moved to /storage/Private/, wherever that is, and when it's turned off, that directory shows empty. Can anyone comment on what the Private storage device is, or how this process works?

Be sure, after you enter private mode, and select the items in your gallery that you want private, that you scroll down in the menu. I did not see it at first either. I also had to turn it off and back on. Was able to select over 1100 pictures/videos and move them into private without issue.

You can also make an entire album in your gallery private. The name of the album won't change. The private mode keyhole folder symbol will be in the upper left corner and when you turn off private mode the album will not show up on the gallery's albums screen. Posted via Android Central App

With Private Mode on you can goto My Files, scroll down to Local Storage and select Private. All files you have made private can be viewed here. Private Mode works with Gallery, Video, Voice Recorder, My Files and Music. Posted via Android Central App

Not sure if this little tutorials are more annoying than the glorious design explanations Sammy keeps on posting

Is this a Kit Kat feature or a Samsung skin feature?

Its a Samsung feature, although there's a few features they've introduced with the Galaxy line that I wouldn't mind seeing on Android as a whole. Sent via my Verizon Moto X

Great thank you Posted via Android Central App

Just another one of those gimmicky bloatware features

No it isnt you stupid ****, I can think of a million people who would use this.

I forget my password to enter Private Mode. What should I do?

I did the same thing! I cant get into my files! I hope someone can help!

GUYS HELP ME AS WELL SOMEONE HELP PLEASE lol

I've forgotten my password too. What did you guys do when you'd forgotten yours?

Can you put apps in this mode too? Posted via Android Central App

Is it only photos and video files that can be private? Any way to make a contact private?

I have a HUGE problem! Please help!! i have hundreds of photos saved into private mode on my galaxy s5 active and i just broke my touchscreen ! You can not see anything . ..it is pretty much shattered!.. There is no way to unlock the screen or put in my code to unlock the private mode.. And i unfortunately did not back up these photos to the cloud or anywhere.. I put my memory card into my old phone (galaxy s4 active) but it only shows the pictures that i didn't have in the private mode :( Is there anything that i can do to retrieve my photos ???

You need to bring your phone to someone to repair the screen and other necessary components that toy broke. Posted via the Android Central App

if you forgot the password to you Private mode. how can you retrieve it ?

I recently had to do a hard reset to my galaxy s5. I did not take my pics and videos out of private mode is there anyway to retrieve my private photos and videos?

Please let me know if you find a way. I just did the same thing. I'll let you know of I figure it out as well.

I also facing the same problem and along with this im facing sudden restart and it took too much time to on again plz let me knw if is there any solution

The simple fact is that you cant be IN private mode to add something to private mode. That option is available from Gallery once you select an item you'd liked moved to private mode.

I forgotten private mode password how can I retrieve it or change it

I had a folder that I moved to Private. I had to wipe my phone yesterday and I am not finding the folder of pics in the backup I did. Anyone know where the folder lives?

I can't remember my pin for my private mode. Need to access photos I have in there. Great feature but needs a recovery plan other than factory reset.

my pravate mode can not be enable. I was told to draw a parthern for my private mode. Yet they keep on telling me fail to enable private mode try again. Plus what do I do?

So i'm gonna lend my phone to someone and they still have access to my messages, my e-mails, my photos if i use something like google photos, my web history, my open tabs, my keyboard auto complete, dating apps, facebook, facebook messenger, whatsapp, any note taking apps like everest or google keep.
Great feature samsung.
Android Central Newsletter
Get instant access to breaking news, the hottest reviews, great deals and helpful tips
Thank you for signing up to Android Central. You will receive a verification email shortly.
There was a problem. Please refresh the page and try again.