How to use Oculus Video on your Gear VR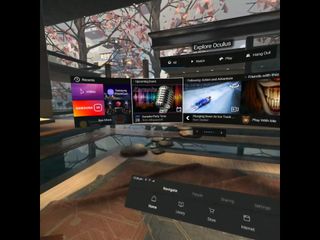 Oculus Video allows you to watch all sorts of content within a virtual cinema. You can browse content by categories such as news, entertainment, and horror. You can also check out your own videos in a gigantic virtual screen.
It's not that hard to jump in and start watching content, but it's important to know where to look. Not that long ago it was called Oculus Cinema, but has since had its name changed to Oculus Video.
How to open Oculus Video
Go to the Oculus home menu where you usually launch apps and games.
Select Video (the tile for the app is purple).
You're now able to browse categories of content including new videos, entertainment, travel and nature, news and documentary, horror, thrills and your own videos. The categories of content are populated by a large number of sources ranging from CNN to MTV to Animal Planet.
How to view content
There are different types of content you can view, primarily split between how immersive they are. If you open up a 360 video you'll be jumped into the middle of it and can simply look around. If it's 2-D content, such as your own recorded videos, you'll be placed inside the virtual cinema. Here's how to browse and view 360 content.
Select a category from the left menu.
Scroll through content and select a video you want using your controller.
You'll be immersed and can just look around naturally.
If you want to view your own videos there aren't many more steps but there are some more options.
Select My Videos.
Browse to the video you want to view and select it.
Select the video type button.
Select if the video is 2-D, 3-D, 360 degrees, or 180 degrees.
Select the Theaters button.
Select the *theater** you want to view it in.
That's pretty much it! You can now view content ranging from full 360-degree immersion to just watching your favorite videos on a massive screen. It's worth noting that if you want to view your own videos, you'll have to download them directly onto your device. The Gear VR supports using USB drives to view videos but Oculus Video does not. If you want to view videos off of a USB drive you can use Samsung Video.
Get the Android Central Newsletter
Instant access to breaking news, the hottest reviews, great deals and helpful tips.