How to use Alexa for traffic updates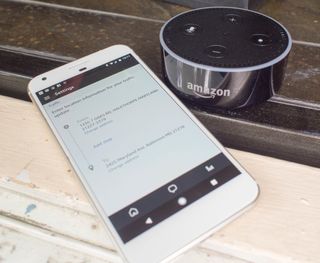 Traffic is the bane of existence for anyone who's ever been late to a meeting because of gridlock. While you can use your phone, the radio, or the internet to check on traffic before heading out of the house, you can also ask Alexa. She'll let you know what your commute looks like; all you need to do is let her know where you're going.
Alexa can let you know about traffic
From within the Alexa app on your phone. you can add an address and from then, on all you need to do is ask Alexa what traffic on your commute looks like. She'll let you know the status of traffic, approximately how long it will take there, and the fastest route to get you there. Once you've got your destination address set in the Alexa app, you can check on your commute by asking "What does my commute look like?", "What is traffic like right now?", or "How is traffic?" to ensure you know what the roads look like before you even leave the house.
Since you can just ask Alexa what your commute looks like, this is a great way to save a few minutes in the morning when you're running around, trying to get out the door to start your day!
How to add a destination in the Alexa app
Open the Alexa app on your phone.
Tap the menu button that looks like three horizontal lines in the upper left corner of your screen.
Tap Settings.
Tap Traffic.
Tap add address.
Type in the address of your destination and tap save changes.
Questions?
Sound off in the comments below.
Jen is a staff writer who spends her time researching the products you didn't know you needed. She's also a fantasy novelist and has a serious Civ VI addiction. You can follow her on Twitter.
You can listen to Howard Stern and Sirius XM through Alexa now. C'mon Google Home! I need Howard Stern to work with you. #BABABOOEY

This is one of the big fails with Alexa. I can understand it needing to know my CURRENT address (so that it has a starting point)... but I should be able to inquire about travel time to ANY destination... not just one that I've preprogrammed.

+10 This. Google home allows you to ask for traffic to any address that doesn't need to be set up in advance. In my mind, this limited traffic and commute planning is the single greatest limitation of thd Echo family of devices.

one of the ladies in my office uses Google Assistant every night to see how the traffic is on Route 80, works like a charm
Android Central Newsletter
Get the best of Android Central in in your inbox, every day!
Thank you for signing up to Android Central. You will receive a verification email shortly.
There was a problem. Please refresh the page and try again.