How to take a screenshot on the Google Pixel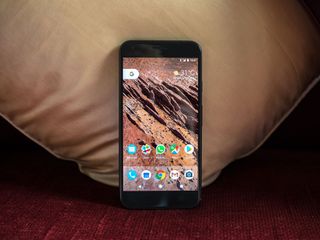 (Image credit: Android Central)
Taking a screenshot is one of the most basic things you can do with the best Android phones. The Pixel 6 is no different, as there are quite a few different ways to take a screenshot on the Google Pixel. Along with using the traditional hardware button combinations, Google has implemented other methods for you to take a screenshot.
How to take a screenshot on the Google Pixel
Take a screenshot using the hardware buttons
Hold down the power button on the phone's right side.
Immediately afterward, hold down on the down volume button.
Release both buttons at the same time.
If you performed the combination properly, you should see a smaller version of the screen you took and a notification.
Take a screenshot without buttons
There are several different methods to take a screenshot without using the hardware buttons. These depend on the type of navigation you are using on the Google Pixel. For reference, here are the different navigation methods available on Google Pixel:
Gesture navigation
3-button navigation
2-button navigation (Pixel 3a or earlier)
Take a screenshot with Gesture navigation
Swipe up and hold from the bottom of the screen.
When the App Switcher is revealed, tap the Screenshot button at the bottom.
A preview will appear in the bottom left corner once successful.
Take a screenshot with 3-button navigation
Tap the Overview button in your navigation bar.
Swipe over to the app that you wish to screenshot.
Tap the Screenshot button.
Once successful, a preview will appear in the bottom left corner.
Take a screenshot with 2-button navigation
Press the Power button.
Tap Screenshot.
After the screenshot is captured, a preview will appear in the bottom left corner.
How to access the screenshot you took
Screenshots are stored in a special folder on the Google Pixel, accessible through the Photos app.
In the bottom right corner, tap the preview of the screenshot you just took.
Undo
Re-do
Trash
Share
Crop
Add text
Draw
Highlight
Erase
Tap the Save button in the top left corner once you're finished.
How to access all of your screenshots
Open Google Photos from the home screen, folder, or app drawer.
Tap the Library button in the bottom toolbar.
Tap Device folders.
Under the Photos on device section, tap Screenshots.
Open or share the screenshot or screenshots you want.
How to take a screenshot with Google Assistant
In 2018, Google finally introduced the ability to use Google Assistant to snap screenshots with nothing but your voice. This is a feature that many had been waiting for, and it's finally here. Here's how to take a screenshot with Google Assistant:
Say OK, Google.
When ready, say Take a screenshot.
If you are using the stock Pixel launcher, you can also tap the microphone icon in the Google Search bar to activate Assistant. Then ask it to take a screenshot, or you can tap the keyboard icon in the Assistant prompt to type it out.
Questions?
Taking screenshots is often the easiest part of using a phone, but you can do plenty of things with them. We're here to help answer any follow-up questions you may have.
The Google Phone
Google Pixel 6
The Google-iest Google phone ever
With the Pixel 6 and 6 Pro, this marks the first time that Google is using its custom-designed silicon to power its smartphones. From an incredible hardware redesign to an even-better camera system, the Pixel 6 checks all of the boxes and then some.
Daniel Bader was a former Android Central Editor-in-Chief and Executive Editor for iMore and Windows Central.
Quality over quantity. Nailed it!

Wish I had more up-votes for you. I'll gladly give you the one i have.

The quality of the screenshot degrades when I share it through All or Google Messenger.

Google Messenger is awesome, but it completely destroys image quality when you do MMS. No idea why it's not configurable, or why their compression algorithm is as crappy as it is. Whenever I need to send an image (on my HTC One M8), I almost always switch back to HTC's Messages app. it typically shrinks pics down to 50-100 Kb, and they look much, much better than anything I send over Google Messenger. it's borderline unusable for sending images.

Yep, same thing with Hangouts.
That's why XHangouts module running Xposed has a setting to use their own algorithm which easily fixes the screenshot quality when sending MMS. It's mind-boggling how Google can't fix MMS quality in any of their messaging apps.

No it does not, 1 your connection is slow 2 the servers will add a low quality version before the full Image is added. Happens all the time on my ****** middle of nowhere wifi

Of course it does. It's text messages. Use whatsapp, email, or something similar

I have a question, so far I am trying to get adjusted to using Google Photos as my primary gallery app. My main issue is that I dislike screenshots just sitting on my device after I am done with them. As of right now after I take a screen shot, share it, then go into device folders in Photos I cannot find a way to delete the picture. Am I missing something here? For the time being I am using QuickPic just to have a more traditional gallery available but I would like to switch over to Photos entirely.

You can but you have to go into device folders in photos. Also you could "back up" screen shots. They will then show in the main area and you can delete them easier.

Are you using a long press on the pic? After it is deleted it should go into trash. Long press pic then hit the three dots.
Should say delete device copy.

Fantastic, I was looking for the little trashcan. Thanks!

I wish/hope they bring back the long-press home button way of sharing screenshots. So much easier!

Get the beta version of Google now on tap. It's back on there. Enjoy!

New update brought it back!

LG's Quick whatever is the best way for screenshots

I like samsungs swipe to capture. Holding all those buttons seems too complicated.

Even on a samsung device I do the button thing. Feels better then doing the bless the phone motion LoL

2 buttons.. So complicated

Sometimes when I do that my screen changes before the screenshot can be taken. :-( I'll have to try this two button magic. (I'm still using a Galaxy S5.)

The Google now on tap screen share thing was removed for whatever reason. I thought that was very useful. Don't get why they got rid of it...

It was the easiest and best way to capture a screen shot.... Wish they'd implement capturing a portion of a screen too.

Google now on tap beta has it for some reason. Enjoy!

Sign up for the beta version. It's been on there and it's glorious :)

How do you sign up for the beta version of Now on Tap for a Pixel? I thought Now On Tap was just a baked in feature of the assistant?

In the app store itself go find now on tap and then scroll down and you should see beta sign up.

Maybe you are referring to the "Google Now Launcher" app which has the Now On Tap feature? I don't see a "Now On Tap" app. Either way, the Google Now Launcher app does not work with the Google Pixel and Pixel XL phones (shows incompatible in the Play store) because those phones use an app called "Pixel Launcher."

There's an app which replaces Google app and allows to take screenshots by holding the home button - Screenshot Assistant. You can find it in Google Play.

Is there any way to get the screen share feature back from the Now On Tap feature? I miss this on the Pixel.

The beta version has it. I am using it now on my op3. Enjoy!

I was looking at it recently, but screen too small.

This is how it used to work on Nexus phones but it was replaced with Now On Tap. Nice to see it back again

Why didn't Google use a screen shot button in the quick settings - like all the other HTC phones have?

Or better yet, knuckle knock like the honor 8. By far the coolest way that never fails.

Good to see improvement there. It definitely failed a few times in the Honor 7 I had.

Seriously the whole two button thing sucks. It's a hassle and takes multiple attempts to get the screen shot. Even while pressing both buttons and holding it changes my volume instead or just ask to restart or power off.

Wish Google would now come up with a Screenshot shortcut in the quick settings. Also, a restart option in the power menu would be fantastic.

So I don't get it, you take a screen shot then to access it, you can't just go into your camera roll with the rest of your photos and say to send to someone and it sends the image. When I text it to someone they get a link to follow? Is this the only option?

You're sharing to them via photos. That's not what you want to do. You want to choose the appropriate app to share it with, eg whatsapp, messenger, etc. It's not with your other pics because it's not a pic you took with your camera, it's in its own folder. You may not want to necessarily back it up either. Screenshots are typically a quick pic you won't need again.

I had trouble with how you described to take a screenshot. Turns out, you have to hold the two buttons down for a couple of seconds. This article helped me understand that. https://support.google.com/pixelphone/answer/2811098

If you hold the home button and swipe up after assistant appears there will be an option to share screenshot.

Article is several years late....

All I get is power/restart and volume control which makes perfect since because they are power/restart and volume buttons. Gotta be a better way

This screenshots stuff does not work on my Google XL. The Power/volume down thing does not do a screenshot. The Google Photos info is also wrong because there is no "Device Folders" option from the 3 dot menu so it can not be selected. So this was useless to me because none of the information is correct. Is it possible that updates to the phone and to Google Photos have rendered all of this out-of-date? And why does the ratings feature on these comments not work? The arrows don't show up when you do a comment. They show up afterwards but that are not selectable.

I also have the XL and the Power button and the lower Volume button are in fact the correct buttons to press for a screenshot. You need to press them at the same time and hold them down until you hear the pop and the photo will be taken. Takes approx 2 seconds for the screenshot to be taken. After its taken, up in the tool bar it will allow you to access the file. Hope this helps. Good Luck.
Android Central Newsletter
Get the best of Android Central in in your inbox, every day!
Thank you for signing up to Android Central. You will receive a verification email shortly.
There was a problem. Please refresh the page and try again.