How to hide 'Apps are running in the background' notification on Oreo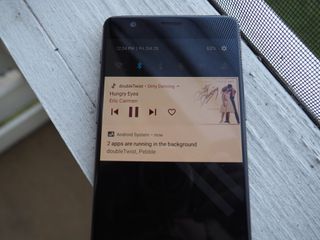 One of Android's long-time features is the ability for apps to run in the background to pull new information and deliver notifications. This comes with a cost for battery life, so in Android 8.0 Oreo the system notifies users when an application is running in the background. This is great on paper, but in reality, all this does is tell me that my music player is indeed playing music, and shame me for still using a Pebble Classic. Worse yet, there's no way (at the time of writing) to hide this notification, so it just sits there, mocking me. Fortunately, there's a way to fix that.
Developer iboalali released an application simply titled Hide "running in the background" Notification (opens in new tab), and it does just that: the "apps running the background" notification is gone. The source code is available for anyone who (rightfully) wants to make sure they aren't installing something shady onto their phone. The app itself is free, but there is an in-app donation option for those that want to thank the developer.
Do you plan on using the app to hide the persistent notification? Let us know down below!
Download Hide "running in the background" Notification (free) (opens in new tab)
I find the notification useful. If opinions are divided, there needs to be a setting in Android to enable or disable the notification.

The notification is useful, however some apps you know about and others you don't, there is no way to lower the priority of those you do. I've lowered the priority so the whole notification so it doesn't take up much room, but I would have prefered for that line to just have the icons for those notifications

Was holding off on installing Oreo due to this. Such an annoying "feature" of a smart phone. I can see it's usefulness but at the same time I want stuff running in the background.

This method too https://www.xda-developers.com/hide-app-running-background-notification-...

That's the exact same app.

Plus they updated the link *

Well, hopefully this is the sort of thing OEMs will take out on their versions of Android...but...just in case...let me get the app anyway. We never know.

Nice! Just what the doctor ordered.

you could ALSO just disable notifications for google play services. worked for me

That's pretty drastic. You're also hiding other useful notifications.

Coming from Windows Phone I must say that I love Android very much, but boy how I despise the very concept of "permanent" notifications. Whatsapp Webb's and Skype for Business' notifications are annoying enough and now it seems Oreo will make it much worse. They MUST be made optional! Or just show the damn icon there on top Windows-Desktop-System-Tray-Like but remove the damn notification!

Yes, I too hate knowing what software is running on my phone after I've moved away and told it to quit.

https://www.androidcentral.com/e?link=https2F2F... ¯\_(ツ)_/¯

I know Pebble and PIA are literally always running, I don't need a persistent notification telling me.

Ahhh. If you have a notification that Pebble is running, then it is running incorrectly. There are service APIs that could be used so only the component that needs to run does so, only when it needs to. See Android Wear or your messaging app as an example. In a few months, developers will have it sorted out. The notifications will be mostly gone (and those left will be from apps you probably don't want to have installed) and maybe it will have a good effect on our batteries. Or maybe not :P

Developers won't have it sorted out for Pebble since there aren't any anymore. Remember, Pebble was purchased and scrapped a while ago? I'm sure there are dozens, if not hundreds, of apps out there that don't normally display a persistent notification but will in Oreo and the developer either doesn't know how or can't fix it, and not including a way to mute those notifications in Oreo is really short-sighted. It's the one time I'm glad I've got Samsung in charge of updates for my phone, I probably won't have Oreo for a long time. Those color-coded music notifications are horrid, too.

They should find a better way of showing that than wasting notification space!

It's a shame Google doesn't include something like Samsung's Device maintaince - App Power monitor. I have come to like it very much on my S7. It works pretty good. It gives me peace of mind knowing it will immediately notify me of any app running in the background and puts it to sleep.

How about an option to stop further notifications for specific apps you've approved?

I found a way to do this. Check out my most recent comment.

Although there are two settings: one is "display over other apps" and one is "apps running in the background". The latter is the one that applies to the notification in question, but idk what disabling the former for certain apps does.

This notification exists to protect you.

I just discovered a new way to disable this notification: 1) Slide the notification halfway and select the settings icon that shows up. 2) Press "All categories", and find the setting labeled "apps running in background". 3) Select the priority of the notification you want.

@Dadstar0410 nice one that worked a treat thanks!! :)
Android Central Newsletter
Thank you for signing up to Android Central. You will receive a verification email shortly.
There was a problem. Please refresh the page and try again.