How to get Alexa in your home without buying an Amazon Echo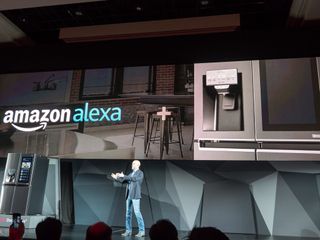 One of the coolest parts of Amazon's Alexa service, especially when comparing the tech to other platforms, is the commitment to many different hardware partners. Any company can make something that works with Alexa, giving that new accessory complete control over all of the things an Amazon Echo has access to. That may mean a more capable speaker, or something a great deal more portable. There's a lot of flexibility here, and that means there are many different options to choose from.
Here's how you get Alexa in your home without an Amazon Echo.
No hardware at all
You don't actually need a new piece of hardware to use the Alexa service, if you want to see how useful it would be to you. There's a website designed to offer developers a way to test Alexa skills before releasing them to the world, and it's a pretty great way to get used to Alexa before buying.
EchoSim can do just about anything Alexa in your home can do, right from your browser. All you need to do is keep the browser tab open, click the microphone or hold down the space bar to speak, and enjoy exploring Alexa.
A cheaper speaker
Maybe your gripe with Amazon Echo is cost, and the Echo Dot doesn't handle music very well. Naturally, there's something in between. A speaker not quite as expensive as the full-sized Echo, but significantly more capable of filling a room with music than an Echo Dot.
The Fabriq speaker is part Wi-Fi speaker, part Bluetooth speaker, and all battery powered cleverness. When connected to Wi-Fi, you have access to the Alexa service and all of the skills connected to it. If you decide you'd like to play music from your phone away from Wi-Fi, the Bluetooth mode lets you take the speaker with you anywhere.
It also comes in several different fabric covers, and while that's not functionally significant it can help your speaker stand out in a room.
See at Amazon (opens in new tab)
Alexa you can wear
Having a microphone set up in your house to ask a computer to obey your every command is only useful if that microphone is where you are. Amazon would prefer you solve this problem by putting an Echo Dot in every room you think you're going to use Alexa, but for some it may be easier to just wear Alexa on your shirt.
Orion Labs has a smart walkie talkie solution called Onyx, and it's built to be worn like almost like a Star Trek communicator. You pin it to your clothing, and on top of being able to communicate instantly with whoever is wearing its mate, you can access Alexa at any time. Perhaps the best part of this design is when you don't want Alexa to be listening you don't have to go far to silence it.
See at Amazon (opens in new tab)
Available soon: Alexa on your phone
It's not available yet, but Amazon is working with several Android phone manufacturers to include the Alexa service baked in. The idea is to be able to access Alexa just like you would access Google Now or Google Assistant, giving you everything you need to have your preferred home control service with you at all times.
Alexa is currently expected to be available on the Huawei Mate 9 later this year, and it has been rumored LG will be including Alexa on the LG G6 as well. We'll be keeping an eye on this, and will update it when more information is available!
You can get Alexa on your phone with the app Ubi. It works great and has a helpful widget. You do have to tap a button to activate rather than saying Alexa.

I'm not planning to purchase it, but I like the GE lamp with Alexa.

Been using Reverb for the last couple months as well as my Dot. https://reverb.ai/

The orion thing is so cool... I want a pair so bad

I think the Alexa thing is a great idea. Seems like Google has everyone hostage with Google assistant only on pixel phones. This is a great way to stick it to Google.

It's built into the Kindle Fire tablets too.

Now comes with the Amazon Dash Wand.
Android Central Newsletter
Thank you for signing up to Android Central. You will receive a verification email shortly.
There was a problem. Please refresh the page and try again.