How to enable Now Playing on your Google Pixel 2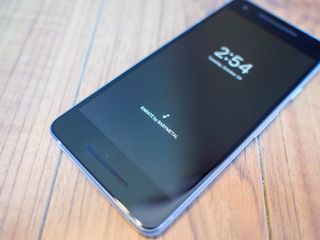 Google's Pixel 2 has arrived, bringing with it some awesome new features to take advantage of. One of the new additions is Now Playing: a function that will detect what song is playing on nearby speakers and show the artist and song title on your screen. We've got the details on how to enable it here!
Enable Now Playing
While some features like to hide deep inside settings, enabling Now Playing is a pretty easy task. You can find it under the "Setting up your Pixel" section of Settings. Now Playing works offline and doesn't send this information to Google but it is worth noting that there's currently only a catalog of about 10,000 songs it can recognize and detect for you.
Open Settings.
Tap Sound.
Tap the arrow next to Advanced Settings.
Tap Now Playing.
Tap the toggle to enable Now Playing.
Are you listening?
Now Playing is an awesome feature for anyone who enjoys easily discerning what you are listening to. Easy to enable, and with a pretty sizeable catalog it can recognize, it's an awesome feature and one many of us didn't even know we needed. Will you be using Now Playing? Is this a feature you're excited about? Let us know about it in the comments below!
Jen is a staff writer who spends her time researching the products you didn't know you needed. She's also a fantasy novelist and has a serious Civ VI addiction. You can follow her on Twitter.
While it will be nice to look down and see what is playing, can I tap on the song now playing and save it to a list where I can later add to a spotify of google play music list? I might hear some songs I like but not remember the song or artist later. With Shazam, while not always on, I can find out names of songs I like and then have them in history and easily add to playlists later.

Hey paradroid, I released an app yesterday that does just that :-)! It keeps a history of all the songs recognized by the "Now Playing" feature. Search for "Now Playing History" on the Google Play Store to check it out.

"it's an awesome feature and one many of us didn't even know we needed" Um, No. No one needs this feature. I'm surprised in this day and age of privacy concerns, you guys are actually pushing this as the greatest thing. Were you guys taken over by the NSA or something?

"Now Playing works offline and doesn't send this information to Google" If you are worried about the NSA offline, you might as well give up.

Can someone with a Pixel 2 put your phone in Airplane mode and test the offline feature. Thanks.

This is from venturebeat: "Now Playing functions completely offline (we tested this, and indeed it works with mobile data and Wi-Fi turned off). No audio is ever sent to Google." XDA found the file in the code and a list of approx. 17000 songs that have the information stored locally (it is regional and updated occasionally). This is helpful for many songs, but cannot really replace something like Shazam that uses a huge online database, but must have a connection. I hope this helps ease your mind on the privacy question.

BABYMETAL - awesome :) This was one of the features I'm excited about on the Pixel 2s. My new XL is copying over data so I'll be able to try that out in about 3 minutes :)

I still can't believe you stole my blue pixel2 Jen.

Too bad playing back those songs won't sound as good since there's no headphone jack or quad dac.

Does the Phone need to be in "Always On" mode to have the "Now Playing" feature functional?
I know you can have it enabled with "Always On" disabled (battery suck).. just wondering if this negates the "Now Playing" enabled operation.

Thanks for this... didn't even realize it was there.
Android Central Newsletter
Thank you for signing up to Android Central. You will receive a verification email shortly.
There was a problem. Please refresh the page and try again.