Holiday gift guide: What to get your favorite traveler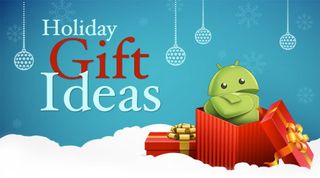 The holidays are upon us. Starting with Thanksgiving this week (in the U.S. anyway) and continuing through the rest of the year, chances are you'll be headed out somewhere. But you don't want to go empty-handed. And with the inevitable delays, it's important to be prepared
Head on past the break for our top gift suggestions for travelers, be they road warriors or first-timers.
The best phones for travelers
Chances are you've already got an Android smartphone, right? Or maybe you're in the market for one. Is there one that's better than another for traveling? Yes and no. When we're on the road -- and we're on the road a lot -- we're really concerned about two things: Will my phone work where I'm going? And how long will the battery last.
Don't be afraid to ask
The answer to the first part is a little tricky if you're traveling somewhere for the first time. Verizon might work great in one city, but maybe T-Mobile or Sprint's best in another. It can be tough if you've never been there before. But we've got more than a half-million members in our forums who live all ovever the world.
Need to know how a carrier performs in a particiular city? Ask away in our forums!
Traveling abroad
Something else to consider is if you're traveling overseas. If you've got a smartphone on Verizon or Sprint, there's a good change it won't work outside the United States, because those carriers use different radio frequencies than most of the world. (It's a CDMA thing.)
If you're going to head out of the country, check to see if you've got what's known as a "World Phone," which has CDMA and GSM radios for use outside the United States. And no matter which carrier you have, be sure to call and make sure you have international roaming set up. It's not cheap, but it's a lot less expensive than what you'll be billed if you forget.
Our pick for the best traveling smartphone
Get a Nexus. Whether it's the brand new Galaxy Nexus, last year's Nexuxs S or the original Nexus One, it's unlocked, meaning you can use any foreign carrier's prepaid SIM card without trouble. Or, you can use international roaming with AT&T or T-Mobile. Either way, it's hassle-free.
Best tablets for travelers
This category's a little wide open, thanks to the wide array of Android tablets available. We'l break it down between traditional Android tablets and the new hybrid e-readers.
Best traditional Android tablets
OK, we're going to cop out here and actually suggest a slew of them. You can't go wrong with the Samsung Galaxy Tab -- the 2011 version with Android 3.0 Honeycomb. And Samsung's got a bevy of sizes from which to choose. You can go with the original Galaxy Tab 10.1 if you want a larger experience. Or there's the Galaxy Tab 8.9, which for us really hits the sweet spot. Or, if you want to scale down even further, there's the Galaxy Tab 7, which takes Honeycomb to a 7-inch form factor.
If you need to be a little more productive, the ASUS Eee Pad Transformer -- and the upcoming Transformer Prime -- is the tablet to beat. It's a little more expensive when you add in the cost of the optional keyboard dock, but that dock turns the Transformer into an excellent Android laptop.
Best Android-based e-readers
There basically are two to chose from here, and they're either new, or refreshed for the holiday season. Both have 7-inch displays.
The Amazon Kindle Fire is the new kid on the block. It's running Android 2.3 but has a custom launcher -- it doesn't really look or feel too much like traditional Android. In addition to the millions of books available through Amazon, it's also got Amazon's Video on Demand service, Netflix and most of what's already in the Amazon Appstore. It's also got a competent web browser and e-mail. It's running $199. Buy the Kindle Fire from Amazon
The Barnes & Noble Nook Tablet is the other condender. It's actually more powerful than the Kindle Fire on paper, and it runs video wonderfully. But it's lacking Amazon's Video on Demand service. But it's also thinner and feels less like a traditional tablet, and there's something to be said for that. It's also $50 more than the Kindle Fire, selling for $249. Buy the Nook Tablet from Barnes & Noble
Batteries
Back to one of our main points -- keeping your device charged on the go is essential. One of the easiest ways to do that is by keeping a spare battery on hand. There are a couple of routes to go here. One is to have an extra stock-size battery, effectively doubling your usage time. The other is to get an extended battery. They hold even more juice, but do so by adding size and weight to your phone. It's a trade-off, for sure, but it also keeps you going.
See all spare batteries at ShopAndroid.com
Chargers
Of course, you'll still need something to actually charge the phone, right? There's nothing worse than hopping in the care or, worse, on the plane, only to discover you've left without a charger.
Our suggestion: Keep a travel charger with your travel bag. Don't take it out when you get home. Same goes for the car. Keep a car charger in the glove box. It's a safety thing, if you think about it.
See all travel chargers at ShopAndroid.com
Cases
Even if you're not normally a case person, we'd recommend using one while travling. The last thing you want to do -- especially duing the holiday season -- while you're on othe road is to have to buy yourself a new phone after an untimely drop.
Youv'e got a wealth of styles to choose from. Hard cases give the most protection. Skin cases help protect from dings and dents while keeping things slim. Leather cases protect with style. Holsters clip to your hip.
See all cases at ShopAndroid.com
Car docks
If you're literally hitting the road, you've got to have a car dock. No exceptions. It's an easy way to keep your phone charged in the car, it gives you a great way to use your phone for navigation and -- most important -- it keeps your phone out of your hand while driving.
You've got options here, too. You can affix your phone to the dash, or to the windshield, or to your car's 12v power outlet -- even the air-conditioning vent. Either way, you need to keep your phone out of your hands while driving, and this is the way to do it.
See all car kits and mounts at ShopAndroid.com
Headphones
Do your fellow travelers a favor. Buy headphones. And then remember to use them. There's really no reason not to. Chances are you'll be listening to music on your phone anyway, right? Might as well pair your headphones with the ability to make and receive phone calls.
See all Android stereo headphones at ShopAndroid.com
Must-have apps for any traveler
If you're traveling, you need travel apps. Plain and simple. The best part is, most of the really good ones are free. Here are our must-have Android apps for when we're traveling.
A no-brainer, right? Even if you know where you're going, Google Maps can help keep tabs on the traffic on your way there.
You need to know how to pack, right? So you need to know what the weather's like where you're going. Weather.com's app is easy to use, and, best of all, it's free.
Take your music with you. Google Music lets you sync up to 20,000 of your favorite songs for free. Plus, you can now purchase music from your Android device in the Android Market. Easy as pie.
If you need a little help keeping track of your travel info, you must use Tripit. It keeps all of your itineraries in one place, including flight, hotel and car-rental info. The basic service is free. Frequent travelers may want to consider the Tripit Pro service, though, which steps things up and also gives you a few discounts, too.
Finally available on most newer Android devices, you cna help the trip go back faster with a few movies. Or, keep the kids occupied with a few cartoons while you wait in the airport. You'll need an Internet connection to keep things rolling.
Get the Android Central Newsletter
Instant access to breaking news, the hottest reviews, great deals and helpful tips.