Google's AI is getting so good it may soon teach you French (or another language)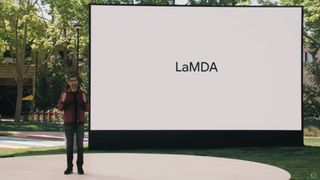 (Image credit: Android Central)
What you need to know
Google is reportedly working on a new AI-powered service that will help people learn foreign languages through Google Search.
The project is called Tivoli internally.
It is expected to be rolled out before the end of the year.
Google is working on a new project to teach people foreign languages through Google Search, according to an exclusive report from The Information (opens in new tab). The project, which is said to be called Tivoli internally, could launch later this year.
The service will initially work over text, but the team behind the project is working on ways to add the functionality to Google Assistant and YouTube. In YouTube, Tivoli could create language quizzes, where users would be able to record themselves after watching a video. Google's AI would then assess how they performed to help them improve.
Employees working on the project are hopeful that the more conversational AI will make it easier for learners to grasp new languages and also expand their earning potential "by making them eligible for new jobs."
Tivoli's development reportedly started two years back using Google's Meena neural conversation model, which has since evolved into LaMDA. As announced by Google at I/O 2021, LaMDA will also enable the Google Assistant to have more free-flowing conversations with users in the future.
A large number of people already use Google Search to translate text from one language to another. This, coupled with Google's search dominance, has reportedly raised concern among a few executives that the project could end up creating a new antitrust problem for the company.
With Tivoli, Google will be taking on the best language learning apps, which make learning a new language feel like you're playing a game. Duolingo is currently the most popular language learning app, with over 500 million users.
Just last month, Google was fined €100 million by Italy's competition watchdog for abusing its market dominance. U.S. lawmakers also introduced new antitrust bills earlier this month to weaken the dominance of Big Tech.
Get the Android Central Newsletter
Instant access to breaking news, the hottest reviews, great deals and helpful tips.
Can't wait for Google Assistant to teach me French so I can confidently walk up to the maitre D of some fancy Parisian restaurant and ask them "collaborative toilet cadaver?". Then when they look at me confused, I'll be able to explain, thanks to Google Assistant, "repulsive orange cactus circuitry!". Good times ahead.

I would be happier if speech recognition could accurately determine what I am saying. Not only does it mangle my English in English, it sometimes interprets it as German. To be fair, I have yet to see any speech recognition software on any platform that was accurate all the time, and it has come a long way in the last couple of decades. What I don't understand is how it can be pretty accurate one time and totally off the wall the next. My car does the same thing. Sometimes "call husband" calls my husband and sometimes it tells me it can't adjust the volume on media because none is playing. At least it is all English.

Nobody can touch Google when it comes to AI.