Google TV website gets refreshed ahead of Google I/O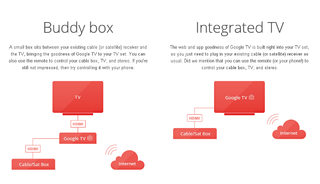 We're pretty sure that Google TV is going to feature quite prominently at Google I/O -- just in case you forgot, we'll be there all week! -- and to go along with that, the Google TV website got all refreshed. It falls into Google's general way of designing their web pages these days. It looks clean, simple, and fresh. It also gives a good breakdown of the devices available, both "buddy box" and integrated devices. There's also a decent guide to what Google TV actually is, and the applications that you can enjoy.
At the end of the day, it's just a website. But, for us, now lucky Brits -- and indeed several of our international cousins -- at least, Google TV is new and exciting. Being able to watch Eastenders and browse the web at the same time? Sounds good.
Oh, care for a dose of speculation? Well, when you're taking a look around the devices section of the site, a little feller in an I/O 12 t-shirt pops up behind a newly announced, Vizio Google TV box. Probably means we'll be seeing quite a bit of this little guy over the next few days as well.
Source: Google TV
Also note, if you click on google play, the last sentence is "Now if it only had sandwiches." ICS perhaps?

Totally hoping the Vizio thing can replace my HTPC.

When the new Sony streamer is released stateside (or if the Vizio streamer turns out to have decent specs), I'm going to SMASH MY REVUE TO BITS! It has been nothing but trouble recently, to the point of losing all my apps each time Chrome crashes. I've done no fewer than seven factory resets this year. Thank goodness Google lightened up on the Play Music device restrictions!
Android Central Newsletter
Get the best of Android Central in in your inbox, every day!
Thank you for signing up to Android Central. You will receive a verification email shortly.
There was a problem. Please refresh the page and try again.