Sony's new Google TV set-top box coming July 22, and they are going global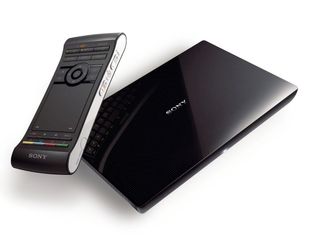 Two great pieces of news here in one press release -- Sony's new set-top Google TV box, the NSZ-GS7, will go on sale July 22 and the $199 price tag has been confirmed. Pre-orders are live now at Sony. Maybe even bigger news is that Sony will follow the US release with units for the UK also in July, and Canada, Australia, France, Germany, Netherlands, Brazil, and Mexico will follow after. To round things out Sony also says they will be releasing the Blu-ray version this fall for United States, followed later by Canada, Australia, the United Kingdom, France, Germany, and Netherlands.
As one of the first units of Google TV's promised 2012 summer refresh, we're excited to see how the dual-core Marvell SoC performs compared to the last generation ATOM-powered devices. We're think it will be a good bit better, as hardware performance was one of the weak spots with previous Google TV units. And that remote, with it's rear mini-qwerty and trackpad on the front, well, it just needs to be tried.
The full press release and a handful of official photos are after the break.
SONY'S NEXT GENERATION SET-TOP BOX WITH GOOGLE TV™ ARRIVES JULY 22
Internet Player's Versatile Remote Control and Library of Apps Customizes the Home Entertainment Experience
SAN DIEGO, June 25, 2012 – Sony Electronics Inc. today announced the availability and pricing of the NSZ-GS7 Internet Player with Google TV™, originally introduced in January at CES. Powered by Google TV, the Internet Player will be available at retailers nationwide on July 22, priced at $199. Pre-orders begin on June 25, 2012 at www.sony.com/sonygoogletv (opens in new tab).
"Expanding the reach and interoperability of the powerful Android platform with Sony's smartphones, tablets and renowned Audio & Video products, we are proud to continue our relationship with Google through the introduction of the new Google TV set-top-box," said Phil Molyneux, president and chief operating officer of Sony Electronics. "Entertainment content is available through so many channels and sites, and Google TV helps consumers easily find what they want to watch, listen to or play using familiar search engine technology, enhancing the viewer experience. TV will never be the same."
In addition to the NSZ-GS7 Internet Player, Sony's newest Internet Blu-ray Disc™ player with Google TV, the NSZ-GP9, will be available at retailers in time for the holiday season, priced at $299. The NSZ-GP9 player features Sony's proven Blu-ray Disc technology coupled with the robust Google TV platform.
Global Expansion of Google TV Platform
In 2010, Sony helped pioneer the Internet-TV convergence as one of the first manufacturers to launch products powered by Google TV. With the new NSZ-GS7 Internet Player with Google TV, Sony will also be the first manufacturer to launch Google TV products outside of the United States, initially starting with the United Kingdom in July, followed later by Canada, Australia, France, Germany, Netherlands, Brazil, and Mexico. The NSZ-GP9 Blu-ray Disc player with Google TV will be available this fall in the United States, followed later by Canada, Australia, the United Kingdom, France, Germany, and Netherlands.
Customized Entertainment Made Easy
Sony's evolution of hardware (opens in new tab) to complement the continually updating Google TV is the next step in the future of home entertainment convergence. Sony's NSZ-GS7 and NSZ-GP9 bring the best of Google to your TV, with new experiences arriving every day through the Google Chrome™ browser; thousands of supported mobile apps in the Google Play™ Store, including hundreds optimized for TV; YouTube™ with 72 hours of video being added every minute; and a global community of developers from around the world. Google TV's cross search functionality shows viewers all content sources available from broadcast providers* and the Internet to deliver customized video results on demand.
Both new products come complete with a redesigned remote control (opens in new tab) equipped with a backlit QWERTY keyboard, a touch pad for easy operation and a three-axis motion sensor to enjoy games. Additionally, the Bluetooth® remote control can also be utilized as a universal remote to control connected devices such as TV, set- top-box and A/V receivers - the NSZ-GP9 Blu-ray Disc player even incorporates voice search capabilities.
For full specifications and high-resolution images, please visit www.sony.com/news (opens in new tab).
* Must be connected to a set top box for cable TV or satellite broadcasting in the U.S for TV integration.
Jerry is an amateur woodworker and struggling shade tree mechanic. There's nothing he can't take apart, but many things he can't reassemble. You'll find him writing and speaking his loud opinion on Android Central and occasionally on Twitter.
I have the Revue, and while I love Google TV, the hardware on the revue is unacceptable. I'll be grabbing one of these for my other TV....when they go down to their appropriate price point of $99.

I have one too and they just need to put at $99 in order to move tons of units.

Outstanding! I love my Revue, but it is slow and quirky. I am looking forward to upgrading my main TV with this

Thanks Jerry. I just watched a nice YouTube video on it earlier today here > http://youtu.be/YEY8rEQb8XQ which had a Sony Rep. laying it all out. I like the back-lit idea of course, along with the multi-axes control too. I will wait a bit though.

I wonder if the non-Bluray version will be lacking any codecs or stuff like that.

If I upgrade from the Revue I'm going to miss the camera support

Sigh...I have the current Sony box, and while I like it, and think it does a decent job, I don't think the hardware issue is as big an issue as not having apps for the thing. I don't think I've seen one solid app come out in the last year that's been worth downloading. And could I get an MLB app? I have an app for my phone, and my tablet, but the TV, where it makes the most sense, I have to watch in the browser. I really want to love googletv...but right now it's simply "okay".

There's definitely a chicken-and-egg problem here. No-one wants to make apps for Google TV because no-one has it. No-one wants to buy Google TV because there are no apps for it. Have to wait and see on this one. If Motorola released a $99 STB running Google TV that might change things.

$199 beats the $299 my original Logitech Revue set me back, but didn't keep me from pre-ordering one like a good little Google fanboi. The Sony's getting mostly bad reviews that run along these lines: nice hardware, cool remote, GoogleTV software still sucks. I have to say I almost agree on the software sucking part. The launcher/home screen feels very old and dated. So does the primary search feature; all that big screen real estate wasted on just displaying an icon and a text description? Don't overdo it and slow it down, but make it a bit more graphical and eye applealing. The $199 price tag is going to be a problem grabbing general interest for the thing, with other devices like AppleTV and Roku setting the sweet spot for pricing on these kind of devices at $99. Re: software, it's got "a thousand apps" for it, but not very many that are interesting, and even fewer that are slick. There are some winners, but few and far between. I've used the dropbox apk trick to install some things on the Revue that aren't available in the Play Store, but still work fine on the TV, but many people won't bother with this.

Granted $199 is far more than $99 but when looking at this compared to an Apple TV or Roku they are different animals altogether. Beside the fact that the remote itself is leaps and bounds more functional than either of the others the GoogleTV has access to the Google Play Store as well as apps that can be installed and used.

The Vizio Stream Player will be much better. Its $99 and will have 2 HDMI ports which will allow to to connect from cable to stream player to tv so the UI will play over the cable so you dont have to change inputs. I also think the remote has a much better layout

All Google TV devices have two HDMI ports so you don't have to switch inputs.

My aTV combine with XBMC run circles around this thing.
Android Central Newsletter
Get the best of Android Central in in your inbox, every day!
Thank you for signing up to Android Central. You will receive a verification email shortly.
There was a problem. Please refresh the page and try again.