I wish Google made more Nest displays like Amazon's Echo Show devices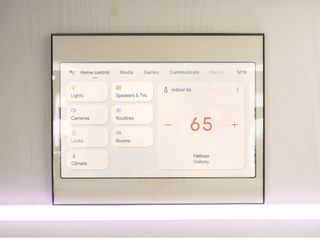 (Image credit: Nick Sutrich / Android Central)
I own a couple of Google's Nest products. I have the original Google Home in my bathroom, and I sprinkle some Nest Minis around my apartment. However, my favorite is the first-generation Nest Hub display that I leave on my bedside table. It's the perfect size as a digital clock, but versatile enough to do most of my smart home things.
However, even with the bigger Nest Hub Max and the newer Nest Hub (2nd Gen), I can't help but feel like Google's smart display lineup is quite lacking, and I wish it would launch a broader range of first-party devices.
The main reason I feel this way is Amazon. Every time Amazon launches a new version of its Echo Show devices, I can't help but be a little jealous. The Echo Show 10 (3rd Gen) looks so cool with its swivel display that follows the user around, and the new Echo Show 15 looks like something I would love to hang up on my wall.
At the risk of sounding like an iPhone user when asked to switch to Android, my main problem is that I have no interest in Amazon's smart home ecosystem, mainly because I'm already committed to Google Assistant. It's well integrated with my smartphone, smartwatch, and while I think Amazon has done a great job with Alexa, it just doesn't vibe with me. I actually own a pretty good Alexa-powered speaker, but I hardly ever use it because I'm so used to barking commands at my various Nest speakers. Still, Amazon makes some excellent displays.
Avi Greengart, founder and lead analyst at Techsponential, notes how both companies differ in how they approach smart displays and says Google is likely focused on the cheaper and more accessible Nest Mini.
"Both Google and Amazon have used their touchscreen smart speakers for AI assistance, IoT control, and music, but Amazon has been more aggressive with the Echo Show," Greengart says. "Amazon has pushed further into video calling, entertainment, and home security while exploring new form factors (swiveling, wall mounting) and use cases (elder care with Alexa Together and family information hub on the Echo Show 15)."
As a result, Amazon makes devices that seem tailor-made for the home, with devices that literally follow you around and can keep track of the whole family. It's even extending its smart home features to its Fire TV devices with the recently announced Smart Dashboard and Alexa Shortcuts. This way, you don't even need to buy a dedicated smart display to access many of these features.
Google products also do video calls, entertainment, and home security. However, it seems like the company is more focused on improving Assistant's capabilities, as noted by Maurice Klaehne, senior research analysts of devices and emerging technologies at Counterpoint Research.
Google is more focused on the quality of its AI over the quantity of devices it puts out. And let's face it, Google isn't much of a hardware company, although recent devices like the excellent Nest Audio speaker and even the Pixel 6 prove that that's slowly changing.
I would just like to see Google be more assertive and creative with its first-party displays because, really, no one else will. We've seen efforts from Lenovo with decent results, but they stick primarily to the same form factor (although, the addition of a wireless charger is a nice touch). Even Facebook Meta is leaning more into the smart display space with its latest portal devices, and it's really feeling like Google is starting to stagnate a bit.
When Amazon announced the new Astro robot, I remember my first thought was, "I wish Google made this!" I said the same thing when Amazon launched the third-gen Echo Show 10, the Echo Show 15, and even the Ring Always Home Cam. Amazon keeps its hardware fresh with new designs and processing capabilities while also continuing to improve Alexa.
Of course, having a smart display in every room sounds a bit like overkill when you could just have a Nest Mini do much of the same thing with your voice, nor do I think companies should update their lineups every year as if they were smartphones. But at least Amazon gives us options, so you can pick and choose what's right for you and your kids. With Google's Nest displays, you really only get two sizes, and only one of them is equipped with a camera. Not only that, but Google's hardware is starting to feel a little dated.
I really hope that Google now only expands its lineup but ups its game with the next-gen Nest Hub Max, whenever that should reach the market. The new smaller Nest Hub is nice, but it's also a bit of a yawn, not because of its Soli sleep-tracking features, but because that's really the only thing new that it offered — it even looks nearly identical to the first Nest Hub and is still just as sluggish with touch controls.
Google would be smart to update its existing hardware, perhaps with new designs and even some form of the Tensor chip for improved on-device AI processing like what's found on the Pixel 6 series. Not only that, but Google should also provide users with more options, especially while consumers are buying more smart home products.
The International Data Corporation (IDC) highlights in its latest report how the smart home market has grown in Q3 2021, shipping more than 221.8 million devices. Some of the best smart speakers contributed to that growth, with 32 million devices accounting for 7.11% growth year-over-year. Among these devices are smart displays, which are on the uptick despite higher average selling prices (ASPs), according to Jitesh Urbani, research manager for IDC's Mobile Device Trackers.
If anything, Google should take advantage of the market trend to counter Amazon's efforts with its newer Echo displays. Greengart notes how Amazon has likely had more success with its devices because it had a head start, while Google has been playing catch-up with its smart home hardware. Klaehne counters by saying that the success is different between the two companies since Google is focused on software "while Amazon wants to build out its hardware ecosystem more to help with other service sales."
This is probably why Amazon can afford to experiment with new form factors, while Google plays it safe, as it often does. But for me, that's no longer enough. And as much as I don't want to switch smart home ecosystems, Amazon's cool hardware is very tempting.
I just want more options, Google.
Get the Android Central Newsletter
Instant access to breaking news, the hottest reviews, great deals and helpful tips.
Derrek is a long-time Nokia and LG fanboy who loves astronomy, videography, and sci-fi movies. When he's not working, he's most likely working out or smoldering at the camera.
I'm convinced that Google is content with half-baked smart home features, where-as Amazon is continually adding features all the time. For starters? There's no automated IFTTT-style sensor-based initiated routines in Google Home at all. You can't setup "If garage door open/unlocked? Then announce garage open." but Alexa can. I don't know of any smart doorbells that can use Google Home speakers as chimes outside of Nest...and yeah, there's no Google Home dashboard for Android/Google TV. That's why I'm done with Google and sticking to Alexa/FIre/Echo until they get their act together. Google's simply too stagnate to me in comparison.

100% agree with you on everything. I've never been a fan of Google but they really show their true colors each time they half-bake anything. The IFTTT like feature in Alexa is a God send. I use tons of routines with that feature. Alexa rocks, and the echo devices are more than good enough for me.

👆👆💯. Well said. Google is half baked

I'd pay big money for them to make a wall mounted security center that integrates my Nest devices.

I switched to amazon devices recently and I keep being amazed by how great it is compared to Google. I was leaning toward Google at first because as an IT guy, Google brand was more appealing to me than an online store brand led by Jeff Bezos. But eventually, after being disappointed by Google products (they keep discontinuing products and failing in so many areas) that I decided to give Alexa a try. Yes Google Search, Android and Adsense are great successes but the rest, not so sure. For example, Google Cloud is quite behind Amazon AWS in terms of market share. Amazon seems to have a stronger focus on customers (business/sale driven) while I feel Google are led by a strange mix of IT guys and finance people.

I've been using all of the various Echo device since each was first introduced, alongside a couple of Lenovo displays. I prefer the Google system for just one reason, but it's a big one—all of the Echoes with displays bombard you with annoying advertising and "suggestions", which I absolutely detest. Yes, I know how to go into Display Content settings and switch them off, but Amazon later sneakily turns them back on. Also, they frequently introduce new types of garbage screen messages, and each one defaults to ON. Über annoying! In contrast, my Lenovo screens have a clean, unobtrusive display that I enjoy looking at rather than being irritated by. I've hesitated to replace all my Echoes (and, go through the process of setting up my home automation system from scratch to use Google), but if Google or a partner ever releases a really compelling display then it's sayonara to f'king Amazon.

I look at Amazon's devices & always wonder why they have so many that do the same thing. I had researched Amazon devices & Google's devices & while choice is nice, Amazon seems to duplicate their efforts...a lot. I ended up getting the Google Nest Hub & I am so happy that it doesn't have a camera. I have the Google Mini speakers but I haven't plugged them in yet. I bought them really just to play music in the house. I like screens so I keep my phone with me.

Hard pass on live speakers or cameras connected to the internet in my home. Not buying the home security fear message. But it is tempting to put a fake camera on the front of the house.

Our security system is 2 rotties and a couple of mossbergs.

A few years ago Google Nest was doing well and appeared ready to eclipse Amazon Alexa, but then Rishi Chandra, the VP in charge of Nest at Google, made an arrogant move in announcing that he wouldn't let customers any longer dictate how they wanted to utilize their own Nest ecosystems, so he killed Nest Secure, disabled IFFF and a lot of other interoperability and has since allowed Nest to flounder comparatively.

The Echo Show 5 looks like the perfect alarm clock. Right now I have the Lenovo Smart Clock but I would love to have a first party option from Google for an alarm clock. The Nest Home Hub is a little too big for an alarm clock for me.