The Amazon Glow has a lot of potential and it makes me happy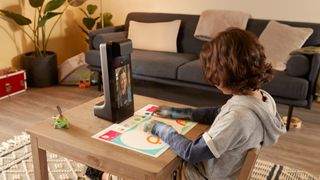 (Image credit: Amazon)
It's that time of the year that we start getting a whole lot of new tech and the online retail behemoth Amazon announced a bunch of new stuff last week. As a parent of two young boys, one of the things that stood out the most was the Amazon Glow. In short, it's a mash-up of an Echo Show 8 and an interactive projector. Amazon is positioning it as a way for kids to stay connected with friends and family that may not live close enough to see very often.
I love the idea. I can see it as an excellent device for families, especially for the kids who want to connect with relatives nearby and far. I don't know about you, but my family's days are always busy — and that's even during the offseason for activities. So I can see the Amazon Glow coming in handy when we may not have the time to arrange those in-person visits or if this pandemic we're living through continues to put up barriers.
The Amazon Glow is launching as a Day 1 Edition product, which means that anyone who gets one is a tester. However, these types of devices can sometimes grow into a full-fledged product that gets a wider release, like the Amazon Echo Frames that not only graduated from their Day 1 Edition moniker but also got a 2nd-gen update. I make this distinction because my excitement needs to stay a bit tempered, as interesting as the Amazon Glow seems.
Currently, Amazon is leveraging the success of its Kids+ platform to offer a lot of great content to get started. It also adds in some features that will be made specifically for the Glow to fully use the unique hardware capabilities. The overall success of this product will rely heavily on continually adding new content to the device. Though Amazon has said that the digital books already in the Kids+ program will be available, it's unclear if games or videos will be compatible with the Glow.
My kids love to visit and spend time with their grandparents and great grandparents, and assuming Amazon has considered the ease of use for the Glow app, this device could be a tamer way for them to play. Like many kids, my boys have a lot of energy, and when we do get the time to stop by for a visit, they are at peak wild. Playing a game, drawing pictures, or reading books together when we can't see each other in person can be a way to stay connected and can be done without as much running around in circles.
While there are thousands of books available that can be enjoyed together, the number of games accessible at launch will be limited. I can see them quickly getting bored with puzzles and doodles. The content library also needs to extend to solo play. I think that the Amazon Glow needs to be an enjoyable experience on its own, rather than just when online with family. Amazon already has some of the best Android tablets for kids, and information is still limited as to whether the Glow can be sort of like one of those tablets or not.
Amazon is one of the few major tech companies that continue to push us into the golden age of parent tech by constantly adding new content and features to its Kids+ platform and innovating hardware too. The company is willing to consider things like the rumored kid's wearable, the Amazon Glow, the Echo Show 5 kids tablets, which shows that there is a demand for devices that focus on kids.
There are a couple of reasons that Amazon has succeeded with its lineup of kid's products, and that's because these devices are priced affordably and are backed with excellent content and parental controls. Giving a child a device connected to the internet in any fashion can be concerning for a parent. Still, Amazon has done a great job of building fantastic safeguards to help give parents some peace of mind.
These are some of the reasons I'm optimistic about the Amazon Glow — albeit cautiously. Amazon has shown that it cares about its kid-focused products by offering solid hardware with excellent software. Then to continue supporting those devices and expanding on the software is encouraging for products like the Glow.
I hope that the Amazon Glow can graduate out of the Day 1 Edition category and be widely available. That means Amazon put a lot of thought into the physical aspects of the device and the content it features. Because in a world where things seem to be moving faster every day, finding new ways for family's to stay connected and interact in more ways is a fantastic idea.
Glowing potential
Ready to Glow up
The Amazon Glow's 19-inch interactive projected display is an exciting canvas for kids to play and learn, while video chatting with long-distance relatives on the 8-inch screen.
Get the Android Central Newsletter
Instant access to breaking news, the hottest reviews, great deals and helpful tips.
Chris Wedel is a fan of all things tech and gadgets. Living in rural Kansas with his wife and two young boys makes finding ways to get and stay online tricky. By utilizing his years of experience with the tech and mobile communications industries — success is assured. When not conquering connectivity challenges and testing new gadgets, he enjoys cruising a gravel road in his UTV with some good tunes.