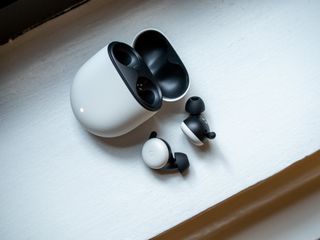 (Image credit: Andrew Martonik / Android Central)
Google Pixel Buds (2020)
Outside of comfort and microphone quality for calls, the Pixel Buds are equal to or better than the AirPods in every way. The Pixel Buds feature better sound, USB-C for wired charging, and a better media control scheme. They work best with an Android phone but work decently well on other devices as well.
Google Pixel Buds (2020)
Long battery life
Great sound quality
Wireless charging case and USB-C wired charging
Excellent integration with Android devices
Good mic quality for calls
Comfort could be better for long term use
No active noise cancelation
AirPods (2nd Gen)
The AirPods feature great comfort (if they fit your ears) and great mic quality for the phone calls. They are great for phone calls, audiobooks, or podcast listening, but are only decent with music and movies. They are perfect for those who own an iPhone though thanks to their deep integration.
AirPods (2nd Gen)
Great mic for calls and video chats
Wireless charging case (optional)
Excellent comfort
Sound quality isn't as great
Lightning for wired charging
Noise isolation is poor
The AirPods have two things going for them: class-leading mics for phone and conference calls and great comfort thanks to their one-size-fits-all design. Otherwise, the Pixel Buds (2020) are equal to or better than the AirPods in every way, especially if you plan on using them with an Android device.
A pretty easy decision... if you have Android
As mentioned above, the decision is pretty simple. If you need the absolute best mic because you take a ton of phone or conference calls, the AirPods are the better choice. Phone call quality on the Pixel Buds aren't bad by any stretch of the imagination, but the AirPods are simply better for taking phone calls.
Another area where the AirPods have the upper hand is in the comfort department thanks to their one-size-fits-all design. However, they don't feature swappable ear tips or wings, which means that if they don't fit your ear, too bad. If they do fit your ears, they're some of the most comfortable and stable earbuds around.
On the other hand, the Pixel Buds are pretty comfortable, at least over short periods. The Pixel Buds have an integrated wing tip that can't be adjusted, and ends up pushing against your ears, getting uncomfortable after several hours of use. The buds do come with multiple ear tips in the box, which helps with comfort and fit.
Swipe to scroll horizontally
| Header Cell - Column 0 | Google Pixel Buds (2020) | AirPods (2nd Gen) |
| --- | --- | --- |
| Battery life (buds) | 5 hours | 5 hours |
| Battery life (case) | 19 hours | 19 hours |
| Wireless charging | Yes | Yes |
| Charging connector | USB-C | Lightning |
| Water-resistance | IPX4 | IPX4 |
In terms of sound, the Pixel Buds are the clear winner. The AirPods are very bass-heavy and lack treble both in detail and in actual presence. If we had to describe the sound, it would be "muffled," as if you're listening to it through a pillow. The Pixel Buds are much better in this regard with a slightly bass-heavy, but overall more balanced sound. The treble is there and isn't lacking as much as with the AirPods.
The Pixel Buds also offer much better media controls. They use touch gestures and both the left and right earbuds offer the same experience. Single-tap to play/pause or accept/decline/hang up a call, double-tap to skip forward, triple-tap to skip back, and swipe left/right to adjust the volume. Out of the box, the AirPods have one gesture: double-tap for Siri, and you can't change that unless you pair them to an iPhone or iPad.
The Pixel Buds feature deep integration with Android, including one-step pairing and one-tap installation of the Pixel Buds app. The app shows you the current battery life of your earbuds, among other options including turning off in-ear detection and various settings related to Google Assistant and spoken notifications. The app is only available on Android at the time of writing.
The AirPods have a similar setup, but for iOS instead of Android. The AirPods feature one-step pairing for iOS devices and further customization within your Bluetooth settings. From there, you can customize the double-tap gesture, toggle automatic ear detection, and specify which earbud you want to use as the default microphone. Again, this only applies to iOS devices, so you won't be able to customize anything on Android or non-Apple devices.
Both the Pixel Buds and AirPods net you five hours of juice with an additional 19 hours with their included charging case. The charging case sizes are pretty similar here, with the Pixel Buds' case only being slightly larger overall. Both cases have support for wireless charging (optional on AirPods), although the Pixel Buds use USB-C for wired charging while the AirPods use Apple's proprietary Lightning port.
One last bit — neither the AirPods or Pixel Buds feature active noise cancelation or ambient sound modes. That means you'll be relying on passive isolation and volume to drown out the environment around you. It's notoriously poor on the AirPods due to their "open" design. The buds lay on your ear versus actually being in your ear, which means it'll basically be impossible to block out noise — even at max volume — in louder environments.
The Pixel Buds are a bit better here due to their aforementioned wing and bud design. Random chatter and sound within your proximity will start to disappear as you crank the volume, but things that are loud (like engines) will still bleed through.
To wrap things up, the only real reason you want to pick the AirPods over the Pixel Buds is if you absolutely need a better mic for phone calls or video chat. Otherwise, the Pixel Buds are either equal to or better than the AirPods in every other meaningful way. The Pixel Buds offer a similar footprint, the same battery life, better sound quality, better media controls, and better integration with your Android phone.
Better in almost every way
Great overall
There's very little reason to choose the AirPods over the Pixel Buds. They're just better, especially if you own an Android device.
Call clarity
Yes, I can hear you
The AirPods are great if you take a lot of phone calls, or if you wear your earbuds for extended periods of time.
Sign up for Black Friday email alerts!
Get the hottest deals available in your inbox plus news, reviews, opinion, analysis and more from the Android Central team.