The Google Assistant is now ten times faster on phones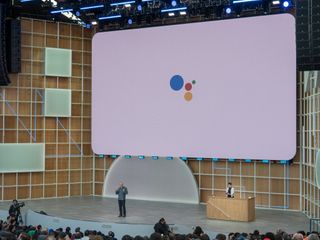 (Image credit: Android Central)
The Assistant now runs locally on your phone for a zero latency speed increase.
Continued Conversations coming to phones for more natural conversations.
Timers you set with the Assistant on displays and speakers can be stopped by just saying "stop".
Waze is getting Google Assistant integration.
The Google Assistant is one of the most impressive products under Google's belt at the moment, and to no one's surprise, I/O was a showcase for a bunch of new upgrades coming to the Assistant this year.
Without a doubt, the most impressive Assistant upgrade is the fact that Google's designed it to now run locally on phones. Because of this, the Assistant can now perform tasks with zero latency — giving it a massive speed boost compared to how it works right now. In an example Google showed on stage, someone was able to open apps, check the weather, send texts, and more using the Assistant with no slowdowns or lag of any kind. It was damn impressive. Furthermore, the demo also showed Continued Conversations working on a Pixel 3 — something that's previously only been available on smart speakers and smart displays.
The Google Assistant is also getting Personal References to show more contextual results based on your usage. For example, you could say "what's the weather like at my mom's house this weekend" and the Assistant will know where your mom's house is and show the weather accordingly.
Also, if you set a timer on a smart speaker or display, Google's rolling out a feature that'll allow you to stop the timer by just saying "stop", no "Hey Google" required. Nice.
Other Assistant upgrades include it coming to Waze, more immersive games for smart displays, and a Driving Mode that'll give you a car-centric UI to use the Assistant safely in the car (pictured above).
Joe Maring was a Senior Editor for Android Central between 2017 and 2021. You can reach him on Twitter at @JoeMaring1.
How does Android Central not have a link on the very top of this app to livestream the Google I/O keynote?

How about allowing the 'stop' keyword without a 'hey google' to keep it from rambling on about something you didn't ask it because it misunderstood your previous command.

"Hey Google, Cancel or never mind" works for that ;)

Google keeps improving on Assistant and it is awesome. That was a super impressive demo on the new Assistant IMO. With all of the "assistants" improving over time, this move Google Assistant further in front in a key area for me, speed.

Do we know if this will be coming to the Pixel 3 and 3 XL, or is this a 3a/4/etc only capability? The keynote seemed to imply there was a hardware requirement for this, but Google has installed dormant hardware into devices for future updates in the past. I'm hoping we get it!

I haven't watched the keynote but I doubt they would need any kind of hardware for this.
Android Central Newsletter
Get the best of Android Central in in your inbox, every day!
Thank you for signing up to Android Central. You will receive a verification email shortly.
There was a problem. Please refresh the page and try again.