Google+ for Android update now rolling out - UI changes and bug fixes aplenty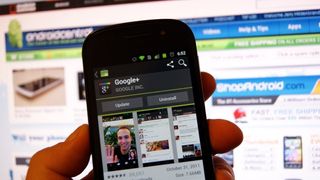 Google+ is getting some love tonight. The latest version has just been pushed to the Android Market and should be showing up for most folks. If not, you'll just have to sit tight for a little while longer. This release -- created during the Ice Cream Sandwich developement brings a few changes to the table.
Most notably the UI and styling of the app is more in tune with how Android 4.0 looks and for those who loaded up the previously leaked version -- it will look familiar but others changes can be found within as well such as:
Battery life improvements
Navigation and performance improvements
Significant notifications improvements
Brand new posting UI
Several bug fixes
Support for Google Apps users
Ability to sign out
Add people to a circle from circle profiles
All in all, a nice update that will hopefully correct a lot of concerns some have had. You can fire up the Android Market or grab it from the link below, where you'll also find some more screenshots
Source: Ben Eidelston
Tablet widgets
Android Central Newsletter
Get instant access to breaking news, the hottest reviews, great deals and helpful tips
The feature I want the most is the ability to start a hangout from my phone.

I want to be able to search public posts for a topic from the phone. Is that possible yet?

WTF this update took away my google+ widget has this happened to anyone else

Me too, the widget has gone :(

The widget is only for honeycomb or higher now, look.at the pic above.

Yup. They nuked the widget.

Lost widget & the app no longer opens. Uninstalled, cleared data & cache then re-installed and it's still borked. DInc2 stock gingerbread.

CAPTAIN OBVIOUS HERE: Move the Google+ App to your phones memory so you can use the Widget!

Mine is still in the phone memory, I have never move to SD

I've got it on internal memory. Maybe a reset will do the trick...

Mine's filed under "On SD card" but when I click it I only have the option to move to SD. Moved it there, and back, still no widget. SGSII E4GT

Update has a crazy amount of bugs now I have 2 google + apps and two messager apps. No widget, no hangout start Wtf is third an update or downgrade

Sounds like more of an acception. Update is fine for me.

The update is new bugs!!!!

It seems that we have a "Oopsdate" XD

I like the new UI on my Evo. I have no problem so far.

No problems so far mytouch4g...not worried about the widget

No issues here. Sure, there are things I'd like to see that are not included with the update, but I like the update. Still blows away anything Facebook has done with the Android app.

WTF Looks like they fixed the failing video uploads by removing video uploads all together.
Seems more like a trick then a treat.
Maybe they weren't expecting everyone to be loading videos and they couldn't handle the amount of storage.

As far as I know, the mobile application has never supported video uploads (as of now).

'As far as I know', you obviously didn't look over the settings of the application before. I have had several videos upload fine before eventually failing and not being able to load more without a reinstall. Perhaps had you taken a video before you would have noticed that it uploaded, though you would have had to have been on wifi as default loaded with wifi only and obviously you wouldn't have gone into the settings to change video to wifi/data network upload.

I guess you haven't heard of the saying "if you don't have anything nice to say, don't bother saying it". Real mature.

Sorry, maybe I was harsh, but if I didn't say anything your misinformation would have been final.
In the future you may want to confirm what you are writing before posting.

Reset my phone on install, which was strange. If you have a bug maybe reboot?

Crap, this update won't open at all on my galaxy s2 epic 4g touch. I tried uninstalling reinstalling, and clearing data, but no good.

No bugs with the update for me. OG Atrix, CM7.1 beta 2.

Well since this post is about an update, I feel this would be an appropiate place to ask. Is anyone else experiencing the market not updating apps? When I go to "my apps" on both my phone and my xoom, Its not showing me any apps that have a new upadate. Sometimes it will show like one app, but for example....it didn't tell me that google+ had an update. I had to go to the the app page and manually update it from there. I've tried clearing data on the market app and still no difference.

If you have multiple Google accounts set up on your phone, make sure the Market is set to use the primary one. Mine keeps setting itself to the last account on the list, which causes the symptoms you describe.

Since I don't use G+ a lot and wanted the widget back, I reverted back to the previous version that I backed-up on my rooted TB.

Animated gifs still don't work in g+ on my DInc2.

How to downgrade after this update? This version sucks. A lot of problems to send and receive when you switching internet between mobile and wi-fi
Android Central Newsletter
Get instant access to breaking news, the hottest reviews, great deals and helpful tips
Thank you for signing up to Android Central. You will receive a verification email shortly.
There was a problem. Please refresh the page and try again.