Comfort is essential for an excellent VR experience, and while the Oculus Quest 2 is easily one of the best VR headsets ever created, there's still one must-have accessory that truly makes the headset more comfortable to wear: the Elite Strap. Thanks to a bundle offer at Newegg, you can pick up your Oculus Quest 2 today with the Elite Strap at a discount.
Today's offer brings together the Oculus Quest 2, Logitech's G333 VR Gaming Earphones, and the Oculus Quest 2 Elite Strap all on sale for $349.98. That's a savings of $49 which happens to be the regular price of the Elite Strap. You'll also score free shipping with the purchase.
$50 savings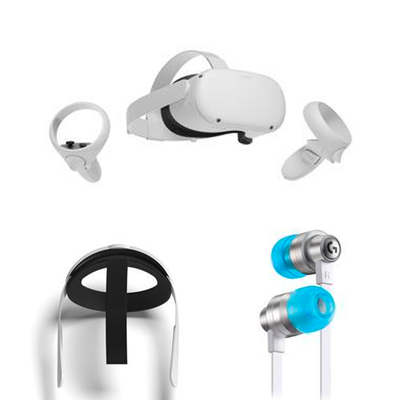 Oculus Quest 2 (64GB) bundle
Newegg is taking $49 off this exclusive Oculus Quest 2 bundle while supplies last. You'll score the 64GB Oculus Quest 2 virtual reality headset along with a pair of Logitech G333 VR Gaming Earphones and the Oculus Quest 2 Elite Strap.
$349.98 $398.98 $49 off
There are two other Oculus Quest 2 bundles to consider at Newegg if you'd rather receive an accessory other than the Elite Strap. You can bundle the Oculus Quest 2 and the Logitech G333 VR earphones with the Oculus Quest 2 Fit Pack for the same price or with the Oculus Quest 2 Carrying Case for $10 more.
Unlike many other VR headsets, you don't need a PC or a game console to begin gaming with the Oculus Quest 2. Simply download the Oculus app on your smartphone and you can start gaming. Two redesigned Oculus Touch controllers are included so you can navigate through VR worlds intuitively. However, it does require a Facebook account to use. The Oculus Quest 2 is also PC VR compatible using the Oculus Link cable sold separately.
The Elite Strap provides enhanced comfort with increased balance and support. Meanwhile, the Logitech G333 VR Gaming Earphones you'll receive were designed just for the Oculus Quest 2 as well with two dedicated drivers for detailed soundscapes. These in-ear earphones have a 3.5mm audio jack so you can also use them with other devices. Several sizes of ear tips are included with the purchase, too.
We may earn a commission for purchases using our links. Learn more.