Some Samsung Galaxy Tab 10.1 units being sold with the bootloader already unlocked?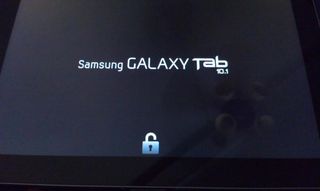 If you just picked up your shiny new Samsung Galaxy Tab 10.1 today, you might want to reboot it. It appears that some of the retail units are being shipped with a familiar bootsplash screen featuring the unlocked bootloader icon. All models seem to be included, though early reports were all from the 32 GB Gray-backed edition.
Lots of people are looking at this, and so far there doesn't appear to be an easy way to get to any fastboot mode to check exactly what is going on. If the bootloaders really are unlocked, it's a curse and a blessing -- it means easy hacking, but it also may affect Google movie rentals. Our own Menno has a unit with the unlocked icon, so we'll be on top of the issue. More when we know more.
Source: Android Central forums; @BillStebbins
Jerry is an amateur woodworker and struggling shade tree mechanic. There's nothing he can't take apart, but many things he can't reassemble. You'll find him writing and speaking his loud opinion on Android Central and occasionally on Twitter.
Not to mention your warranty is pre-voided. Big fail.

So does this mean all of the Google I/O edition Galaxy Tabs will be unable to get Google Movies (ironically announced at Google I/O)?

So for the ones that aren't shipping unlocked, does this mean the bootloaders are not signed?

The loss of Google Movies isn't that big of a deal compared tobthe eaze of an unlocked bootloader. You can always rent movies from Amazon.

I would much rather have an unlocked device than Google's crappy movie rental service. I have tons of options to get movies on my device, the only thing Google could possible offer is convenience, and with their draconian restrictions, they lost that advantage right out of the gate.

Draconian restrictions.... Lol

I got my tab 10.1 today and am getting the same bootscreen.

I got mine today too and I get the same screen. Gosh, I was looking forward to Google's movie service once it was available to the Galaxy Tab.

My 16GB Metallic Grey 10.1 Tab also has the logo of the unlocked bootloader. Only time will tell what it means...

I thought Google movies only cared if a device was rooted, an unlocked boot loader doesn't mean the device is rooted... I think this is a non-issue

People complain about everything. Locked or unlocked lol. GJ Samsung! I hope this is intentional and not a mistake.

The model that I got at the Union Square, NYC launch last week did not have the unlocked boot loader. The gray one I bought today does. Interesting.

The model that I got at the Union Square, NYC launch last week did not have the unlocked boot loader. The gray one I bought today does. Interesting.

Got the white one today and it appears to have the unlocked bootloader.

Just picked mine up a few hours ago from a Best Buy that got it's truck in late! (lucky me) It has this same bootscreen. I'm sure with this many people getting a bootscreen like this it has to be intentional, or at least known.

my boyfriend picked one up today! that thing is AMAZING!!! I never thought i'd say that about a Samsung product, but man! BRAVO SAMSUNG!
But it wasn't easy getting one today. we went to one Best Buy store in Warwick, RI & they said Samsung forgot to ship the tablets to their store, which was odd. However they did have a Tab on display for people to try out. then we called another Best Buy store & they said they didnt have any, nor did they receive any today. by then we were confused. so we finally decided to try out one in Seekonk, Mass & they had it!!! were we happy, is an understatement. the funniest part of the day was when we called the Seekonk store & the saleswoman on the line said if i was asking about a "Samsung PREVAIL" after i had to told her what i was inquiring about the Samsung Galaxy Tab 10.1. i told her, NO, I'm not looking for a cell phone... that made me LOL(but not in a rude manner). and finally we got the Galaxy Tab 10.1 & it is awesome. i also got to play with Acer tablet today, and that thing is great too, i wish i had the money to buy that one(for myself). we also got to play with the iPad today and the main selling point that convince him to get the Tablet was the fact that Android is OPEN. gotta love that. :-). Also for any future Honeycomb tablet buyers, DONT BE DISCOURAGED BY HOW SMALL THE NUMBER OF APPS ARE IN THE ANDROID MARKET COMPARED TO THE IPAD, in my numble opinion ANDROID has better CORE APPS.

My white 32 shows the same.
Android Central Newsletter
Get the best of Android Central in in your inbox, every day!
Thank you for signing up to Android Central. You will receive a verification email shortly.
There was a problem. Please refresh the page and try again.