Galaxy S8 vs. Galaxy S7: Which is best for VR?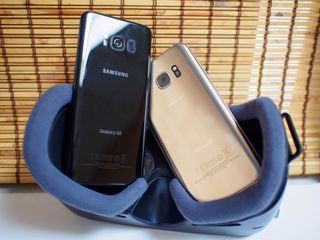 No one is going out and choosing a phone to use all day every day because it offers a good VR experience. That is never going to be the feature that pushes someone to make a purchase. That doesn't mean it's not a point on the sheet when considering which phone to get, and this year there's a curious question to answer. The Galaxy S7 and Galaxy S8 are fairly similar on paper, at least as far as hardware goes. How does that affect VR, and are these smaller differences actually enough to make you consider spending up to the newest model instead of saving some money and getting the Galaxy S7 on sale?
Lets break it down piece by piece, so you can see which is doing to deliver the best VR experience.
More than a spec sheet
The things that matter most when considering how a phone will perform in VR are few. You need a quality display with a decent pixel density, a processor capable of maintaining that 60fps sweet spot no matter what while flawlessly syncing audio for full immersion, and you need a battery that will get you through the fun without needing to be connected to power. It'd also be nice if heat weren't something you needed to worry about when in VR for extended periods of time, but we'll look at that separately down below. For now, lets look at the specs.
Swipe to scroll horizontally
Category
Galaxy S7
Galaxy S8
Operating System
Android 7.0 Nougat
Android 7.0 Nougat
Display
5.1-inch 2560x1440
Super AMOLED (577 ppi)
5.8-inch AMOLED
2960x1440 (570 ppi)
Processor
Quad-core Snapdragon 820
or Octa-core Samsung Exynos 8
Qualcomm Snapdragon 835
or Samsung Exynos 8895
Storage
32GB
64GB (UFS 2.1)
Expandable
microSD up to 200GB
microSD up to 256GB
RAM
4GB
4GB
Rear Camera
12MP f/1.7
1.4-micron pixels
OIS
12MP Dual Pixel, f/1.7
1.4-micron pixels
OIS
Battery
3000mAh
3000mAh
Water resistance
IP68 rating
IP68 rating
Dimensions
142.4 x 69.6 x 7.9 mm
148.9 x 68.1 x 8 mm
Weight
152g
155 g
See? The differences sure look slight here. The Galaxy S7 display is actually slightly denser than the S8, and physically a little lighter as well. The latest Snapdragon or Exynos processor will obviously be in the latest phone, but the battery capacity is the same and both phones handle audio output the same.
Is the S8 actually better than the S7 for VR? What it really comes down to is processing power, and what that means when doing something in VR. Since most VR games are frame locked, you're not looking for less stuttering or more detail because these games are built once for all of the Samsung Gear VR supported devices. The thing that will really show which phone is superior for VR is how much battery is consumed performing the same tasks in VR, and how much heat in generated while performing those tasks.
Busting out the thermal camera
These two phones are running as close to the same software as possible, with the same apps installed. Any background apps that can be closed have been killed, so this is as close to an identical environment as can be reasonably expected without modifying these phones. After half an hour of gaming in VR, specifically playing Wands with the new Gear VR Controller, the Galaxy S7 and Galaxy S8 look like this:
As you can see, the Galaxy S8 produces far less heat than the Galaxy S7, which is to be expected now that the processors are physically smaller but also more powerful in this new model. The Galaxy S8 also consumed less power while in VR, which is important.
Less heat is always good. Under these conditions, the Galaxy S8 will basically never show you a heat management warning while in the Gear VR. While it is rare to see a heat warning in a Galaxy S7, this phone sits much closer to that line most of the time in VR. More heat means more stress on the battery, which often means faster deterioration over time. This isn't a huge concern with the Galaxy S7, but it is something to keep in mind when comparing the two.
Which is better for VR?
The truth is, both of these phones offer a great VR experience. You'll find a slightly better overall experience with the Galaxy S8, but is that difference enough to justify spending the extra money? Probably not on its own. If you found other features on the Galaxy S8 good enough to push you over that buying line, like the retina scanner or double the internal storage, a slightly better Gear VR experience with noticeably less heat would be icing on that cake.
Get the Android Central Newsletter
Instant access to breaking news, the hottest reviews, great deals and helpful tips.