Galaxy S8 update gets rid of the black navigation bar, lets you auto-hide nav keys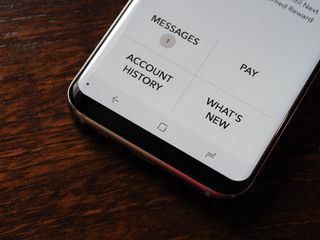 The Galaxy S8 and S8+ are receiving an update that brings the June 1, 2017 security patch along with several UI tweaks. There's now an icon to the left of the navigation bar that lets you auto-hide the navigation keys when you're in an app. allowing you to make full use of that 18.5:9 panel. You can toggle it with a quick tap, giving you the option to automatically hide or display the navigation bar.
If you don't like the auto-hide feature, you can disable it entirely from the settings by going to Settings > Display > Navigation bar > Show and hide button. The update also limits the color options that can be used as the navigation bar's background. Previously, you could use an RGB scale to tweak the background to your liking, but Samsung now offers a narrow set of seven light colors. With the update, there isn't an option to use a black navigation bar.
Samsung is also making it easier to use apps in fullscreen mode. There's a button that sits above the navigation bar that allows you to go fullscreen mode for apps that don't support the Galaxy S8's native 18.5:9 resolution. The prompt has the self-explanatory label, "Tap here to fill entire screen." Once you hit the button, the app will restart and launch in fullscreen mode.
The lack of a black navigation bar is certainly an annoyance, but it is likely Samsung introduced the change as it was worried about burn-in issues on the AMOLED panel. The update comes in at 454.18MB, and is now rolling out in India. It should be available in other markets shortly.
Get the Android Central Newsletter
Instant access to breaking news, the hottest reviews, great deals and helpful tips.
Harish Jonnalagadda is a Senior Editor overseeing Asia at Android Central. He leads the site's coverage of Chinese phone brands, contributing to reviews, features, and buying guides. He also writes about storage servers, audio products, and the semiconductor industry. Contact him on Twitter at @chunkynerd.
Do what LG does and gives the option for white or black nav bars

+1
Options when it comes to this kind of thing is always a good thing.

LG doesn't have AMOLED panels yet though right? So no burn in concern.

Why would a black nav bar leave burn-in? Wouldn't a white bar be more harmful? Black with white buttons leaves a lot less pixels on to burn in. Black = no pixels in use.

That's the thing, the rest of the screen burns in, and the nav bar doesn't. Because the pixels are black, they aren't in use, and age slower than the rest of the pixels on the screen that ARE being used. Having a black navigation bar over an extended period of time will cause the navigation bar to be brighter than the rest of the screen, because the pixels are in better condition than the screen above them. The burn-in issue on a static UI element is real, my Galaxy S3 (AMOLED display) has a very visible lighter stripe at the very top, because on previous Android versions the status bar used to always be black, while the rest of the display could be other colors like white

That's great they're thinking about screen burn in. Too bad Google doesn't with their solid navigation keys on the pixel phones. People are having screen burn in already due to them.

How is this an annoyance...? The black nav bar is one of my biggest gripes with on screen buttons.

On screen navigation is annoying! Is it here? Is it there? Where is it?

It's a positive change and I like it.
I also liked how HTC did it with the M8 (and m9?), with the buttons floating in freespace over whatever background you had, and hiding themselves when not needed. You could also make the buttons hide all the time and swipe up to make them appear.

So immersive mode without using a third party app? Sounds good to me

Finally! These are good changes

This takes the s8s screen real state to another level, awesome.

I don't see this option on T-Mobile S8+. Perhaps the update is not out yet.

This update is only out for the non-US G955F and G950F variants. The US variants received the June patch minus those features.

I haven't heard of any us variants being June security patch. We're on May 1st. On TMobile and Verizon at least

The black navigation bar still shows below apps I believe.

Autohide should be a swipe up or down, not a button IMO

i wish i could auto-hide your anti-adblock

I received an update on Verizon two days ago but don't have this option. Wonder when it'll start being pushed.

I got an update 3days ago and I'm in NYC. T-mobile

Just received an update of 378MB which was a SD Card stability update. No Bixby. Knowing Samsung and their hatred for updating their 1k dollar phones this will be the last update the S8 receives.

Huh? Samsung is still updating the *S6* and you think this will be the last one the S8 receives?

The lack of a black navigation bar is certainly an achievement!

Haven't got this update in the UK yet. Mind you, I'm just waiting for 7.1.1

Still waiting in UK for update on unlocked s8+

doesn't anyone know you can use a pc app that after installed in pc you enter one line of command and either nav or status or both hide. its called minimal adb and fastboot. not to be installed on phone. after using one line command poof all gone, forever if you desire.

Baked in is usually always a better way to go than 3rd party.

I can confirm that the notification bar WILL eventually burn in. It was noticable on my Note 4...but only after about 2 years of use.