We wrapped the Galaxy S8 in Spigen's newest cases, and found there's something for everyone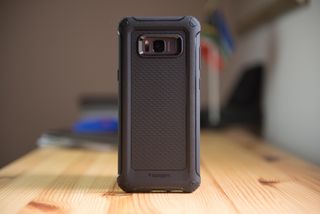 We finally have our hands on the Samsung Galaxy S8 and S8+, which means we can finally test out how all those Spigen cases feel and look on the phone itself. If you're still on the fence about which cases is best fit for your Galaxy S8 and S8+, take a good look at all the great cases Spigen has in its lineup.
Slim Armor
If you're looking for a phone that maximizes protection while keeping the slim profile of the Galaxy S8 and S8+ intact, Spigen's Slim Armor case is the ideal choice for you. It adds rugged protection and increased tactility to a phone that's beautifully designed, but might also be slippery to hold. Spigen's slim Armor is available in multiple colors such as gunmetal, black, coral blue, maple gold, and more.
The two-piece design fits securely around your phone, offering edge-to-edge protection and bezels around the screen and camera. The buttons are kept flush with the case, which should still provide good feedback and are easily accessible. The TPU body offers protection from drops and falls by providing some shock absorption, while the hard polycarbonate shell protects from scratches and scuffs. The reinforced metal kickstand is perfect for watching media handsfree and is sturdy enough to keep the phone in place even if you bump the table it's standing on.
The Spigen Slim Armor is available for the Samsung Galaxy S8 (opens in new tab) and the Samsung Galaxy S8+ (opens in new tab).
Neo Hybrid
Spigen's Neo Hybrid case features a brand new look from the last generation, and now that I have finally seen it on the Galaxy S8 and S8+, I can definitively say it's the case I personally like the most.
Still providing dual-layer protection but with a slimmer profile, the Neo Hybrid case is comprised mostly of a TPU body with a subtle polycarbonate bumper frame to reinforce the corners and the edge of the phone.
The first thing you'll notice is how nice case feels in hand. While the Galaxy S8 and S8+ is a smooth, silky feeling phone, the Neo Hybrid gives your device a more rugged, textured feel. This texture will no doubt give the phone a more solid feel in your hand, so you wouldn't have to worry about your new Galaxy slipping away from you.
Another great addition to the Neo Hybrid case is the redesigned bumper. It now cuts into the back of the case instead of just going around the edges. This allows the bumper to lie completely flush with the TPU body, meaning you won't have to deal with any sharp plastic edges when you're slipping your phone in and out of your pocket.
The Neo Hybrid comes in a wide variety of colors such as, gunmetal, shiny black, burgundy, violet, and more, so whatever you'll be able to match your personal sense of style.
The Spigen Neo Hybrid is available for the Samsung Galaxy S8 (opens in new tab) and the Samsung Galaxy S8+ (opens in new tab).
Neo Hybrid Crystal
If you're looking for a case that offers quality protection, but still keeps the natural beauty of your Galaxy intact, Spigen's Neo Hybrid Crystal is a great option for you.
The Dual-Layered design that uses three materials makes this clear case withstand some bumps and bruises. The back of the Neo Hybrid Crystal is made of a hard clear polycarbonate, while the sides —along with the button covers — are made of a flexible TPU. The bumper that reinforces the edges of your phone is also a hard polycarbonate piece and it comes in four colors: gunmetal, coral blue, maple gold, and orchid gray.
Both the TPU and polycarbonate around the edges have precise cutouts for all the buttons and ports, making it easy to retain 100% functionality of the Galaxy at all times.
The Neo Hybrid Crystal is avaiable for the Samsung Galaxy S8 (opens in new tab) and the Samsung Galaxy S8+ (opens in new tab)
Liquid Air
Made up of just a singular TPU shell, the Liquid Air case does have textured pattern on the rear of the case to improve your grip. Plus, all the ports are free and open, so you don't lose any functionality of your phone and the buttons along the sides are all covered to protect you from dust.
The Liquid Air and Rugged Armor are super similar, the biggest difference is in appearance. The Liquid Air offers you a much more uniformed look and is perfect for people who love a more modest look.
Spigen's Liquid Air is available for the Samsung Galaxy S8 (opens in new tab) and the Samsung Galaxy S8+ (opens in new tab).
Slim Armor CS
Who says that convenience can't also be protective? Spigen's Slim Armor CS case laughs at the notion wallet cases aren't tough.
Comprised of a dual layered system made up of a TPU cover and a polycarbonate back plate, the Slim Armor CS offers the same great protection you'll find in Spigen's protective lineup. Shock-absorption will help protect your phone against tumbles and falls, while the durability of the polycarbonate will resist any scratches or scuffs! Plus, it has a sliding-door compartment in the back where you can fit two cards, or a couple of bills, or a combination of both, meaning you won't have to always carry your wallet around.
Most wallet cases can feel really bulky around your phone, but Spigen's Slim Armor CS lives up to the slim part of its name. Even with a couple of cards and a few bills in the back, the case doesn't lose it's shape or have any unsightly bulges.
Spigen's Slim Armor CS is available for the Samsung Galaxy S8 (opens in new tab) and the Samsung Galaxy S8+ (opens in new tab) today.
Thin Fit
This form-fitted polycarbonate shell will easily snap onto your Samsung Galaxy S8 or S8+, and it's perfect for all you minimalists out there. With a few different colors to pick from such as gunmetal, coral blue, black and more, Spigen's Thin Fit case is more like a colorful skin than anything else.
An added bonus of Spigen's Thin Fit case, is it's compatible with magnetic car mounts, as the case has space for a QNMP plate on the inside. Plus, there is virtually no extra bulk added to the phone, making the Galaxy S8 and S8+ very easy to slide in and out of your pockets.
Spigen's Thin Fit is available for the Samsung Galaxy S8 (opens in new tab) and the Samsung Galaxy S8+ (opens in new tab) today.
Liquid Crystal
Made from a soft TPU, Spigen's Liquid Crystal case for the Samsung Galaxy S8 and S8+ is a little prone to fingerprints. Don't worry, you get an installation guide and cleaning cloth in the box so you won't have nasty oil smudges on the inside of the case.
With a raised lip around the camera cutout, Spigen's case offers protection for your lens when your phone is on its back. If you prefer setting your phone on its front, a raised bezel along the top and bottom edges of the case keeps your screen away from any damaging surfaces.
Spigen's Liquid Crystal is available for the Samsung Galaxy S8 (opens in new tab) and the Samsung Galaxy S8+ (opens in new tab) today.
Which case are you wrapping around your Galaxy?
Let us know what cases you like in the comments below!
Android Central Newsletter
Get instant access to breaking news, the hottest reviews, great deals and helpful tips
I ordered the Slim Armor. I have a Slim Armor on my Note 5 and it's help up fantastic even with a few drops on concrete and pavement. Love the kickstand, too. Wouldn't want a case without one with a screen like the S8's!

Tough Armour for me since NOTE 2

Coming from someone who wanted to like the Spigen line....but cannot recommend. Wife had slim armor on a LG G3, broke the screen twice on drops. Son had the neo hybrid on an S7 edge, also broke the screen. Both have UAGs now (although on a G6 vs G3). The S8 and S8+ are likely as fragile as the S7 edge.

Yeah, these cases can't protect that exposed curved edge of the screen. I'm just not feeling the curve. Didn't like the S7 edge when I held it last year, didn't like the S8 this year when I held it. To each their own I guess. I just hope someone keeps making flat screen phones.

I think I would be looking for a case that is a bit higher than the screen , although I've never used an edge device , it appears you can pull the edge feature across without having to slide your finger down the side of it as long as you can reach the little tab handle thing .
And I would be looking for a case that will stay on securely , it's been my experience that the easy slip on cases tend to be easy to slip off in a screen down drop .
I had one of the very durable two piece cases on my old note 4 , I had it mounted on my mountain bike handle bars , and while riding the mount broke and sent my N4. Cart wheeling for a distance, and on its last bounce the case half came off and it landed screen down half exposed ,
but my old note still survives to this day.
I have no doubt if I had one of the less rugged loose fitting cases on ......... it would have been toast.

Love my UAG, by the way, they have been dropped from space, cool video

I have the Spigen Ultra Hybrid S, which is basically the liquid crystal case with a kickstand. Like the Liquid Crystal case in the article, the Ultra Hybrid S is prone to fingerprints, but having a see through case with a kickstand is cool and convenient.

That's the one I got. It's never mentioned in case roundups, for some reason.

I bought it also. Great case and very convenient for watching movies on an airplane.

I also bought Ultra Hybrid S and the Neo Hybrid in violet.

I went with the Gunmetal Neo Hybrid. Very happy with my choice. Feels excellent in the hand.

Not a case for everyone. There are some out there that do not like the edge screen but would like this phone and everything else about it. They just need to make a case that covers the edge screens so it becomes a flat screen phone and everyone's happy. I hate my edge screen but I would buy a phone with Edge screens if I could just cover them up with some plastic.

Curved screen phones look so dorky with a case...looks like I'm done with Samsung now with their gimmick stuff.

First, let me say THANK YOU for this article. These are great for people wondering what they actually look like, rather than the renders on Spigen's site. I'm disappointed, only because you didn't cover the Ultra Hybrid case. It's a clear plastic back with a TPU bumper, all one piece. Thankfully, another forum member posted some pics of the case in use in response to my forum thread! Thanks to user "blueyce28"! http://forums.androidcentral.com/samsung-galaxy-s8-and-s8-plus-cases-acc...

I got thr ultra hybrid, put my phone in it today and it is WAY too large and I'm getting a refund

How to make a good looking phone look like crap: Step 1, put it in a case. That is all.

Some people prefer function over form for an object. And put no self value in what a phone looks like

And buy a Samsung S8? LOL

I'm still kind of liking the Otter Box Defender. There is little to no bulk, and feels pretty good.

Little to no bulk with a...Defender?! u wot m8?

I remember my first beer too...

I have the Thin Spigen on my Note 5. My Otter box cases... relegated to the drawer. The Thin is grippy, protective (and try not to drop the phone), and did I say... very thin. I have dropped it twice, no damage... and with Zagg Ballistic glass. Spigen will always be my first choice from now on.

Neo Hybrid Crystal is keeping my Orchid Gray S8 safe

Me too! I went with the maple gold case because the orchid gray wasn't yet available when I ordered, but the gold/purplish look is pretty sharp.

I have the liquid Crystal on mine

Got my thin fit for s8p
Has it on s7e, s7, and clear one on nexus6 Oh wait... That Was Ringke Slim

Purchased the neo hybrid Crystal today

What case is that in the hero image?

I preordered the Ultra Hybrid and got it Monday then got my S8 today, it is WAY to big. My phone is floating in it. I put my review up on the site I got it from and they got back to me already about a refund. Sadly there are a growing number of poor reviews for it as the day goes on since the preorders are being delivered.

I wonder if you had a bad run of cases. I ordered the same device, received it before my device and i had a perfect fit. Coral Blue case and the liquid air armor as well. Sorry to hear that.

Spigen offers no protection, in testing the tough armor was as bad as the slim, I'd you want protection your case has to be drop tested like UAG, dropped 26 times on concrete, Zero damage up to four feet, some others can be dropped over 2 meters, Spigen won't tell you how far you can drop it, it doesn't meet military drop standards, for the cost of it you'd be better off taking that money and just wiping your ass with it

I went with the gunmetal neo hybrid. I also bought the neo crystal hybrid with kick stand but it looked cheap and didn't like the fingerprints. I love my new Galaxy s8 plus

I ordered the Spigen neo hybrid in violet from Amazon and it looks GORGEOUS on my Orchid gray S8+. Also, I'm considering using my 30% discount on a Samsung S8+ flip view cover in Orchid gray. I've invested in Samsung S-view flip covers for both my note 5 and 7 devices in the past. I 😍 the Samsung flip covers, that coordinate with my device cover for both fashion and function.

Good luck with the screen protectors folks. Another fail by Samsung.

Samsung official clear cover and screen protector. They were doing a $20 cashback deal if I bought both, which effectively makes the screen protector, which is a 2-pack, free. Black case looks surprisingly good on my gold phone, makes it look like the gray color I wanted lol. In total, I spent $20 on an official case, and 2 screen protectors, which is a pretty great deal.

I have the Ultra Hybrid and Liquid Air Armor from Spigen and an Otterbox Symmetry case. I prefer the look and feel of the Spigen cases. They're not nearly as thick, but I feel confident with their construction. I typically prefer thin cases as I'm not one that usually drops devices and really do it as a precaution. My phone is 50/50 in or out of the case. I can't argue how good the phone looks and feels when out of the case!
Android Central Newsletter
Get instant access to breaking news, the hottest reviews, great deals and helpful tips
Thank you for signing up to Android Central. You will receive a verification email shortly.
There was a problem. Please refresh the page and try again.