Galaxy S8 in Canada getting Oreo on March 19, Note 8 to follow on March 28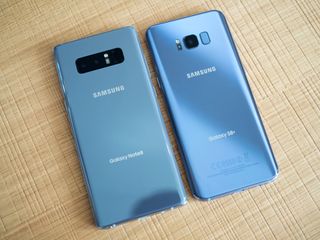 Samsung's global rollout of Android 8.0 Oreo for the Galaxy S8 resumed on February 22 after a bug was found with the initial release, and now we have an exact date as to when that update will hit handsets in Canada.
First spotted by MobileSyrup, the Samsung Members app in Canada was recently updated with a message indicating when its existing hardware would be updated to Oreo. The highlights are the Galaxy S8 and Note 8, with the phones expected to get Oreo on March 19 and 28, respectively.
Following this, Samsung notes that the Galaxy S7, S7 Edge, Galaxy A5, and Tab S3 will get the Oreo treatment in the "spring/summer."
Lastly, "later in 2018" will see Samsung push Oreo to the Galaxy Xcover4, Galaxy A8, Galaxy J3 Prime, Tab A8, Tab Active 2, and the Tab A 10.1.
This is the first time we've heard Samsung comment on Oreo for the Galaxy Note 8, so hopefully its March 22 rollout in Canada is representative of when the rest of the world will see similar treatment.
Android Central Newsletter
Get instant access to breaking news, the hottest reviews, great deals and helpful tips
Joe Maring was a Senior Editor for Android Central between 2017 and 2021. You can reach him on Twitter at @JoeMaring1.
The one thing I hate about Samsung... It's about damn time

Yes agreed finally! Anyone know if any S9 features will make the S8? Maybe a better camera software update? And how about fm radio I had heard that they were going to activate it after oreo update can anyone confirm this?

Will never notice a difference between pre and post Oreo. Don't care

Same here. My Note8 is running 7.1.1, and if I never get Android 8.0, I couldn't give a $h!t. It's sad that there are some "people" out there that buy a device, use it for a week, then whine for the next year that their device hasn't received a software update. Bunch of whiners.

The US getting it around then too or what? This hit the ridiculous stage a month or so ago, now it's just straight up embarrassing.

Why is it embarrassing? Because they started the roll out but stopped it to fix a bug that caused random device restarts? Because it's known that Samsung takes longer than others to rollout OS updates? Because they heavily customize the OS and have to make sure things still work? You could've joined the Oreo beta program if you really wanted it.

No I couldn't have because I have Verizon and the beta was only for att and TMobile. But nice try. And it's embarrassing because it's March and Oreo was released in August of last year. I don't expect Samsung to get it together right away, but 7/8 months is embarrassing. If you don't agree, I don't care. They need to get better at this. Much better.

My guess is they purposely hold back on updating last year's device so the latest device is the first to get the latest OS as an incentive to push people to upgrade their devices more frequently.
Like many OEM's they don't do the best work they can, they do what makes them the most profit.

Solid and logical point. But it's still incredibly irritating nonetheless. Strongly considering being done with Samsung. I literally just dropped my S8+ and cracked the screen to hell today, so I guess I'm in the market for a new phone now. The only thing that would keep me on Samsung is Samsung pay. I use it constantly. Other than that I'm pretty much ready for a change.

I just got the update on my unlocked international version. I have to say I've barely noticed any difference.
And it's still a month behind on security.

Exactly! I'm sure the majority here are crying about not receiving the update, and when they finally do receive it, they won't notice the difference, either, and will start whining some more a week later that they haven't received Android 9.

I got the February security update towards the end of last week. Do you mean the March update? I believe it's only been available for about a week, but that is an update I'd like to have sooner than later. To me, security updates are more important than an OS update.

Oreo is a decent upgrade. Aside from the under the hood improvements, you'll notice: Improved notifications and new options to control notifications. Picture in picture. Useful with Google maps. Improved options for split screen. Better battery life. Not a huge improvement, but definitely better. There's probably more I'm forgetting. I know because I was a beta tester. However, I agree Samsung is far too slow at bringing new Google OS updates/security updates to their devices. They need to improve or it will catch up with them. That's a certainty.

Improved notifications? That ugly active notification shade is terrible.

Picture in picture?
How different is it from what has been available ( split screen and floating app window) for the past few years.

Still waiting in the US.....

Not waiting here. Couldn't care less if I ever do get it.

Yeah, we all get it... you couldn't care less. Good for you... The rest of us most likely couldn't care less that you couldn't care less. I know I don't.

You care so little that you decided to write a reply...Those that really wanted to get it asap could've joined the Oreo beta.

Doesn't take much caring to form a few sentences, so your first "point" is lazy and moot. And once again, OREO BETA WAS ONLY FOR TMOBILE AND ATT. You don't seem terribly bright... I'll leave you to it.

Seriously... Android 7.1.1 vs 8.0 or 8.1 isn't a big deal. It's the security patch level updates which need fine tuning. Monthly security patches in Canada for Samsung are always released exactly one month after their release on Google phones. It does appear the exact one month delay reflects a deal with Android.. I can't confirm it... But Samsung would be liable if they chose to delay issue of security updates by even one day... Better Samsung hardware on an older Android OS is superior to lousy Pixel hardware on the latest Android OS.

The Pixel hardware isn't "lousy" it has the essentials and wireless charging is not useful and while Samsung has great hardware, I'll take being on the latest version of Android free of any bloat with consistent updates and security patches on "lousy" hardware over flashy hardware that has lousy software, Pixel is real Android and the gold standard of Android whether you like it or not. Oh and just it the Galaxy S8 to gets Android P on March 18 2020, good luck with the stuttering and slow down will all those gimmicks err Samsung features.

Most of the people who say wireless charging is not useful have not tried to use wireless charging. I personally live by it and have charging pads on my desk at work, desk at home, and nightstand. Had a charging back cover for my Galaxy S3 and live by with my Galaxy S7 edge.

I have an S8+ and a wireless charging pad and stand and I still don't use wireless charging. Not much value to it. And I don't like how hot the phone gets while wirelessly charging, so I stopped using this feature. To each their own.

+1 Pixel software is superb. I've used Samsung. And my wife has an S8+. Always something annoying happening with hers.

Most would disagree with that. Stability in the hardware arena is more critical.

And Verizon S8 in the US still a **** with no update in sight Buying a pixel next time

Or contact Verizon to see if there is a rollout plan. No need to take it out on Samsung when it's a carrier issue.

It's not a carrier issue since Samsung hasn't released it for the US yet... again, not terribly bright. Try using your head and thinking before you comment. It goes a long way.

This weekend I got a Galaxy J3 Prime to test out the T-Mobile network, and I assumed a budget Sammy wouldn't get Oreo, so I am pleasantly surprised. The Q3 estimate seems like a long wait, though. I'm used to receiving major Android updates on HTC from Sprint every February.

I just used Verizon chat and they said I would see the rollout the week of March 28th. I live in the US.

Was the update held up by customs, or what? Other phones have had it since last year.

No you aren't... iOS updates are notoriously buggy... And have been plagued for years. Never, ever be an early adopter of Apple software updates. The latest update was a nightmare, causing Apple to delay significant upgrades to IOS.

No, the Oreo update didn't occur for the Note 8 in Canada March 28.... Do I care? No. Was promising a date stupid by Samsung? Yes.
Android Central Newsletter
Get instant access to breaking news, the hottest reviews, great deals and helpful tips
Thank you for signing up to Android Central. You will receive a verification email shortly.
There was a problem. Please refresh the page and try again.