Samsung Galaxy S7 accessibility options you should know about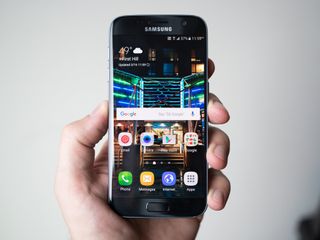 Most users will probably never touch the accessibility settings in their S7, but smartphones are like toilets at this point: ubiquitous and needing to be accessible to all.
Those with limited motor skills or vision or hearing impairment can't always use a smartphone to it's full potential, which is why accessibility settings exist; they help people get the most out of their smartphone at all times.
Whether it's you who needs these features or someone for whom you're setting up a phone, we've got you covered as we more deeply explore some of the accessibility features that the Galaxy S7 offers.
Vision
Voice Assistant
The Voice Assistant function is the main tool for those who are visually impaired. Once activated, it'll read out everything that you tap on, including text. Tap on something to hear what it is, then double tap anywhere on the screen to activate it if it's an app or a link.
When Voice Assistant is activated, you'll have to swipe with two fingers to scroll or unlock your phone. Anything you don't know about Voice Assistant will be fully explained, since when you activate it for the first time, you are taken through an extensive tutorial.
So, whether you're reading the news on a website or trying to find a particular app, the Voice assistant can help you out.
Dark screen
This is a pretty important setting if you're concerned about your privacy. Voice Assistant must be enabled before Dark screen can be enabled to keep the screen turned off at all times. Tapping the screen will still make Voice Assistant read out the options to you, but other people won't be able to see what you're looking at or who you might be messaging.
Rapid key input
Activating Rapid key input allows you to use the keyboard and keypad more easily by only making you tap keys once instead of double tapping them. If you are visually impaired, however, you may find yourself hitting backspace a lot more than you'd like, so you may want to leave this feature disabled.
Speak passwords
With Speak passwords enabled, Voice Assistant will read out the characters as you type them in. If you're going to enable this feature, you'll want to put in headphones or go to a private area before you enter your password for anything.
Text-to-speech
This setting allows you to choose your text-to-speech engine. You can choose between the default Samsung engine or Google's. Here you can alter the settings of either engine, like language and the readback voice.
Accessibility shortcut
Pretty self-explanatory, this setting enables a two-step shortcut so that you can access the accessibility features without having to dig through the Settings app.
Voice Label
This is a fascinating feature that allows you to use writable NFC tags as labels. You can write a voice recording to a tag and when you tap your phone to it, your voice recording will be read out.
Font size
Again, pretty self-explanatory; you can change the font size with this setting. You can adjust it from Tiny to Huge and five levels in between.
High contrast fonts
A great feature, thanks in part to the Super AMOLED display, this setting punches up the color and outline of fonts so that words stand out more prominently on your screen. Black text gets darker and white text is outlined.
High contrast keyboard
Like High contrast colors, this feature punches up the contrast of the keyboard by change the colors of the keys so that they stand out from the characters.
Show button shapes
This feature outlines buttons with a box and shaded background to make them stand out from the background.
Magnifier window
This feature activates a rectangular magnifying glass that you can move all over the screen to magnify the content beneath it. It's great if you're reading small text on websites or trying to see parts of an image that don't stand out. This is also a great tool for those who want to check the resolution of images.
Magnification gestures
You can activate Magnification gestures by triple tapping anywhere on the screen. Then, you can pan and adjust the zoom level. You can even just temporarily magnify what's under your finger by triple tapping and holding. You may see a bit of a lag in response from a few apps, but it won't affect how each app functions.
Grayscale and Negative colors
These features are for those who are color blind or who have trouble distinguishing one shade from another. Activating Grayscale will turn everything into what you might call "black and white" and your phone will go all Turner Classic Movies on you. Negative colors flips the color scheme on you, which helps improve contrast.
Color adjustment
Through a quick tutorial, the S7 will adjust the color on your screen to make things easier to distinguish and to make text easier to read. You will be asked to arrange colored squares based on similarity and the adjustment will be made accordingly. If you arrange them in the "right" order, then the settings may deem that color adjustment is not necessary. In this case, you may want to try inverting the colors or switching to grayscale.
Hearing
Flash notification
Enabling Flash notifications will cause your camera light to flash when you receive notifications or when alarms sound. All you have to do is turn your phone over to stop the flashing.
Turn off all sounds
This feature does just that. Your S7 won't play any sounds at all, including the speakerphone, even if the sound mode is set to Sound.
Hearing aids
This will adjust the way notifications and other noises sound so that they're more pleasing to those who are using hearing aids.
Subtitles
Samsung and Google both offer subtitles that can be enabled for videos that support them. If you choose to turn them on, you can adjust the font size and color if needed.
Mono audio
This is a neat feature that will switch audio from stereo to mono if you're only using one headphone. So, if you're listening to some classic Zeppelin and Jimmy's in one ear and Robert's in the other, it'll put 'em both in one. This feature is all about improving audio experience for those who are hard of hearing, so if you still want to experience your favorite tunes to their fullest or want to watch a video that's cut in stereo, there you go.
Dexterity and interaction
Universal switch
This enables customizable switches that allow those with motor skill issues to more easily interact with their phone and select items on the screen. You can set your interaction method by connecting external accessories, tapping the screen, or using the front camera to recognize your head's rotation, your mouth opening, and your eyes blinking.
Assistant menu
This feature gives you an on-screen interface to perform actions that would normally require you to use a combination of hardware buttons. A constant square will appear on the left or right side of your screen, which you choose, and, when tapped, it will produce four squares. With a single tap you can navigate home and back, open the notification shade, take screenshots, change the volume, lock the screen, and more. When you delve a little deeper into the settings, you can adjust the look of the buttons and decide whether or not you'd like contextual menus within apps. (While this feature is targeted at users who have trouble pressing physical buttons, it may also be worth turning on if you have a broken button on your device.)
Easy screen turn on
If you have trouble pressing the smaller buttons on the Galaxy S7, then Easy screen turn on will make your life infinitely easier. All you have to do is move your hand over the screen to turn it on. Your phone just has to be face-up and on a stable surface.
Press and hold delay
This feature lets you choose how long your phone waits before performing and action when you are performing a tap and hold gesture.
Interaction control
This feature controls how your phone interprets different motions and screen touches. It's a bit complex, but it's a way to block interaction with certain sections of the screen by drawing circles around them with your finger. It basically creates a mask over those areas so that you do not mistakenly interact with what is beneath it. All you have to do is hold the power and volume down buttons to enable it. You can even choose to block the entire screen, which can be useful for those who aren't going to use the touch screen at all.
Other settings
Direction lock
This allows you to unlock the screen by swiping in a series of directions. This way, if you still want to protect your phone, but have dexterity issues, you won't have to punch in a code, swipe a complex pattern, or hold your finger just the right way so your fingerprint scans.
Direct access
This feature allows you to add a shortcut to specific accessibility features. You can enable the features you want and then activate them by pressing the Home button three times. This is so you don't have to dig through your settings and enable individual features every time.
Notification reminder
This feature will alert you, via vibration or sound, when you have unread notifications. This is a great feature for people with vision, hearing, or dexterity issues; you wouldn't want to miss anything important and the S7 has your back.
Answering and ending calls
Rather than having to tap to hang up or swipe to answer calls, this feature can allow the Home button or voice commands, like "answer" or "reject," to accept a call for you or the power button to end one.
Sing tap mode
This is especially valuable to those with dexterity issues who may find performing multiple actions a bit difficult. Rather than having to tap, hold, and swipe to turn off an alarm, this feature allows you to dismiss alerts, calendar events, and more with just one tap.
Manage accessibility
This feature allows you to import and export your accessibility settings from and to other devices, so that your user experience stays constant and entirely accessible. You can even share your settings with another device, like a tablet or another smartphone.
Get the Android Central Newsletter
Instant access to breaking news, the hottest reviews, great deals and helpful tips.
Mick is a writer and duty editor for Android Central. When he's not on the job, he can usually be found vacuuming up pet hair or trying to convince his wife that he needs more guitars.