Galaxy S5 wireless charging: Everything you need to know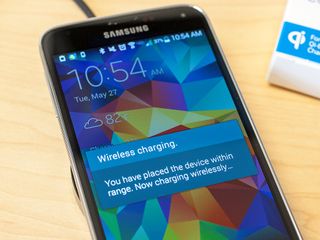 Looking for the best wireless charging options for your Galaxy S5? We can help.
When it comes to the Samsung Galaxy S5, wireless charging is where it's at. There are a few reasons for that. The first is convenience. Because of its IP67 rating for water resistance, the Galaxy S5 has a flap covering the microUSB port. You have to remove that flap any time you want to charge your phone. The second reason also is for convenience. It's simply easier to plop your Galaxy S5 down on a Qi-compatible charging pad.
There is a trade-off, of course. One is that your phone won't charge quite as quickly. The other is that the Qi-enabled wireless backs for the Galaxy S5 make the phone a little thicker.
We're tracking the best solutions for Galaxy S5 wireless charging.
So what's the best way to get wireless charging on your Galaxy S5? We're breaking it down piece by piece:
We walk you through the official Galaxy S5 wireless charging cover
And be sure to check out our look at the Galaxy S5 wireless charging S-View Flip Cover
And there's plenty more on the way.
There are, of course, any number of unofficial, third-party wireless charging options, some of which can be had for pretty low prices. We'll be taking a look at them in due time, of course.
There's also the matter of having a proper Qi-enabled charging pad. We've looked at a number of them in the past, including:
The Zens Qi USB wireless pad.
A Qi charging pad for your car's cup holder. (Yes, really.)
The ADATA Elite C3700 wireless charging stand.
The small, hockey-puck-like LG WCP-300 wireless charger.
And the ASUS PW100 wireless charging stand.
That's but a few, of course. Stay tuned for plenty more on Galaxy S5 wireless charging solutions.
I got third party wireless charging for the S4 from eBay and Amazon for only $12 on the receiver and $28 for each charger. Has worked great every since. Also didn't affect the thickness since it fits inside the standard cover.I would recommend the same route for the S5. Posted via Android Central App

What 3rd party did you get? I would like a solution for my note 3. I really do miss wireless charging. I had it on my nexus 4. Posted via Android Central App

Wifi Charger simply hit the industry overdue involving a year ago there are received consideration ever since. Many people are curious about this due to the fact it is just a brand new type of product. This market with regard to cellular asking techniques continues to be certainly not in which produced seeing that just a not many titles include produce their unique goods. http://www.amazon.de/dp/B00C40OG22/?tag=techracom00-21&ascsubtag=UUacUdU...

Decode the message to find the secret of oak island

This is what happens when you let Siri do the translation for you... LOL

I'll stick with the cable, it doesn't cost me a extra and I can use it while charging. From my Note 2 to you

Wireless charging isn't an option with my current device, but I think I would hate not being able to charge as quickly. How slow is wireless charging exactly? For example, if it takes 90 minutes to fully charge with a standard charger, would wireless typically just require an additional 30 minutes? Posted via AC App on HTC One

Longer than that. I cannot give you specifics, but wireless charging is much slower Posted via Android Central App

That's a bummer, NoNexus. I guess I'd still use it bedside, though. Posted via AC App on HTC One

Oh dear... I hope you found a wireless charger you like.
If charging your device takes 90min, you need a new battery. :-P
But for the sake of the explanation, the wireless charging would only take 10 min more. Using the wireless method on my worn out S3 took less time than the cord. Lol! I'm looking forward to wirelesscharging on my S5!

Another option that's still on the table is the old Palm Touchstone. You can get the coil on ebay. I've been using them with my S3 and if/when I upgrade to the S5, will continue to use the old standard rather than pay the ridiculous prices for inferior Qi charging pads.

No Tylt love? Posted via Android Central App

Really, I love TYLT VU! It charges *very* fast, too. Steep price, though.

Worst part is cases aren't made to fit the device with the wireless charging cover. I have that problem with my Note 3 Posted via Android Central App

Anyone getting a new G3, this article also is good for you. Posted via Android Central App

Here's one on Amazon for $29.99: http://www.amazon.com/dp/B00HK38MQ4?psc=1&tag=hawk-future-20&ascsubtag=U... It seems to have good reviews lately. I was looking at this one and also this one here: http://www.amazon.com/Qifull-Wireless-Charger-Optimus-Samsung/dp/B00IP8V...

Still waiting for Samsung to actually release the inductive charging back (not the S View version). Yes, I refuse to call it"wireless". Yes, I want the OEM solution. No, Samsung still won't sell it to me.

So the palm touchstone won't work?

One thing I'm concern & it's one important factor why the original Samsung solution will be better, the rest of the solution has no auto cut-off when charging complete, even if I use the Nokia wireless charger to charge it with original Samsung wireless charging back cover.
Overnight charging is usually what I do for all the devices & inductive charging will turn into induction cooking if overcharge too long.
Using original Samsung wireless charging back cover with Nilkin wireless charger pad, it's faster than charging it on USB though just slightly longer than charging using a wall plug charger. 3rd party wireless charging receiver that attach under the standard back cover is always slower than the original, tested with my Note3.

My S5 has just been destroyed by a "Qi compliant" wireless charger. The screen has popped out and the battery is swollen and pushing the case back out. Does anyone make a wireless charger with a voltage regulator on the output going into the phone, so it STOPS charging when it's charged, and won't destroy the phone?!
Android Central Newsletter
Get the best of Android Central in in your inbox, every day!
Thank you for signing up to Android Central. You will receive a verification email shortly.
There was a problem. Please refresh the page and try again.