Galaxy S5 wireless charging: Everything you need to know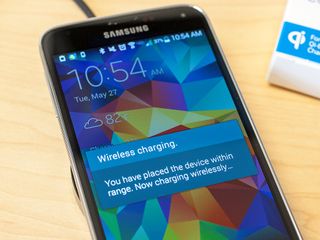 Looking for the best wireless charging options for your Galaxy S5? We can help.
When it comes to the Samsung Galaxy S5, wireless charging is where it's at. There are a few reasons for that. The first is convenience. Because of its IP67 rating for water resistance, the Galaxy S5 has a flap covering the microUSB port. You have to remove that flap any time you want to charge your phone. The second reason also is for convenience. It's simply easier to plop your Galaxy S5 down on a Qi-compatible charging pad.
There is a trade-off, of course. One is that your phone won't charge quite as quickly. The other is that the Qi-enabled wireless backs for the Galaxy S5 make the phone a little thicker.
We're tracking the best solutions for Galaxy S5 wireless charging.
So what's the best way to get wireless charging on your Galaxy S5? We're breaking it down piece by piece:
We walk you through the official Galaxy S5 wireless charging cover
And be sure to check out our look at the Galaxy S5 wireless charging S-View Flip Cover
And there's plenty more on the way.
There are, of course, any number of unofficial, third-party wireless charging options, some of which can be had for pretty low prices. We'll be taking a look at them in due time, of course.
There's also the matter of having a proper Qi-enabled charging pad. We've looked at a number of them in the past, including:
The Zens Qi USB wireless pad.
A Qi charging pad for your car's cup holder. (Yes, really.)
The ADATA Elite C3700 wireless charging stand.
The small, hockey-puck-like LG WCP-300 wireless charger.
And the ASUS PW100 wireless charging stand.
That's but a few, of course. Stay tuned for plenty more on Galaxy S5 wireless charging solutions.
Get the Android Central Newsletter
Instant access to breaking news, the hottest reviews, great deals and helpful tips.