The Galaxy S20 Ultra cannot capture 'true' 960fps Super Slow-mo video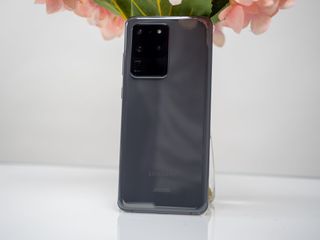 (Image credit: Daniel Bader / Android Central)
What you need to know
Unlike the Galaxy S20 and S20+, the Galaxy S20 Ultra does not support 'true' 960fps Super Slow-mo video.
Instead, the phone captures 1 second of HD video at 480 fps and then digitally enhances it to 960 fps.
In addition to a higher frame rate, the Galaxy S20 and S20+ are also capable of shooting Super Slow-mo videos at Full HD resolution.
Samsung's new Galaxy S20 Ultra is the most expensive, as well as the most impressive of the three new Galaxy S20 series phones that Samsung announced earlier this week. It happens to be the only Galaxy S20 series phone to come with a 108MP primary sensor and also sports a 40MP selfie camera. Surprisingly, however, the phone isn't as impressive as its more affordable siblings when it comes to super slow-mo video capture.
The specifications page (opens in new tab) for the Galaxy S20 series on Samsung's global website confirms that while the Galaxy S20 and S20+ can record approximately 1 second of Full HD Super Slow-mo video at up to 960 fps, the Galaxy S20 Ultra can only capture HD resolution Super Slow-mo video at 480 fps. After capturing approximately 1 second of video at 480 fps, the Galaxy S20 Ultra will then digitally enhance the video to 960 fps.
Samsung's 2019 flagships, including the Galaxy S10 and Note 10 series, are capable of capturing approximately 0.4 seconds of video at 960 fps. When shooting a Super Slow-mo video for 0.8 seconds, however, the phones capture at 480 fps and digitally enhance it to 960 fps.
Samsung Galaxy S20 Ultra 5G
While it may be inferior to the Galaxy S20 and S20+ when it comes to Super Slow-mo videos, the Galaxy S20 Ultra has an edge over its siblings in a number of other areas. It boasts a 108MP primary camera, 10x hybrid optic zoom, huge 5000mAh battery with 45W fast charging, and up to 16GB of LPDDR5 RAM.
Kind of interesting. Wonder the reason?
Quick question for those of you familiar with Samsung devices. What is the likelihood of all three devices getting updates that open up newer options /upgrades unlocked as the company implements them in future devices (next note or just software updates in general)

Generally speaking, Samsung (eventually) gives all of its flagships feature parity, provided the hardware is capable of supporting the new features. However, not all models get the same features at the same time because of the way Samsung staggers firmware updates.

Of course Android Central just has to find something to ***** about. Why don't your editors find real things to speak of. At 960 FPS slow motion was barely usable in many situations anyhow without proper lighting. So you're bringing light to something that people could care less about. You are as bad as the news Android Central. You like to create sensationalism. Where is your s20 battery guide? Where is your guide to speeding up the s20? Or is that for Alex doobie Goober to do

How do I speed up my $1400 cutting edge, feature packed flagship phone.... 😂

Without true 960 fps HD video this phone is DOA! Seriously though, it is interesting that the 38 cameras on the S20 Ultra lack some functionality that the 32 cameras on the standard S20 have.

Well how about that for a plot twist.

too many junk article and android central doesn't want to hear people complaining about it so many of those articles that we cannot comment on
Android Central Newsletter
Thank you for signing up to Android Central. You will receive a verification email shortly.
There was a problem. Please refresh the page and try again.