Galaxy S2 and Galaxy Note reportedly due for Jelly Bean updates this fall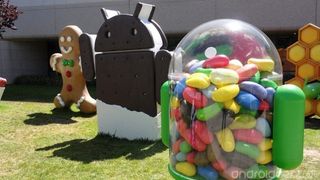 It's been rumored before, but now the signs for Samsung Galaxy S2 and Galaxy Note owners are looking a bit more hopeful. This morning unofficial Samsung blog SamMobile​ is reporting that sources have told it that both the (international) Galaxy S2 and original Galaxy Note are be due to receive updates to Android 4.1 Jelly Bean later this year.
The site reports that internal feasibility tests by Samsung have proved successful, and that a September to October timeframe is estimated for the S2, presumably with the Note following shortly thereafter.
While SamMobile​ has proved accurate with this kind of information in the past, bear in mind that this is not an official confirmation from Samsung, which has said nothing publicly on Jelly Bean for either device. We'd also expect a longer wait for the U.S. versions of the both phones to get Jelly Bean, even if the reported timeframe for international updates holds true. As ever, U.S. carriers will want to test and verify the new firmware before pushing out to customers.
Source: SamMobile
Alex was with Android Central for over a decade, producing written and video content for the site, and served as global Executive Editor from 2016 to 2022.
I'll believe it when I see it!

ics to jelly bean is a minor update for phones like the gs2,gs3 and the gnote. project butter shows its power in lower spec phones(Gnex) for example. Seriously, other than google now, the difference on a skinned and well spec'd phone is minor.

If true.... deam, finally they learning

What you wrote: "As ever, U.S. carriers will want to test and verify the new firmware before pushing out to customers." What you meant: "As ever, U.S. carriers will want to stall and drag out releasing new firmware so that fed-up customers just give up and buy the latest phone and re-up their contracts." You're welcome.

Exactly. Never again will I buy an android phone through the carrier. From now on, I am buying right from the Play Store.

Maybe the Galaxy S3 will do better, considering they managed to release an identical device (radios aside) across all four carriers, without any carrier-specific crapware.

Keep dreaming. Many carriers, especially Verizon, are notorious for delays on Android updates. If the Verizon Nexus phone couldn't get Jelly Bean in a timely fashion, what makes you think a Samsung device will.

There is very little incentive for carriers to push out updates. Lets face it, most smart phone users have no idea what OS they are running and couldn't care less.

As a current G-Note owner already running a 100% stable CM10 4.1.1 Hybrid JellyBean Rom.. I say "Ho-Hummm.." We will have already had JellyBean for 3-5 months.

Same on the Galaxy S2 (and that's the AT&T variant to boot). Other than a broken HWComposer (missing some butter) it's 100% working and a blast to play with. This (and hopefully the S3 leak) will help get some stuff for the Mali-400 to play nice.

Dirk / Duncanator - I'd do that but....if i'm with at&t...would I be locked into a another 2 year contract?

i think my Epic touch with ICS is as smooth as my Nexus 7 JB... haven't seen any gain from new .1 update... Maybe cause ICS is so AWESOME! why it sucks on Prime is beyond me.

Hey!!. My phone keeps rebooting itself randomly after i updated it to ICS 4.03. I hear it could be a hardware or a software related issue. I hope that the new software update can fix this. However, i really need to to know what happens if the phone reboots/restarts itself while the phone is undergoing a software update? Any suggestions, for any fix if it so happens coz now that the update is available I would really like to update the phone. Thanks rgds
Android Central Newsletter
Get the best of Android Central in in your inbox, every day!
Thank you for signing up to Android Central. You will receive a verification email shortly.
There was a problem. Please refresh the page and try again.