The Galaxy S10e is the iPhone SE the Android world needs right now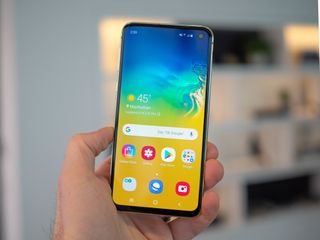 (Image credit: Android Central)
Phones are crazy expensive right now if you insist on buying a company's latest and greatest. But if you're like me, you're just not going to spend $1,000 of your hard-earned dollars on a phone when you know there are alternatives that offer almost as much for a good bit less cash.
Thankfully, there are some great phones you can buy right around the $400 - $500 mark. The Pixel 3a is still a good buy, Apple's iPhone SE 2020 is super cheap for a new iPhone, and Samsung still sells 2019's sleeper hit, the Galaxy S10e. I've tried them all — not just picked them up and looked at them, but signed in with all my accounts and actually used them — and for my money, the Galaxy S10e is the clear choice if you want 90% of a flagship phone at 50% of the price.
I just can't iOS
I'll let you in on a secret — I like the iPhone. I always have. Apple makes great hardware and when it comes to the basics of what a smartphone should be such as communications and entertainment, the iPhone nails it. Most of the time, those basics are exactly what I want from my phone.
But then there are the other times; maybe I want to watch a video while checking messages or goofing around on Twitter. Maybe I'm "talking" to several people at once and need good notifications. Or maybe I want to open some app I hardly ever use and enjoy the tie-in to Google's huge library of online services. During those times, you love having an Android phone in your hands.
Apple knows this, too, and iOS is slowly getting things like better notifications or widgets and has allowed Google to upload apps that help you connect your Google services together securely. That's a big deal and not any sort of admission of defeat by Apple — it's a case of giving customers the best features that they really want.
The iPhone SE 2020 is a great phone, especially if you use a MacBook or an iPad or both. Apple has a gem with iMessage, and the hardware itself just feels good. But in 2020 I just can't deal with iOS.
The best Galaxy S10
Samsung's Galaxy S10 line was a phenomenal success but it seems like everyone forgets about what I think was the best Galaxy S10: the Galaxy S10e.
With the S10e you get a phone that's a great size, has an incredible display, great cameras, amazing build quality, and all the features you expect from a Galaxy flagship plus a flat screen instead of that curved waterfall deal that a lot of people hate. It's really the only Galaxy S10 I was interested in having.
It's not perfect. For starters, it's already a year old so that means you won't have the longevity of a 2020 model. When you compare that to the iPhone SE, which should get about five years of updates and support, that isn't something you can just dismiss.
Except you probably can. If you're like a lot of people, myself included, you're never going to use a phone for more than a couple of years. Buying a phone with a zero-interest finance plan makes it too easy to upgrade, and when you're only spending half the amount of a flagship, the payments amount to what's basically pocket change each month. That makes it easy to not care about five years of updates, but I still can't ignore that Apple will give them to you, and Samsung won't. It's just not as big of a deal as it's made out to be for most of us.
The cheapest iPhone has a more powerful processor than the most expensive Android phone
There's also the whole processor thing. The iPhone SE has a chip that's about twice as powerful in meaningful ways as the Galaxy S10e's Snapdragon 855 found in North American models. Having said that, you really won't see the difference during day to day use. The Galaxy S10e will do everything you ask it to do without bogging down or doing anything that makes you wish you had a chip that was twice as fast.
This matters when it comes to future-proofing — one day there will be a game or an app that needs more horsepower that the S10e can deliver but that day isn't going to come very soon. You'll be using a different and newer phone by then anyway. Apple putting the A13 chip in the iPhone SE is astounding and important for Apple's supply chain, but overkill is overkill and either phone delivers the power you need to work, communicate, or just goof around with your phone.
Android 10 seals the deal
When it comes to the hardware or camera or fingerprint sensor or any other physical thing about both the iPhone SE and the Galaxy S10e, you can't go wrong either way because both are great. I'd pick the iPhone simply because I like top and bottom bezels to hold the phone with my gnarly old fingers, but you might want to full-screen experience of the S10e. As I said, both are great.
But the big difference, and what makes the Galaxy S10e my choice in the "cheap" phone lineup is Android. Android 10 brings some great privacy and security enhancements and it runs beautifully on the S10e's hardware. Plus Samsung adds some meaningful additions in areas like the camera app or HD Bluetooth codecs.
I don't even use half of the features of Android on the S10e, but the ones I want and need the most make the phone a treat to use. I can tap my security key to the back of the phone to sign into my work email. I can talk in a big family group chat right from the notification. I can switch between personal and work Google services with a single tap. These are the sorts of things that make Android a much better choice for me, and why I think the Galaxy S10e is the best phone in this price range even though it's not brand new.
You really can't say the Pixel 3a (or the 4a, which is coming so very soon) or iPhone SE or Galaxy S10e is a bad choice. But if I didn't have phones coming and going all the time because of my job, I know the S10e is the one I'd buy because I get to use them. If you're not completely entrenched in Apple's App Store or in iMessage, I think you would like the S10e better, too.
Best "cheap" phone
(opens in new tab)
The very best of Samsung at an excellent price.
The Galaxy S10e offers everything the Galaxy S10 family does, at a lower starting point. You'll love the outstanding display, dual rear cameras, and great performance.
Get the Android Central Newsletter
Instant access to breaking news, the hottest reviews, great deals and helpful tips.
Senior Editor — Google Ecosystem
Jerry is an amateur woodworker and struggling shade tree mechanic. There's nothing he can't take apart, but many things he can't reassemble. You'll find him writing and speaking his loud opinion on Android Central and occasionally on Twitter.
And it has a proximity sensor that is so far off the required standards that future CTS versions will hopefully never let junk like this pass certification: https://issuetracker.google.com/issues/142608494

Yeah, I've been thinking about picking an S10e up to replace my Galaxy S8. I also do like the the Iphone SE and the Iphone 11. I have used IOS in the past (my first smartphone was an Iphone 5) and I regularly help friends troubleshoot their IOS, Android, Mac, and Windows devices. The limitations that you pointed out with IOS do not bother me in the least. If the Iphone 11 had a headphone jack, that may seal the deal for me -- especially as Visible is offering $200 for my Galaxy S8. Samsung will give me a trade in on my S8 making the cost for an S10e $350 which is VERY compelling... Not sure if I could live with phone SE screen size (I imagine I could get used to it) Paying top dollar for a phone these days would be nuts!

I went from the S8 to the S10. It's a worthy upgrade. You'd enjoy it.

Sir, you can get a s10e right now for 350 on swappa or maybe less. Since it's already a year old buying new would be pointless. I would get the s10e and sell your s8 for a few hundred and save and buy a new phone next year. \

If it helps any I just did the exact same upgrade for my wife. S8 -> S10e and Samsung's smartswitch tool makes the process painless it copies almost everything, except game progress that don't support cloud saving. I can appreciate that your fine with iOS
But my wife absolutely loves the s10e, and I used it for about 4 days myself when I was testing it. I bought mine used. It's a great device and besides the processor everything about the s10e it's better.
Camera has night mode
Screen is much bigger, I couldn't live with 4.7
Battery lasts a lot longer, i averaged 5 - 6 hours SOT and made it through the day with ease.

Great article. I'm considering it, along w Pixel 4a and OnePlus 7T.

The 7T is a great phone and you can add the Pixel camera app to it.

Nah a OnePlus Z would be better as Android"s answer to the iPhone SE rather than Samsung's Galaxy S10e for me, is much rather use the iPhone SE over the S10e as there's something I just don't like about Samsung phones and it's the bloated software and I'd take iOS any day of the week and with 2 year leas support makes the S10e even more unappealing to me especially as I'm switching to an iPhone 11 in the summer as my daily driver as I'm fed up with all the fragmentation and issues with updates and a whole other heap of reasons. But my 7T I'm currently using I'm happy with and would pick it over the S10e as I prefer Oxygen OS over OneUI and is the best Android experience but the iPhone SE is better value than the S10e and most Android phones for the software support and ecosystem alone in the long term.i I'm more interested in the long term and iPhone suits me better in that regard and Android enthusiasts are only interested in the short term. What the Android people on here, Author of this article included see as limitations of iOS I see as plus, I don't me to be doing so much things at once on my phone, I don't ever use multitasking on my 7T or customise my phone that much either, my phone is after all, a phone and I like things simple and to tinker less with my phone and Apple does simple better than most Android phones and Samsung is far too complicated for me to use and I prefer Apple's approach and they give your helpful hints too which is useful, the only ones on the Android side that come close to Apple is OnePlus, Google and even Android One phones.

So you liked the OnePlus Z when you used it then? Cool.

I meant when the OnePlus Z is official but right now I'd save the OnePlus 7T is better than the S10e and is cheaper and uses the beefier Snapdragon 855+ will and is only 7 months old while the S10e is a year or and that means 1 year leas for support so no thanks to the S10e or Samsung's bloated skin on and the 7T (my current phone) is still available unlike the Galaxy S10e and the SE is better value long term and uses the current A13 bionic chip which as you said is twice as powerful as any Android flagship.

One UI is actually a pretty clean and smooth experience.

I prefer my UI close to stock Android which Oxygen OS is and is actually better than stock Android too.

And we can't forget that massive 4.7" SE screen. That is a joke!

Wow, you like your run-on sentences. :) Take a breath, break up the sentences. It makes your thoughts easier to see, and doesn't read like you are rambling.
I like Samsung phones, the S10e is the one I'd be buying if buying a new Samsung, but the OnePlus 7t is an attractive choice, except that like Google phones it doesn't allow for expanded memory. Depending on the price and features of the Pixel 4A, I'm making the choice between the 7T, the 10e, and the 4a.

Price is still too high honestly. The battery is too small and might not even get you through a day without having to charge.

I've used the S10e (snapdragon) since it came out and typically get through the day with battery to spare. I use the phone for email, calendar, social media, notifications, task list, podcasts, some videos (via wifi).

I'd say the S10e is a half to three quarters day phone. The battery is it's only real weakness. Although mine is the Exynos version, which is more hungry.

$280 is too high? I mean what the heck are you looking for? As far as battery goes, not sure what you're talking about, I use mine quite a bit and still have 30-40% at the end of the day.

$280, please share. I cannot find it for less than $500 USED.

I've personally compared the iPhone 11 Pro to the Samsung Galaxy S10e (snapdragon chip), and while the iPhone is great on its own, I prefer the S10e's headphone jack, hardware design/color (blue), smaller/thinner size, bright display, louder speakers, great camera (essentially as good), Samsung themes, and Android (customizing the home screen, using widgets, etc., plus I use Google apps). The phone I want to pick up and use to get things done quickly and efficiently is the Samsung. My 2nd choice would be the latest smaller Pixel. The iPhone SE is a nonstarter for me in part because I don't like the look of the iPhone 8 type phones (iPhone 12 looks like it might be a nicer design), and iOS is less customizable. I really feel like iPhones offer less. Edit: The only really issue I've had with the phone is the fingerprint sensor on the power button (top right side) is unreliable. It seems to "forget" after a while, and I have to redo my fingerprint. The "face ID" Samsung uses works well, although Apple's Face ID is faster, in my experience.

The S10e is hard to find nowadays. Supply is very limited. Samsung doesn't seem to be interested in making anymore of this particular model.

I got a 'gently used' refurb from a reputable dealer on ebay for about $325. Gotta say, my s10e has been amazing so far.

I agree with everything in the article 😂

When you say "The iPhone SE has a chip that's about twice as powerful in meaningful ways as the Galaxy S10e's Snapdragon 855 found in North American models", what are you referencing? What do you mean or consider as meaningful ways?

It means nothing in day to day use and everything if you live for benchmark scores.

He also meant that the iPhone SE beats not only the S10e in gaming and GPU performance but every other Android phone too.

The base-model SE is around 520 USD in stores is Europe. At this price point, the S10e, P30 and Pixel 3 (non-a) are some 50 USD cheaper. There are many other relatively small Android options that are much cheaper, but they play in another league performance-wise (the A40 is around 200 USD, and the Nokia 6.1 Plus and the Mi A3 go for 180). And that's if you look for the relatively small phones. If size does not matter, one is spoiled for choice. The Oneplus 7T is still available in stores for a little below 600 USD, the Xiaomi Mi Note 10 Pro is barely more expensive than the SE, the Mi 9T is around 300. And then there are the many SD845 bargains available, some of them laughably irresistible (one official Xiaomi representative sells the Mi Mix 2s for 220 USD). So: assuming one is agnostic with respect to the OS, in Europe the SE is a complicated proposition value-wise. Much more so if one is agnostic as to size as well. It's a point many of the "international" review sites sorely miss, even those that are based in Europe (and persist in quoting the SE price as starting at $399).

In the UK the SE starts at £419 which is cheaper than in Europe, Apple don't care about the rest of Europe.

Not really... 419 pounds is 512 USD, so same ballpark.

The SE is a great value if you don't mind looking an utterly shitte display. I don't care how good the chipset is or how long it will get updated...that display is a non-starter. Until just the last few years Apple has put crappy displays (in comparison to what high end androids have been offering since forever) in all their phones. If you are coming from an iphone8 or older I guess you won't notice how bad the display is but hold it next to any other modern phone and...yikes.

You're comparing LCD to OLED displays and while there's no doubt that OLED displays are better than LCD displays in overall colour reproduction, Apple has and still has the best LCD display on a smartphone with great colour accuracy and the display in the iPhone SE is fine for it's price, I'll be getting an iPhone 11 in the summer and that has an LCD display which is superior to that of the iPhone SE but that display is over 6 inches while the iPhone SE is 4.7 inches and the target audience that the iPhone SE won't care about the display but I do wish Apple would get rid of the dated 326 ppi they have had since 2010 if they make another iPhone SE.

I don't care how powerful a 4.7 inch phone is, the screen is too damn small. The s10e is better and honestly updates are important to everyone. Your bank has separate security feature apart of your phone and I know guys today who still use the s9 or s8. Honestly, I really miss my android phone I got the iPhone 11 and the screen is terrible and I can't multitask at all, it's terrible but imessage and face id is so good it's not even funny and the apps are better. but it nowhere near as good as android is.

iOS is better at the basics than Android and the iPhone 11 (which I'm getting in the summer) having an LCD screen is finally for me as I know Apple has always had great LCD screens so what if blacks aren't as deep as an OLED or colours aren't as vibrant for me the screen isn't "terrible" it's more than good enough and plus the lack of multitasking doesn't bother me with iOS as I don't care for it on Android either as I never use it on my OnePlus 7T which has a lovely AMOLED display. For me performance, updates and better app quality are moving important to me than any multitasking or other stuff I don't care about and iOS and iPhone are is the only one that ticks all the boxes for me but I still like Android and will always have an Android phone but it won't be my daily driver, my iPhone 11 will be along with my iPad 2019 I'm getting Also because I want to be in the Apple ecosystem which is better than anything on the Android side. I would stop complaining about your iPhone 11, you knew the deal with an iPhone but what you see as limitations, I see as leas things to worry about and nothing beatse iMessage and FaceTime along with Face ID.

Only in it's versatility and customisation but for app quality, security, privacy and updates iOS is league's better that Android.

I tend to disagree. In overall experience I can dare say I prefer the flow of a performance android os gives than that of iOS

It's not just about how long you use the phone for, but also for how long the phone has value. An iPhone SE will sell for half it's retail price in 2-3 years. An S10e is a paper weight in 2-3 years.

Why get the iPhone se for future updates? It's not going to change the crappy cameras and screen. Sure the 10e is great but their are cheaper android alternatives out there.

It's got the extra most bestest a13 bionic that can do cartwheels around them whipper snapper CPUs. Lol

If I could have the Pixel software on the S10e hardware, that would probably be my perfect phone. The 4a should do that and have the fingerprint on the back which is still better than the side mounted one on the S10e but the 4a will lack wireless charging which I have gotten used to with my Pixel 3 so it just leaves me torn.

The 10e has a poor battery life, I'd rather see Google get it's act together.

Great article. I moved from a Pixel 3 with garbage battery and not-the-snappiest performance, to a stellar battery life and stunning performance OnePlus 6T. But the 6T was just too big, it literally hurt my hand using it. Usually I immediately discount Samsung phones due to the price. However, when MKBHD mentioned the small s10e along with the price, I instantly checked, and yep, like-new ones on eBay for MUCH less. I am *thrilled* with this phone, from the size, to battery, to performance, to features. Only minor issues remain: position of the power/fingerprint reader, and Samsung's bubbly non-stock UI. Before the Pixel 3 I had an XZ1 Compact which was another phone I really liked, and even though the battery was small on paper, it lasted way longer than expected. Besides the camera, I'm just not super happy with the Pixel lineup. I've said it before for many years, OnePlus does stock and Android-experience phones better than Google does.

Except my mom, who I'm shopping for does keep a phone for almost 5 years, she still has a Galaxy s6 active. She definitely needs an upgrade. I'm thinking of going with the 4a for the updates. The only meaningful difference is there processor and the 730 does great for general smartphone use. It's just games that might take a hit, but the most complex game she plays is candy crush. BTW, a monthly smartphone payment of $15 - $20 a month is not nothing for a lot of people, those small bits of money here and there add up quickly. especially in the economic crisis we're in. Watch your assumptions, oh privileged one!

There's only 6 months in it between the S10e and iPhone 11 Pro. The SE is using a processor that's 8 months old :-/

The S10e is the one I was saying is the closest to the SE. The OnePlus 7t is massive and the Pixel 3a underpowered. The SE is sold as a small phone.