Galaxy Nexus, Viper and Optimus Elite now available on Sprint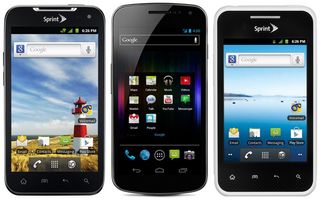 Today sees the launch of three new smartphones on Sprint's network. First up is Google's current flagship device, the Galaxy Nexus. Sprint has the CDMA/LTE variant, which is very similar to the Verizon LTE version currently doing the rounds in the U.S. There's the same 720p HD SuperAMOLED display and 1.2GHz dual-core CPU that GNex owners have been enjoying since late 2011, and we're sure Sprint customers will be eager to get their hands on their very own version of the current Android flagship.
Next up is the LG Viper, an entry-level 4G LTE device for customers looking for a good all-round LTE smartphone. Inside you'll find a 1.2GHz dual-core processor along with NFC, Google Wallet and hotspot capability on top of a 4-inch WVGA NOVA display.
Finally, there's the Optimus Elite, which we got to play with just a few days ago at its launch event. It's definitely an entry-level device, with a 3.5-inch HVGA display and 5MP camera. But if you're not looking for anything too fancy from your Android smartphone experience, you could definitely do a lot worse.
Hit the source link find out more on each of these new handsets.
Buy now: Sprint
Android Central Newsletter
Get instant access to breaking news, the hottest reviews, great deals and helpful tips
Alex was with Android Central for over a decade, producing written and video content for the site, and served as global Executive Editor from 2016 to 2022.
I'm probably gonna pick up a gnex just because I've been wanting a nexus for a while and sold my ns4g before even using it cause I got the e4gt. But I really think Samsung/Google should have upgraded this thing with maybe a better camera/processor to compensate for the wait.

Played with the GNexus today at Sprint. It's a sweet device, even if it's already 6 months old. It will probably be my new smartphone in July, unless something better comes along between now and then. I compared it to the iPhone 4, which was nice, but more limited than I want to be. Between the two phones, screen responsiveness was nearly identical and a refresher over my current EVO 4G, which is starting to show its age. Also played with the Galaxy Tab 10.1, and it pretty much helped me decide on the GTab vs iPad question. GTab it is, but not at Sprint where the 16GB model is still selling for $500. Really, Sprint?

Something better is already set to come out. The EVO 4G LTE. It's a far better device all around.

No removable battery. No go.

Let me know when the Note gets here..... :)

I left sprint for the note

I'm with RRM707. Note is my next phone. Love my 4g Touch but I want the Note.

Wtf happened to the comment rating system?

I was thinking the same thing

The comment system on the old site design didn't actually work (it was a three star system, but the 1 star = spamed, then 2 stars = thumb down and 3 stars = thumbs up). And nothing happened with the data. We removed it for now since it was broken, but we'll be further improving the commenting system soon with more features. In the meantime, we did add a good feature - notice you now have avatars in the comments here and can click on your username/avatar to see the latest comments and forum posts by a user.

Kevin, u be sneaking around the AC posts?? :-)

Plus 3 on waiting for the note

Ha the web site just changed as of 10:03pm, awesome.

Anyone else notice how terrible the Gingerbread UI is compared to ICS?

Love my GNex, also! Love Google Wallet, too!

I'm not go with any sprint new phones 4lte until my area is cover.
Coz I tasted 4G how speed is it. I don't want to go down

Still waiting till May 1st to come so I can upgrade to the GNex

I want NFC. I want LTE. I want ICS.....
But I want it on my Evo 3D. One out of three ain't bad, yeah right. Evo 4G LTE, you will be mine, off contract, when Sprint finally lights up LTE.

LG VIPER LS840 4G LTE NETWORK
1.2 GHZ DUAL-CORE PROCESSOR
4" BRIGHT & CLEAR 700 NIT DISPLAY (480x800)
NFC http://www.lg.com/us/cell-phones/lg-LS840-viper It says it's on Sprint...soooo this doesn't sound entry level to me...it lacks the 720p spec of the GNex. Are we calling 1.2 GHz dual core, 480x800 bright display, LTE, and NFC "entry level" now?

The Viper is not a bad phone. I sold one to a boy yesterday and got to play around with it, the display was surprisingly good.

The question I have is; whenever Sprint decides to launch its lte network, will the Nexus will be able to take advantage? If so, its the clear winner here, seeing as Tegra 3 can't do lte.

What we(I) want is the 800mhz lte. These early devices don't even have the radios for it. I'll buy a device that has necessary hardware.

I want a new phone now though. If we wait until 800mhz is available we will have to wait to get a new phone until next year. Sprint is obviously not putting it in the current lineup which means the next flagship phones that might get it aren't going to be available until next year and who knows when it will be useable. At least I know if I get a new phone now I wil be ready for another new one by the time the 800mhz is ready to go.

How is a 1.2ghz dual-core phone "entry level"?

It's not. The media is just idiotic.
Android Central Newsletter
Get instant access to breaking news, the hottest reviews, great deals and helpful tips
Thank you for signing up to Android Central. You will receive a verification email shortly.
There was a problem. Please refresh the page and try again.