Freescale tech promises wireless turbo charging for tablets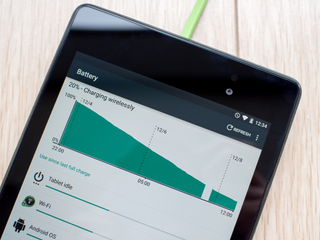 Though wireless charging has been available on Nexus smartphones and tablets for some time now, Freescale is rolling out a new fast wireless charging technology that will charge up your Qi- or Powermat-enabled slates three times more quickly than before. The new technology works with both popular wireless charging standards and can deliver three times the power output that is present in today's devices, making it faster to charge high-powered devices like tablets.
Freescale says its tech could deliver 15 W of power output, up from the 5 W found today, and that means that a slate with a 4,000 mAh battery could fully charge wirelessly in just a few hours rather than requiring a full 8 hours to power up.
The new 15 W wireless charging solution will be available in the first quarter of 2015 and it will be up to device manufacturers to include or support Freescale solutions in their products.
Source: Freescale
So is this safe for smaller Qi-compatible devices such as the Nexus 5? I'd be willing to trade in my charging orb if it means my trusty Nexus charges faster.

15 Watts at 5 Volts is 3 Amps, so if your battery is 3,000mA or higher, it's safe. It's not safe for the little 2,000mA or 1,800mA batteries in the cheaper phones. (Maximum charging rate should be no more than the battery capacity, or 1C. 3,000mA=3A.)

I get the feeling that the ICs will communicate. It shouldn't be hard for the receiver chip to tell the transmitter not to transmit more than the safe amperage. Could be wrong, I just feel like that's something they've considered.

My concern is the amount of heat generated. Qi charging is wildly inefficient, with much of the power used ending up as heat. Pumping three times the current through existing coils means three times as much waste heat. Not sure that's a good thing at all. Also, Qi coils don't pump current directly into the battery. The output of the coil goes into the same charging circuitry in the phone that the usb charger uses, and it's that circuitry that controls how much current gets to the battery. That's why plugging your USB cable into a 5 amp charger doesn't charge your phone 5 times faster than a 1 amp charger.

Your tablet will double as a stove while charging. Win win!

Induction cooktop..... Posted via a beautiful Ebony backed Moto X on Verizon or the amazing Nexus 10 using the Android Central App
Android Central Newsletter
Get the best of Android Central in in your inbox, every day!
Thank you for signing up to Android Central. You will receive a verification email shortly.
There was a problem. Please refresh the page and try again.