Four Great Quick Chargers for Galaxy S9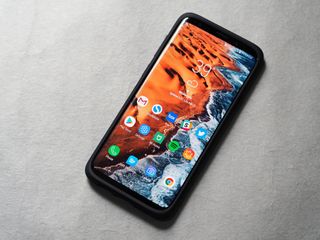 Fast charging is one of the best features to come to modern phones like the Galaxy S9. Nobody wants to sit around and wait for their phone to trickle charge, especially since removable batteries are no longer an option for most. It's all about being able to toss your phone on the charger for half an hour while you shower and fix lunch and getting enough of a charge to last you through the day.
The Galaxy S9 is one of the best phones currently on the market, so it's only fitting that you use the best chargers with it — don't just get that crummy charger from the gas station that you know will fall apart in a few weeks. Here are the best quick chargers we could find for the Galaxy S9.
Anker PowerPort II
Anker has been a huge name in power banks and chargers over the years, and its new PowerPort II wall charger is a great companion to the Galaxy S9. It's fairly large for a phone charger, but with that size comes USB-C Power Delivery, one of the fastest charging standards around. There's also a USB-A port in case you need to charge an additional device simultaneously, or you just forgot your USB-C cable.
The PowerPort II is a bit expensive at $29.99, but it's hard to argue with the charging capabilities of USB-C PD. You can really take full advantage of this charger if you also have a laptop that charges through USB-C — using the USB-A cable for your Galaxy S9, you can effectively power both devices with only one charging brick.
RAVPower 30W Dual USB Charger
The Galaxy S9 relies on the older Quick Charge 2.0 standard (possibly Samsung playing it safe after the debacle of the Note 7), so there's no need to spend the extra money on a Quick Charge 4.0 brick. The 30W Dual USB Charger meets you in the middle with Quick Charge 3.0, along with RAVPower's iSmart technology to provide the optimal charging current at all times.
As its name implies, the 30W Dual USB Charger features two USB ports — both Type A — and comes in either black or white. Best of all, it's an extremely affordable charger, though oddly enough, the different color options are priced differently. The black model comes in at $15.99, while the white model is available for just $10.56.
Aukey Turbo Charger with QC 3.0
Not everybody needs a second USB port on their charger — it requires a larger brick that takes up more of the precious space in your bag, so why bother if you only need to charge your phone? The Aukey Turbo Charger is the smallest charger of the bunch, easily fitting a single plug without blocking access to the plug above or below it — that's thanks in part to its short but wide shape.
Like the RAVPower, the Aukey Turbo Charger includes Qualcomm's Quick Charge 3.0 standard, along with backwards compatibility for Quick Charge 2.0-enabled devices like the Galaxy S9. For only $13.99, the Aukey Turbo Charger is a great option for those who need to save every inch of free space in their bag or on the wall outlet.
Satechi 75W Travel Charger
This one's a bit bigger and a bit pricier than the rest of the options in this list, but it's an absolute beast of a charger, particularly if you tend to travel with multiple devices. The Satechi 75W Travel Charger comes with a thin power cable that takes up almost no space on an outlet, and provides four charging ports for your Galaxy S9, laptop, and other devices. The USB-C port features Power Delivery at up to 60W, while the orange USB-A port offers Quick Charge 3.0. The two blue USB-A ports output the least amount of power at 5V/2.4A, though that's still quite a fast charge.
You probably don't need this charger if you only travel with your phone, but for multi-device business trips or even for use at home when you're low on available power outlets, the 75 Travel Charger is a fantastic charger to have at your disposal. You can order one from Amazon for $59.99.
Which charger is your favorite?
Everybody needs a way to charge their phone, right? Do any of these particular chargers suit your fancy, or is there another model you swear by? Let us know in the comments below!
Get the Android Central Newsletter
Instant access to breaking news, the hottest reviews, great deals and helpful tips.
Hayato was a product reviewer and video editor for Android Central.