How to fix Google Pixel battery life problems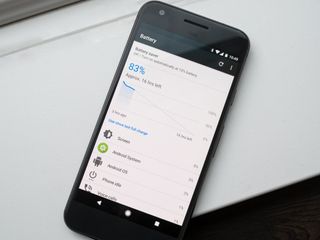 Google's Pixel XL offers impressive battery life for a phone of its size, but determined users can definitely drain it over the course of a hectic day. The smaller 5-inch Pixel with its 2770 mAh battery doesn't always offer the same longevity, giving you less wiggle room if you have heavier-than-usual use or forget to charge overnight.
Though both should be able to make it through an average day for most people, if you're finding your Pixel's battery coming up short sometimes, you'll want to follow a few of these handy tips to make the most of what you have.
Check for battery-draining apps
The Pixel really uses its systemwide battery-saving function called Doze, which puts the system and apps into a low-power state to help save battery when the phone isn't in use. A vast majority of the time the system can handle all sorts of apps and manage them so you still get notifications even while other apps are "sleeping," but in some cases a poorly coded app can keep the system awake when it's not supposed to, draining your battery in the process.
To find if there are any apps causing issues, head into your Settings, tap on Battery and look at the list of apps under "Use since last charge." You'll see most of the usual suspects like the screen, Android OS and Bluetooth or Voice calls, but if you see a seldom-used app taking up more than a couple percent of your battery drain, you should investigate to see if it's doing things it shouldn't be.
Use Battery optimization features
The "Battery optimization" feature in Android is a tad bit complicated, and in most cases will simply work as intended without your management, but if you're having battery life troubles it's worth checking out. Battery optimization builds on the battery-saving features of Doze to identify how and when you use apps to put forcibly them to sleep when they shouldn't be awake draining your battery. Go into Settings, tap on Battery and then tap the Menu button and tap Battery optimization to get started with this.
By default, the system has been analyzing how you use your phone since the minute you started installing apps, optimizing usage on the apps to get the most battery out of the phone while keeping your most-used apps available when you need them. In the main screen of the Battery optimization settings you'll see the "Not optimized" list, which you can see will include some apps that can't be optimized, along with some stragglers that may not be optimized yet.
If you see an app that you want to be optimized, tap it and switch to "Optimize." If you want to switch to a full apps list, tap the top bar and you'll see the option to view "All apps." Here you can tap on individual apps and switch them to "Don't optimize" if you wish to let the app have free reign to run as it pleases. You may choose to do this for critically important apps like those for travel or banking — just know that most of the time, the system will handle these functions exactly as you want, with the added benefit of optimizing them for battery savings.
Use Battery saver
Though it isn't nearly as comprehensive as similar features on other phones, the Pixel includes a Battery saver mode that can help extend your battery life with the flip of a switch. With Battery saver turned on, your phone will have reduced performance, limited vibration, limited location services and reduced background data. Together the limitations don't have a huge effect on the usability of the phone, but they do save precious battery drain.
Pull down the notification shade, tap on your battery icon and you'll see a "Battery saver" toggle you can turn on and off as you please when you know you need a bit more longevity. If you prefer, you can also have it come on automatically at 15 or 5% battery, which is what most people will be more comfortable with. Battery saver automatically turns off when you start charging your Pixel.
Battery saver isn't something you'll want to leave on all the time, but in a pinch it can help you get through the end of the day or a tough time away from the charger — it's just another tool to make the most of the Pixel's battery.
Uninstall unused apps
Of course you can mitigate the issues from the prior situations by simply uninstalling apps that you're not using that often (or at all). When you have a little free time, sit down and open up your app drawer — check out your apps and see which ones you've honestly opened in the past couple weeks. Chances are you're going to find more than a few you haven't even touched since you got your Pixel.
Going forward, when you're setting up a new phone a good rule to follow is to just install the basic apps you need from the start, and only install additional apps when you find you need them. After using several different phones we often fall into the trap of installing dozens of apps we think we'll need, but in reality never touch — and in the end we have to end up uninstalling them later.
Last resort: A mobile battery pack
Yes, we know, a portable battery pack doesn't fix the root problem of bad battery life on a phone, but it does fix the issue of a low battery. If you can't manage making it through a heavy day without needing a charge, and can't spend time plugged in at any point, you'll want to invest in a mobile battery pack.
There are plenty out there that will charge up your Pixel super quickly, and top up your friends' phones as well, like the Anker PowerCore 10,000 mAh battery, or this 20,100 mAh battery from Jackery that has USB-C. For a relatively inexpensive purchase, these batteries can be a great backup solution when you can't spend time at a power outlet.
How have you been finding battery life on the Pixel and Pixel XL? Did any of these tips help extend its life? Let us know in the comments!
Get the Android Central Newsletter
Instant access to breaking news, the hottest reviews, great deals and helpful tips.
Andrew was an Executive Editor, U.S. at Android Central between 2012 and 2020.