This is Fitbit's upcoming smartwatch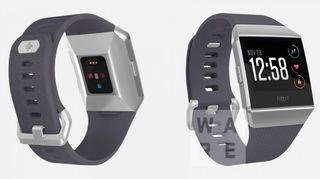 Fitbit went on a bit of a spending spree late last year, purchasing both wearable-veteran Pebble as well as nascent smartwatch maker, Vector. With both companies under its roof, a lot of users were curious to see just what Fitbit would do with them. We're now one step closer to knowing.
Wareable posted various photos of the upcoming watch from different angles, and it looks nice. There's a huge heart rate sensor on the underside of the watch, and the watch will also feature GPS and water resistance up to 50 meters. Wareable speculates the heart rate sensor may use a unique pulse oximeter to measure how much oxygen is in the user's blood, as well as a red sensor to provide a more accurate heart rate.
All of these components will be key to helping Fitbit compete with the Apple Watch and Garmin VivoActive line. There isn't any mention of battery life, but previous Fitbit fitness trackers have advertised five days of use, so we'll hopefully see close to that, too, especially given Pebble's legacy in that regard.
The photos show a silver case with navy strap version, as well as a rose gold case with lighter blue strap. There will also be a darker case with black strap option. While these don't look nearly as stylish as the round Vector Luna watch, they don't look bad.
I'm sure most folks could get away with wearing these to work to count their steps throughout the day. In fact, the smartwatch resembles the Fitbit Blaze, which debuted a couple years ago.
The fitness band market is crowded with Android Wear and the Apple Watch and the high end, Fitbit, Garmin and others in the middle and devices like the Xiaomi Mi Band at the low end. Time will tell how successful Fitbit's new watches are.
Are you looking forward to Fitbit's next watch? Let us know down below!
Android Central Newsletter
Get instant access to breaking news, the hottest reviews, great deals and helpful tips
Not interested. Fitbit has a history of not listening to its users, so I'm not buying their products ever again. Moreover, locking myself into their walled-off app store does not sound like a good plan to me.

Curious on the details based on your response.

They removed certain logging features from their website and despite pleas in their own forum, ignored all the people who wanted to keep those features (they were mostly medical logs, like diabetes levels and the like and people loved that they had all their data in one place. Fitbit ignored them. Both when the website and the iOS and Android apps were redesigned, there was an outcry amongst users, The thread asking for the old design to be retained had one of the highest numbers of replies. The new design didn't just remove features, it also made the app much less user friendly for many people (tiny, thin line circles instead of bars to denote progress). These were not people simply hating change, they had real usability problems. Google has an app to assess accessibility. The new app design scored very low on legibility and contrast (due to the colours used). Again. Fitbit ignored all complaints/requests. They have a tendency to create a thread in their forum to gather all comments and claim they want and look for the user feedback. Then they ignore every single post. They did it with iOS first and then redid it again with Android. Buying a watch where the design and software, as well as the apps come only from a Fitbit source, sounds like a horror scenario to me. Even if it looks good initially, when they feel like changing it, even at the cost of usability, they do!

Agreed. A friend and I were just talking about this yesterday actually, he and his partner both bought Fitbit Blazes and in under 2 years both had broken straps, battery issues, and one just died entirely. One of them has used a Fitbit since 2010 and although he has an Apple watch, is a bit miffed that all of his Fitbit data is now useless because they don't play nice with everybody else.

Fugly! Looks like a relic of a past design era.

So they bought Pebble and this is the best they can do?

Is the battery 10 days as promised with the pebble time 2? I really wanted a pebble time 2 :(

You and me both. I'm still wearing the original Pebble Time, and I was so looking forward to the successor. It looked great.

It was never 10 days. The most I ever got was 5 and I usually get around 4 now.

You use the pebble time 2? It was never released........

Then it was the pebble time. I just called it my pebble. I still wear it.

Gen 2 Blaze with water resistance, no thanks.

Really ugly . Very very ugly. Oh wait.... we're in 2010....oh naaah we're not! ******* hell, what an ugly thing!

I really don't think this is particularly ugly. But then again, I really don't like the design trend of trying to make smart watches look as much like traditional watches as possible.

Well it's a good thing Pebble's soul was gutted for this designed smart watch that's just more of the same from Fitbit. *sarcasm*

Sigh... maybe the pictures don't do it justice....which would be weird cause they are really nice pictures...

There is a reason I bought the Charge 2, all others are ugly!

I mean seriously the smart watches you can buy from truckstops look almost as good. Literally every single Android Wear watch and the Apple Watch are far better looking.

...and my Samsung Gear S3

"There isn't any mention of battery life"
Not a good sign. And I'm actually out of the market as long as there's no alternative to the Pebble with an e-paper like display.

I like Fitbit and I like smartwatches... I don't like this though. It looks like an original Samsung Galaxy Gear and I bet it's hugely overpriced

so...this is the fitbit blaze 2.0???

I love my Pebble Time Round. This is no Pebble Time Round. Not by a Longshot. Sorry Fitbit, you lost me and likely a lot of other women who don't want to wear something that looks like their boyfriend's watch.

Was really looking forward to this now not so much kind of a disappointment so far

How is this ugly? Man.. People cry over everything.

I'll wait until we have a final product and pricing before I decide. My first-gen charge is beginning to fall apart, so if this is a decent price I might be interested.

This just makes me miss Pebble all the more. :-(

Mother of god.. Woeful looking,

Nope. I'm done w/ FitBit after all these years, none of their products lasted more than one year. Even two Surges I had, both died with fog behind the glass.

While I'm not a hater of Fitbit, I'm tired of their locked in stale designs. This just looks like the Blaze v2.0. I totally agree, to capture more market back, they should have made it round and dressier, even if they use elastomer bands. Right now, I have the Charge 2 and One, just to keep my old data going, but my wife and I both have moved on to SHealth with Gear Fit 2. And I use Android Wear. What pity, was really hoping Fitbit would be more competitive with the "Next Big Thing" watch.

I have a Fitbit One and a Charge HR. I got a Samsung Gear S3 which I am happy with and don't see Fitbit competing with that. I use the One just to keep up with steps and fit-bit as I like their badges, I would not buy another Fitbit

My next watch will have GPS, HR & BP so if this doesn't, I'm not buying

The renders are dissapointing. I was hoping they could do something better than the style of the Blaze but it looks like they make it look worse.

Old Sony design revisit ?

Wow...is that the original Galaxy Gear?

It's funny how this article calls it nice but most everyone is calling it ugly lol.

The blaze actually looks much better then this. Doesn't look like you can swap bands either. I'll pass.

While the hardware is good, their software is very bad. Also will not communicate with third party software

Using a Fitbit Alta after my Charge HR (1st generation) Fitbit the dust. Have never loved the Fitbit brand and experience BUT its customer service was really pleasant to deal with. Replaced my Charge HR out of warranty (five days past) at no cost and quickly. Plus I've amassed a fair amount of data (over a year's worth) using the app and desktop dashboard. Just wish it worked in perfect harmony with Strava.

I wish Fitbit would make an Android Wear watch with their sensors and a custom app suite.

They buy two companies that release good looking actual smart watches and this is what they plan to release!
Android Central Newsletter
Get instant access to breaking news, the hottest reviews, great deals and helpful tips
Thank you for signing up to Android Central. You will receive a verification email shortly.
There was a problem. Please refresh the page and try again.