This is Fitbit's upcoming smartwatch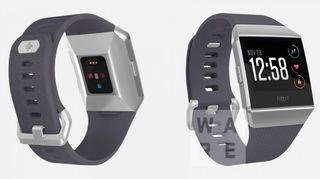 Fitbit went on a bit of a spending spree late last year, purchasing both wearable-veteran Pebble as well as nascent smartwatch maker, Vector. With both companies under its roof, a lot of users were curious to see just what Fitbit would do with them. We're now one step closer to knowing.
Wareable posted various photos of the upcoming watch from different angles, and it looks nice. There's a huge heart rate sensor on the underside of the watch, and the watch will also feature GPS and water resistance up to 50 meters. Wareable speculates the heart rate sensor may use a unique pulse oximeter to measure how much oxygen is in the user's blood, as well as a red sensor to provide a more accurate heart rate.
All of these components will be key to helping Fitbit compete with the Apple Watch and Garmin VivoActive line. There isn't any mention of battery life, but previous Fitbit fitness trackers have advertised five days of use, so we'll hopefully see close to that, too, especially given Pebble's legacy in that regard.
The photos show a silver case with navy strap version, as well as a rose gold case with lighter blue strap. There will also be a darker case with black strap option. While these don't look nearly as stylish as the round Vector Luna watch, they don't look bad.
I'm sure most folks could get away with wearing these to work to count their steps throughout the day. In fact, the smartwatch resembles the Fitbit Blaze, which debuted a couple years ago.
The fitness band market is crowded with Android Wear and the Apple Watch and the high end, Fitbit, Garmin and others in the middle and devices like the Xiaomi Mi Band at the low end. Time will tell how successful Fitbit's new watches are.
Are you looking forward to Fitbit's next watch? Let us know down below!
Get the Android Central Newsletter
Instant access to breaking news, the hottest reviews, great deals and helpful tips.