A few more deets on the initial Droid X Gingerbread push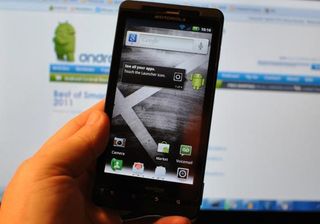 Sitting by your Droid X waiting on the Android 2.3 Gingerbread update? It ain't happening just yet. Yeah, Verizon said it's starting today, but in limited numbers, folks. And remember how Motorola sought out an initial batch of testers? They just got their marching orders, which read thusly:
The update will be pushed late tonight. If you go to bed, it should be waiting for you in the morning. West Coast members and night owls may be up to see it.
It's a good idea to keep your phone charged if possible and plugged in overnight. You don't have to keep it on, but you can.
If you are rooted, you must flash back to the standard Droid X software to receive the update. (Even the

n we can't guarantee the update will work.)
Again, that's for the folks who got in on Motorola's initial testing. We're willing to bet someone will leak out the update file for manual installation. But it sounds the vast majority of us will have to wait until early next week -- likely after the Memorial Day Holiday.
More: Droid X Forums
Android Central Newsletter
Get instant access to breaking news, the hottest reviews, great deals and helpful tips
So that means if I'm on liberty for 2.2.1 I have to go back to my rooted 2.2.1 or completely SBF back?

Yes, you will have go back to 2.2.1.

That's what it sounds like. I'm surprised if your just rooted, you may not get the update... i thought last time it just went over and wiped the root? Correct me if I'm wrong

Let the update angst and fake "I got the update" posts begin.

From @vzwsupport: "The DROID X by Motorola OTA Software enhancement will be pushed to a select number of customers daily starting on 05/27/11. The software update can also be user initiated starting 06/01/11."

That sounds good Phil! :) BKVic

Great. And us EVO users have to wait for the release of the EVO 3D before we get Gingerbread. BLAH!!

Am an EVO user and am running GB 2.3.3, am happy with it. And am running the HTC Sense 3.0 too.

Been on Gingerbread blah. If its not rotted I don't want it.

I can't imagine that there is much difference between 595 and this 596
Release so unless there is I'm just going to stick with my current 595

words of wisdom NEVER ACCEPT A OTA! unless you like being locked down. gingerbrake will not on .596 and if you want .596 TBH HAS had it for while.

I rooted z4 root and thats it can i just click unroot and thats it or do i have to do something else???? Any help would be greatly appreciated....

Im seriously tired of the run around for this damn update. DO NOT tell me VZW cant push out the update to everybody in a single day...they've done it before! I have zero idea what the hold up is, all i know its BS that we have to wait this long.

I am usually not a negative Nancy, but I agree on this one. When I had my vzw Blackberry, EVERYONE got the update at once.

Even when we got froyo it was done in a day.

i don't want gingerbread, I don't need gingerbread, and I will never update to gingerbread , my X is perfect the way it is!!!
Android Central Newsletter
Get instant access to breaking news, the hottest reviews, great deals and helpful tips
Thank you for signing up to Android Central. You will receive a verification email shortly.
There was a problem. Please refresh the page and try again.