Eyes-on "Smart Actions" for the Motorola Droid RAZR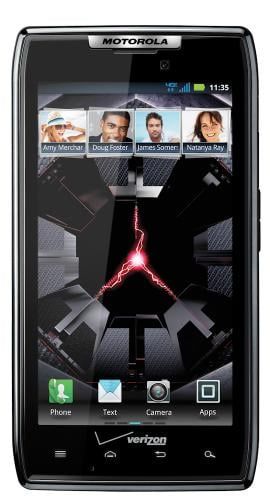 As a lover of my couch, I didn't get too worked up with the MOTOACTV announcement. What did pique my interest, however, is the Smart Actions function that comes preloaded on the Droid RAZR. Motorola says that this nifty little feature is going to improve your battery life by 30%, which is great, since we won't be able to buy an extended battery for the device. Smart Actions will decrease processor speed, slow down data, and dim your display when the battery is approaching crisis levels.
But Smart Actions' purpose isn't solely battery related. For example, as you'll see in the video, it allows you to program a website to open when your alarm goes off. Now that's pretty cool.
A representative for Motorola said that the company hopes to include this on all future devices, but no word on whether or not it can be ported to existing Motorola smartphones.
Android Central Newsletter
Get instant access to breaking news, the hottest reviews, great deals and helpful tips
Sounds a lot like "Power Saving Mode" on my Epic Touch...

This sounds like a easier to use version of Tasker.

Yup, I've set up most of these actions on my Tasker as well...

From the looks of it, I'd rather stick with Tasker. Tasker is more powerful. And, if you really want to save as much batt as possible, Tasker's probably a better option. For example, read "Location Without Tears" from the location menu options. It details the batt drain for each method of location and allows for triggers such as being in range of certain cell towers rather than turning on WiFi to check for a particular network or - worse yet - using GPS. Still, it looks like a good app from Moto for those who value simplicity and, as they say, imitation is the sincerest form of flattery.

Every phone I've owned had an extended life battery. I wish it came with something stronger than 1750 mAh. I barely get a full day out of 2250 mAh on 3G. Hopefully the integrated power saver will be useful.

Will this also be on the the Droid KRZR, SLVR, RIZR, and ROKR?

no more tasker...great feature to add lets hope ics comes with this

Is there override capabilities for those that know there is a charger a few feet away?

Check the PhoneWeaver app that's been on Android Market for ages..

This "new" app seems an awful lot like another easy to use app called Impel in the Android Market. It does a lot more than Moto's version.

There is also a free app in the Android Market called Llama that does the same thing... and more. It was one of the first apps I got, and I still use it religiously today. I don't think this is going to be a big selling point for people (well at least for me).

Sure the SMART ACTIONS might be a UNIQUE app to Motorola and deployed for the first time on the Moto RAZR, but this is hardly new since many PROFILE apps in the Android Market have allowed some of these functions before.

The point of this is that it comes STOCK on this phone.

Those apps you guys mention, I'm wondering if it can automate other things. For instance, turn on WiFi when I'm at work and automatically turn it off when I leave range. I saw in the video that workout rule that turns on the music player when you plug in headphones. That would be really useful for me.

The answer to this is yes, using most of the apps mentioned. I use Impel, and know specifically that you can use triggers to toggle wifi (I use time triggers for wifi, but you can also use location by GPS or cell tower for less battery drain) and launch any app (or any number of other actions) when you plug in headphones, and I imagine it is the same for Tasker, et al.

Amazing to me that some of you absolutely have to find something to complain about. I have tasked but honestly I don't need half the functions. I also didn't know it existed until reading about in some forum. So, that being said most normal cell phone users don't know these capabilities exist so good job Motor on integrating such usefulness software for the normal MASSES.

TiPB is that way ---> This is an Android blog, where the ignorance is kept to a minimum. We're not like Apple fanboys that drool just because a widely available app became stock on a phone. *cough* Siri *cough*
Android Central Newsletter
Get instant access to breaking news, the hottest reviews, great deals and helpful tips
Thank you for signing up to Android Central. You will receive a verification email shortly.
There was a problem. Please refresh the page and try again.