Europe getting another Honeycomb tablet, this time from Germany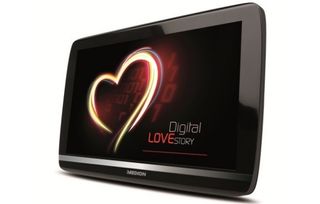 The IFA show in Berlin has brought a wealth of devices this week, and Germanys own PC maker Medion decided they'd like to get in on the act by launching their own Android tablet. They've been quiet secretive about the device with photos apparently banned at their booth at the show.
The specs we do know of the Lifetab P9514 are starting to sound pretty familiar. 1GHZ Tegra 2, 1280x800 screen resolution, Honeycomb 3.2 and 32GB on board storage. It also supports quad band 3G as well as wifi, and shows up with the by now pretty stansard microSD, microUSB and HDMI ports.
The Lifetab is expected to ship in Europe during Q4 2011, and pricing is rumoured to be €399 ($564) with no word on it's availability elsewhere in the world. Room for one more at the Honeycomb table?
Source: Engadget
This looks rectangular and has a screen, I wonder if the German judge will find this breaks Apple's design rights too.

I suspect Aldi might have it as a special buy during the holidays, they usually have a few Medion PCs and laptops for sale then.

For those who don't know, Lenovo bought Medion earlier this year. I hope US Aldi stores still get Medion products in their holiday special buys. I got an awesome wireless keyboard and mouse from them for $20 last year.
Android Central Newsletter
Get the best of Android Central in in your inbox, every day!
Thank you for signing up to Android Central. You will receive a verification email shortly.
There was a problem. Please refresh the page and try again.