Eufy Genie review: It's like an Echo Dot, only less expensive and not as good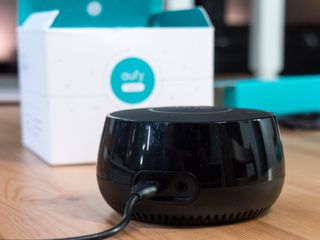 The Eufy Genie (opens in new tab) was announced with a decent amount of internet fanfare because (a) we love to get excited about EVERYTHING and (b) the prospect of an even cheaper Amazon Echo Dot (opens in new tab) actually is something to pique our interest. What's better than a $50 Dot? How about something that's a close relative for a mere $35.
That, folks, is the Eufy Genie. It's made by Anker (you know them from basically every sort of mobile accessory imaginable) and it's pronounced Eww-fee.
And, yes. You can think of it as a third-party Echo Dot, only cheaper.
And also with a few caveats. Let's take a look.
The Eufy Genie: Larger, cheaper, and almost as good
The Genie (as I'm going to refer to it from here on out because I'm tired of saying Eww-fee in my head) is actually a little bit bigger than the second-generation Echo Dot. It's just a smidge wider and about a third taller. But it also looks better with the taper at the top — one of those little design differences that can go a long way.
The shell is glossy plastic, but the top is rubberized — another nice touch. You've got the same buttons as the Echo Dot as well: Volume up and down, a mute button for the mic for the times you want a little extra privacy, and a manual action button so Alexa will listen to you. (I don't think I've ever actually used that button other than to set up Wi-Fi again, but OK.)
Setup is similar as with an Echo Dot. The Genie doesn't come with your Amazon account info preloaded, of course, and you'll have to download the EufyHome app, either from Google Play (opens in new tab), or from Apple's App Store (opens in new tab). (Ironically, it's not in Amazon's App Store.) You'll connect your phone to it and feed it your Wifi password, and that's that.
All in all, a very Echo-like experience.
And using the Genie is pretty much the same, too. You talk to it and are greeted with what very much sounds like the exact same Alexa voice you're used to. I can't quite decide if the speaker is a little better on the Genie. If it is, it's not by a whole lot. It's interesting that the sound points downward and bounces off a table — OK, I guess that's interesting — but for the most part the quality is about the same.
But that extra $15 you save on the Genie means something's missing, right?
Yep.
The Eufy Genie doesn't have Bluetooth. So you can't pair your phone to it for music, and it can't play music to Bluetooth-connected speaker. For that you'll have to rely on the 3.5mm jack in the back, and the included cable. The Genie also doesn't take advantage of the new Alexa calling just yet — that'll come later in a firmware update, Anker tells me. And if for some reason you're only running a 5GHz Wi-Fi network, you're out of luck. This one's 2.4GHz only.
Maybe that's a big deal to you, and maybe it's not. If you just have to have Bluetooth or really want to stash one of these somewhere for a kid or older relative to give you a shout without having to have a phone on hand, then you're going to need to pony up the extra $15 for an Echo Dot.
I also think the Genie doesn't respond to voice a well as the Echo Dot, which almost certainly is due to it having fewer microphones. (This was especially true when I had some music playing.) That one's definitely bigger than just a minor annoyance.
Image 1 of 4
Should you buy the Eufy Genie?
If you want something that looks better than an Echo Dot and for the most part acts the same, go for it. But you'll be missing out on a few features, the biggest of which I'd say is Alexa messaging and calling. And the thing with the microphones would certainly bug me over time.
Me? I'd spring the extra $15 for an Echo Dot (opens in new tab). But Anker also has shown Amazon how a better-looking Echo Dot can be done.
See at Amazon (opens in new tab)
Android Central Newsletter
Get instant access to breaking news, the hottest reviews, great deals and helpful tips
How's the sound quality of the Eufy Genie compared to the Echo Dot. If the Eufy Genie has Bluetooth then it might have made it a better value Echo Dot.

There will be a $40 of the Eufy Genie that includes Bluetooth.

I think you're missing a word in your comment.

I just got the echo dot a week and a half ago. So far so good. it's a very very good listener. Understanding needs a little more work. I feel like you have to say stuff in a certain way. Like you have to know the exact name of a song for example. I have a soundbar that has Bluetooth built in and can send music to it hands free. It connects and turns on the soundbar simultaneously. I can also disconnect hands free and although it won't turn it off, it will turn off if in standby for a bit, It can also wake up my fire stick (reason I went for it actually). So, now I can just use my universal remote for everything instead of having 2 controllers with me at once. Overall, I think it's a great device. I was away for a week, but have used it everyday since I got back. Mostly for music and to wake up the fire stick.

Look out for a $5 off coupon from Eufy in your email. I got this morning and will try this thing out.
Android Central Newsletter
Get instant access to breaking news, the hottest reviews, great deals and helpful tips
Thank you for signing up to Android Central. You will receive a verification email shortly.
There was a problem. Please refresh the page and try again.