The end of the Galaxy Note could be a blessing in disguise for the S Pen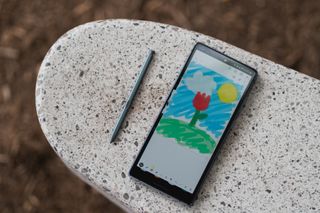 (Image credit: Hayato Huseman / Android Central)
If the recent whisperings from leakers like Ice Universe and Max Weinbach are true, we can expect to see Samsung discontinue its nearly decade-old Galaxy Note line next year, and instead find ways to build S Pen support into the Galaxy S and possibly even Z Fold series.
I have a lot of thoughts on this. The original Galaxy Note was one of the first Android phones I owned that truly reshaped my perception of large form factors — not to mention the idea of reintroducing the much-ballyhooed stylus after capacitive touch screens had seemingly rendered them obsolete. Subsequent models have served to showcase the very best hardware and features in Samsung's catalog, and acted as mid-cycle refreshes that allowed the company to improve upon past designs for future Galaxy S iterations.
Despite my preference for smaller phones, I love the Galaxy Note line and its unique ability to step just beyond the capabilities of most other super-phones. But like it or not, it seems that the product category is on its way out, and even if the S Pen is here to stay, it's going to have to take a different form to adapt to Samsung's other devices.
What devices will support the S Pen?
It's been speculated time and time again that the S Pen would eventually become compatible with Samsung's more mainstream Galaxy S series, and it looks like 2021 will finally be the year we see it happen. Rumor has it that the Galaxy S21 family will feature an Ultra tier, just as we saw with this year's Galaxy S20 Ultra, which will support the S Pen — though notably (sorry), there won't be a silo to slot the S Pen into for storage and charging.
We could also finally see Samsung meet the long-held demands of foldable enthusiasts who have been clamoring for S Pen support on more niche devices, like the followup to my favorite device of 2020, the Galaxy Z Fold 2 — though the more fragile nature of Samsung's foldable displays adds an extra layer of complexity that could slow down S Pen adoption.
How would the S Pen need to change?
The S Pen silo eats up precious internal space in the Note series, occupying what could otherwise be room for a larger battery or camera housing. Of course, as we've seen with other stylus-compatible devices, a stylus can quickly become just another accessory to lose or forget without a place to hold it. To sidestep this, we could see Samsung release a line of specialized cases for the S21 Ultra that add a bit of width to make room for S Pen storage, similar to what we saw with the Galaxy Tab S6 Lite's folio cover.
Pulling other ideas from Samsung's various tablets, the S21 Ultra, and other supporting devices could feature a magnetic divot along the back, à la Galaxy Tab S7+, would could pull double duty as a wireless charger for powering the S Pen's Bluetooth features. However, the leaks we've seen of the S21 Ultra have made no such indications — not to mention what a nightmare it already is trying to keep the S Pen from falling off the back of the Tab S7+ without its kickstand cover.
The thing is, without a way to charge the S Pen (which currently charges via internal supercapacitor on the Galaxy Note lineup), the handy air gestures and remote shutter/media controls Samsung has been touting for the last couple of generations go away.
Bluetooth requires power, and the S Pen isn't large enough to fit Qi wireless charging into its housing. Along with that, supercapacitors have a significantly longer shelf life than batteries and are far more forgiving of extreme temperatures.
Of course, the S Pen worked just fine before adding Bluetooth with the Galaxy Note 9, at least for up-close operation. Within a few centimeters of the screen, you could still hover the S Pen to bring up a cursor for precision input or effortlessly scroll through lengthy pages, and the side button could be used to pull up menus with further specialized options. But to regress to this less capable system would simply be adding insult to injury for Galaxy Note enthusiasts.
On the other hand, while I'll be sad to see the Galaxy Note discontinued, these same complications tied to its departure open Samsung up to more experimentation with the S Pen. Folks have long been asking for S Pen support in more devices, and the challenges of making it work with different form factors will force the company to diverge from a design that's remained largely unchanged since the first Note. Not forcing customers to buy a single category of phone for a feature that not everybody wants or needs could also help drive general S Pen adoption up; a potential silver lining in this otherwise sad shift.
I'm not sure how Samsung could successfully implement S Pen support into the version of the Galaxy S21 Ultra we've seen so far without sacrificing at least some of the conveniences enjoyed on the Note 20 Ultra, but I suppose we won't have to wait much longer to find out. All signs point to a January unveiling for the S21 lineup, and you already know we'll be keeping a close eye out for any additional information in the meantime.
The last of its kind
(opens in new tab)
Samsung Galaxy Note 20 Ultra
Get it before it's gone
The Galaxy Note 20 Ultra is one of the best Android devices of the year, touting incredible specs and an equally impressive display, along with one of the most powerful camera systems and, of course, the S Pen.
Hayato was a product reviewer and video editor for Android Central.
There are rumors almost every year about getting rid of the Note line. And yet every year Samsung drops a new Note and it moves a ton of units and gets rave reviews. Why should we believe these current rumors?

They don't need to get rid of the Note, they just need to go back to their roots, make a regular S, S+, (kinda like the S9 series) and then the "Ultra" Note. The S20 Ultra and cheaper Note 20 was a waste..people that shop for S line dont want to pay $1400, and people that shop for Note line dont want a half baked Note, they want the best with no compromises. IMO

I completely agree with this, just make the ultimate note every year without diluting features into a secondary device and there will be a market for it.

Could not have put it better myself, I still have my note 9, and it's still a great phone, , but I stopped buying notes after that due to Samsung's gradual watering down of features.
For years everyone new if you bought the note, you got every feature ...... and then some.
The note as I have seen it in earlier years has always been the no compromise power users device.
and to a degree it still is, but it seems a bit compromised by being trendy with if we are being honest with nonsense features like curved edge screens which detract from full use of the beautiful display, we lost the 3.5 mm headphone jack,
and Samsung's ever striving to make thinner and thinner devices is just dumb.
Most note users would happily have a slightly heavier and fatter device for a suitable power users big battery.
I would also argue that the note ultra global model should have only had the best processor available being the snapdragon, not the low performance exynos of the past few years which imo severely caused note sales to be highly diminished.
No one that is going to buy an expensive best of the best model flagship phone is going to feel happy forking out a big wad of cash for model phone with a second rate chipset in it.
Samsung has only itself to blame for the lack of interest in its expensive global models like the note ultra and the S20 ultra.
both models should have killed sales this year.
hopefully Samsung wakes up to the error of its ways in 2021.

I am hoping that it is just a rumor. I love the note. that is all have owned since the Note 2. I agree with both , Mike-Mike and BB10Clifton..

Might seriously think about going elsewhere if they discontinue it. Unless they make a foldable with integrated s pen with an integrated silo and s pen bluetooth features.

Still hoping that this is just rumors and not really what will be happening

Also...definitely not a blessing in Disguise.

"find ways to build S Pen support into the Galaxy S and possibly even Z Fold series." Not like this is rocket science. You add the pen-enabled screen and include the software that already exists. Little tougher on the Fold line as I don't think there are foldable pen-enabled screens yet. Still, could happen on any phone. Just need the right parts and the will. My Duo is pen enabled. Not Wacom like the Note, but Microsoft Pen Protocol (an offshot of NTrig). What would be nice is if Android became pen aware, rather than individual apps, by individual OEMs. Like Windows 10 is.

I hope this is just a rumor! Discontinuing the Note would be a HUGE mistake and a slap in the face to loyal Note users that depend on it in business and personal life! I will be LEAVING Samsung if they do it. As a permanently physically disabled individual with severe rheumatoid arthritis and other autoimmune diseases this phone was a game changer in my life! I am a diehard Samsung Note user since the Samsung Galaxy Note 2. My Note phone carries me through everything from personal to global business and all my interests and various forms of artistry and
science with ease! I wasn't happy when they removed the 3.5mm jack with the Note 9 without making a proper dongle that could handle quality sound and make simultaneous charging possible. I heavily use my Note for on the go filming and marketing. My Rode Mini Shotgun mic has great sound to pair with the Note's video quality in a compact all in one package! I have a computer, phone, camera, video equipment and 80 other things all in my easily carried Note! I don't want a stupid foldable screen or lower grade phone! I want the Note device I Have used use for EVERYTHING for years!

This would work well if they just add pen support for the complete line of Galaxy phones and have one that have a pen silo. They could then call the version with the pen silo Galaxy S Note. That would be an upgrade for the complete line enable those who have a normal Galaxy to buy a pen and test it and those who now that they want the pen to buy the Note model to have the pen silo.

I've owned a Note since its second incarnation (back when it was still the "what the heck, let's just throw this in there and see if anybody likes it / full-on experimental model". I think the S-Pen long ago reached the point where it was essentially a standard for anyone who wanted that functionality so it just makes sense to mix that into the standard flagship (S-Series) offering. It seems foldability is the new S-Pen from the bleeding-edge alpha-test perspective. (I'm looking forward to when that's mainstream :) ) It's been a while since the Note has had anything more than incremental pushes forward (Not that they haven't been welcome). I still look forward to seeing the current two-step jumps forward each year, but I wouldn't mind retiring the Note and focusing R&D on some other, newer, wilder ideas.

Why have an Spen without the silo to store it? I've had about every Note phone they have made, but if they do this I'll never buy another Samsung phone, I'll go over to apple

Agree, we're supposed to carry a stylus around independent of the phone? No way.

It would be a damn shame to get rid of the Note line. Heck, you could replace the Galaxy SXX Ultra with the "Note" designator and have it still carry the S-Pen in the device. I'm not sure I get the point of bringing S-Pen support to the regular S line if you have no where to stick the darn thing. I'm not going to buy an S-Pen separate of an $1200 phone and need to carry it around in my bag like a pencil. I hope they don't kill off the Note line. I get it from the perspective of the Note and the SXX Ultra being the same basic phone and the only difference being the S-Pen.

I dont mind them getting rid of the Note line if all the flagships get SPen support BUT if it's at the cost of having a built in pen holder like now - then for that alone they need to retain the Note line! One of the main reasons for ppl sticking to Note is the pen and how its integrated, that user base wouldn't mind bit of a sacrifice of battery life. Anyway none of these batteries hold their life for more that year.
Android Central Newsletter
Thank you for signing up to Android Central. You will receive a verification email shortly.
There was a problem. Please refresh the page and try again.