The Droid Turbo 2 and Droid Maxx 2 are now available from Verizon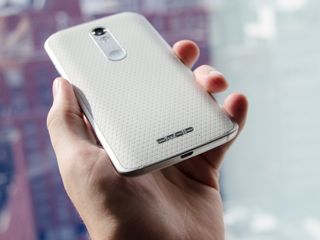 As promised earlier this week, Verizon Wireless has started sales for the Motorola Droid Turbo 2 and Droid Maxx 2. These are the latest Android smartphones from Motorola that will be an exclusive for Verizon in the US market.
The Droid Maxx 2 will cost $384 without a contract, or you can get it for $16 per month. The Droid Turbo 2 without Moto Maker support, will cost $624 without a contract with 32GB of storage, or cost $26 per month. Buyers who want to get the same phone with the Moto Maker customization support can get the 32GB version for $624 or $26 a month. There's also the 64GB version for $720 or $30 a month.
The Droid Turbo 2 also comes with a special limited time offer where you can trade in your current smartphone and get up to $300 off the total price of the Turbo 2. Verizon will even accept phones with cracked screens.
Up to $300...lol. What's the average...$50? Posted via the Android Central App

Turbo 1 which is only a year old gets $191. Sad. Posted via the Android Central App

$30 for my 18 month old maxx? another FU from big red

I believe you get no less than $300, even if it appraises below that. You get some sort of code when you purchase a device and add a line. That's how these promotions have worked in the past. Posted via the Android Central App

It's based on individual promotions & mine was minimum 200$ credit on any working smartphone. I guess it depends on the specific account or line history. Just sell the phone you have and use something old as a trade in via AC App on
VZW Moto X DE/N7

Can I use Motomaker to get rid of the checkmark?? lol EDIT: Link to Motomaker is wrong.

Yeah all the links lead to the Verizon site and no option to click on moto maker. Posted via the Android Central App

https://www.androidcentral.com/e?link=https2F2Fcli...

+1 Moto X 2013 (U.S. Cellular)

Bought the Ballistic Nylon in Red. Very happy!!! Posted via the Android Central App

I have the 1st generation droid turbo can't wait to get this one for me and spouse Posted via the Android Central App

I'm going to go by a Silverside the I'm going to cry because it has a Chevrolet tramp stamp.......... Dam It Feels Good To Be A Google Gangster

Typo Silverado Dam It Feels Good To Be A Google Gangster

What? Moto X 2013 (U.S. Cellular)

Can you just walk in and buy contract free without having to add any service to it? I think these are unlocked and work on T-Mobile and AT&T. Note 4 vs Note 5 Speed Comparison: http://youtu.be/MYkTxA7dcEY

I just got 200$ for GS3 and I can still use the payment plan (17$/mo.) and keep my unlimited data !!!
This is beyond any expectations.
The only bummer (besides the ridiculous size and bezels) is the lack of stereo speakers which Pure Edition is rocking. And when it comes to design, Moto Maxx 2 looks so much better. Oh well, It's for work anyway - OG Moto X will stay as a daily driver for a long time. via AC App on
VZW Moto X DE/N7

If this is eventually rooted and bootloader unlocked, I'd be interested. Posted via Android Central App

Don't count on it. Turbo 1 still doesn't have unlocked bootloader or a "real" root. Posted via the Android Central App

Droids = Never Again. Especially On VZW. Posted Via The Android Central App. :-)

Will they give you $300 trade for any smart phone or does it have to be the one that is associated with the line that the new phone will be activated on?

Any phone as long as you are adding a new line. if you are upgrading a line I believe it would be $200 but I might be wrong. Do what I did if you can. Add a line, trade in a cheap phone, cancel the other line you had if it's month to month. Get $300. I paid off my son's line which only owed $70 for a S3mini traded that towards the Turbo 2. once I get the phone from Motorola I'll cancel the line my son had with the mini and give him my old Turbo. use the $300 gift card to pay down the device payment on either of my phones, Turbo 1 or Turbo 2.
Android Central Newsletter
Get the best of Android Central in in your inbox, every day!
Thank you for signing up to Android Central. You will receive a verification email shortly.
There was a problem. Please refresh the page and try again.