Does the Samsung Wireless Charger Duo work with the iPhone?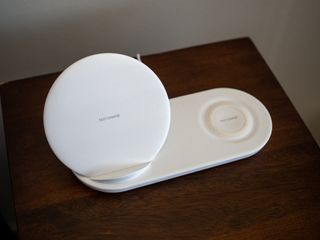 Best answer: Yes, most modern iPhones support the same Qi charging standard as Samsung's Wireless Charger Duo. You'll be able to charge relatively quickly as well, reaching up to 7.5 watts.
Amazon: Samsung Wireless Charger Duo ($114)
Does my iPhone even have wireless charging?
If you've bought a new iPhone in the last couple of years, there's a good chance it has wireless charging. In fact, since Apple switched from metal to glass designs on the back of its phones, every new model has supported it — that means the iPhone 8, 8 Plus, X, XS, XS Max, and XR.
If you have an older iPhone, you can still technically get wireless charging working ... sort of. Some battery cases, like the Mophie Juice Pack Wireless for the iPhone 7, support Qi wireless charging for their internal battery, which in turn charges your iPhone through its Lightning port — though exactly how fast the case can charge will vary from product to product.
How well does the Wireless Charger Duo work?
Newer iPhones support Qi wireless charging at up to 7.5 watts. That's the same speed that Samsung's Wireless Charger Duo maxes out at, and while it's obviously made to support phones like the Galaxy Note 9, it works just as well with iPhones.
As the name implies, the Wireless Charger Duo can charge up to two devices at once. On the left half of the charger is a vertical stand to prop up your phone, while the other half is flat; you can still charge a second phone on the flat portion, or use it to charge a smartwatch like the new Apple Watch Series 4.
To achieve the full 7.5W fast wireless charging that your iPhone is capable of, you'll need to be updated to at least iOS 11.2 — though you should probably be on iOS 12 by now anyway. According to Tom's Guide's testing, the iPhone X can reach 20% from a dead battery after half an hour through fast wireless charging. That's even faster than charging with the included wired charger (which reaches 17% after 30 minutes), though it's still far outpaced by a fast wired connection (50% after 30 minutes).
Make it a double
There are plenty of wireless chargers that work well with the newer line of iPhones, but Samsung's Wireless Charger Duo makes it easy to charge two phones or a phone and a watch at the same time.
Our pick
Samsung Wireless Charger Duo
The Wireless Charger Duo works just as well with iPhones.
Samsung's latest wireless charger not only powers two devices at once, but it charges them at up to 7.5 watts, allowing for fast wireless charging on newer devices like the iPhone XS.
Get the Android Central Newsletter
Instant access to breaking news, the hottest reviews, great deals and helpful tips.
Hayato was a product reviewer and video editor for Android Central.